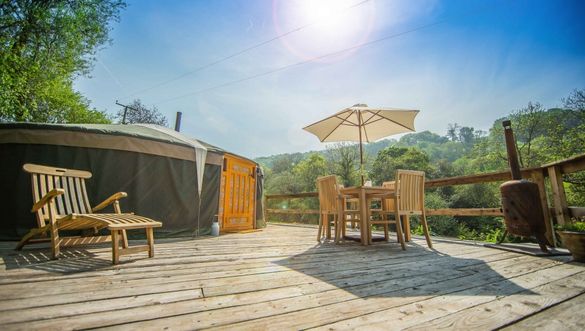 ---
We're celebrating several things at Hidden Valley Yurts this year: 10 years in business, which is quite an achievement in itself; winning an award for our sustainability, which we are incredibly proud of; earning a TripAdvisor Certificate of Excellence for the second year running; and completing and launching The Lake House, our new luxury year-round holiday accommodation and skills centre.
When Hidden Valley Yurts opened in 2008, it was one of the very first glamping sites in the UK. The glamping scene was very different then. There were just a handful of glamping sites across the UK, and sourcing materials was not easy. Mongolian yurts were chosen for their authenticity but they were rare in the UK at that time, and so of course, they had to be imported from Mongolia! With just two yurts in a small field, Hidden Valley Yurts offered a simple, rural retreat for those looking to get back to nature but without having to pitch a tent. Now, 10 years later, we have 5 luxurious, spacious and modern yurts and a new private lakeside holiday home and guests who travel from all over the world to stay with us.
Glamorous camping doesn't come close to explaining what a stay at Hidden Valley Yurts is all about. You have to feel it for yourself to really understand. Nestled deep in the South Wales hills, our 80 acres of woodland and meadow provide a comfortable haven and idyllic getaway which in our busy lives, is just what the doctor ordered to recharge, regenerate and recuperate. Ensconced in our beautiful countryside, it's hard to leave and many of our guests come back year after year, and sometimes multiple times a year. They leave us glowing reviews too, and one recently said that we are 'a great place to unplug your family', which we absolutely love!
At Hidden Valley Yurts we're all about making our guests feel at home. The huge beds are just the start, we provide everything we think might be needed for a home away from home holiday: fully equipped kitchens including a dishwasher and breadmaker, a wood burning pizza oven, herb garden, chicken run providing fresh eggs, bbq on every deck, loads of seating, loungers and swing seats, a campfire, a woodburner in every yurt, a boules pitch and games galore. We also work with local businesses to offer a great range of activities either on site or locally. Guests can enjoy pamper treatments, Reiki, clay pigeon shooting, catering, bushcraft, foraging, archery and even hot tub hire right here on site. Once here, our guests can truly relax and settle in to glamping life.
Our land is a mix of woodland, meadow and farmland with hills on both sides (hence the valley). It's an idyllic location. There are no streetlights and no traffic and no noise other than the trickling stream and birdsong. There are paths throughout our land and out into the countryside with waterfalls, brooks, bridges and rope swings to enjoy. With the stunning Monmouthshire countryside all around us, our guests can explore to their hearts content. We're in the middle of the county, with Tintern, Raglan, Usk, Monmouth and Chepstow close by and you can watch the sun set behind the Sugar Loaf and the Brecon Beacons in the distance.
We've made a lot of changes in 10 years. In 2015 we bought new covers for all of the yurts, in an olive green to complement the surrounding countryside. Then in 2016 we completed the refurbishment of all of the yurt decks. Last year we took on the task of renovating an old cricket pavilion which had been transported from Somerset and placed next to our small lake by the previous owners. Now it is a luxurious and spacious holiday home offering a peaceful stay with all of the modern conveniences of home, and more. We opened it in May 2018 and our first guests have absolutely loved it. The lake is completely private, a stream runs alongside, and it is situated at the bottom of our lovely valley giving an incredible outlook over our land. The emphasis is on luxury and quality, with no detail overlooked. There's a double-level deck leading down to the lake with bbq and sun loungers, and a covered veranda running the full length of the building. Our guests can lie in bed and watch the water rippling on the lake and the breeze blowing through the trees. We're sure this is going to be a very special holiday home for many. We'll also be hosting courses and training sessions here, using the large indoor and outdoor space for rural skills, wellbeing, yoga, holistic therapies and more. It's a peaceful and relaxing location, so de-stressing is a must.
What does the future hold? It's looking like this is going to be a very memorable 10th anniversary year with so much already happening. Cool Camping, who recently discussed glamping with Chris Evans on Radio 2 say that we are "One of the originals and still one of the best luxury camping sites in the loveliest of locations" and we're proud to say that we've achieved so much, we're still going strong and we're already making more exciting plans here at Hidden Valley Yurts