Go Vilnius: G-Spot of Europe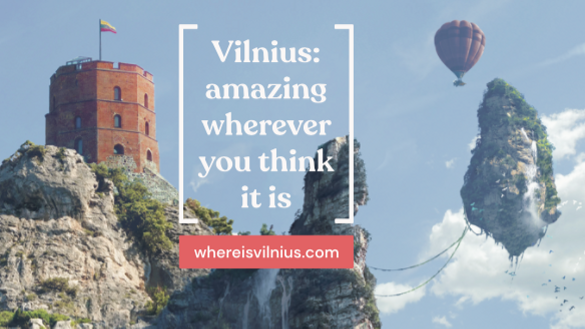 ---
Following in award-winning footsteps
The new campaign, 'Vilnius: Amazing Wherever You Think It Is,' will follow in the tradition of the award-winning "Vilnius – the G-spot of Europe" campaign, which claimed that "nobody knows where it is, but when you find it – it's amazing."
The campaign made global headlines, while also being named as the best ad campaign at the International Travel & Tourism Awards by World Travel Market in London.
A data-driven campaign
The idea to use the city's obscurity as a tool to draw more tourists is also backed by data. According to the 2019 study, undertaken by Go Vilnius, the official development agency of the city which initiated the campaign, only 5% of Brits, 3% of Germans, and 6% of Israelis know more than the name and the approximate location of Vilnius.
A 
campaign-dedicated website
 will ask visitors to guess where Vilnius is for a chance of winning a trip to the city while being informed of myriad reasons why Vilnius is amazing. The campaign will also include a video clip showing the people of Berlin placing Vilnius everywhere from the Americas to Africa.
The video will be spread through online platforms along with advertising campaigns in target markets and selected media outlets. Finally, billboards in London, Liverpool and Berlin will portray Vilnius reimagined in various fantasy worlds. The campaign will also include a London pop-up Vilnius experience opening on the 22nd March.
A forward-thinking destination
According to the Director of Go Vilnius, Inga Romanovskienė, the idea was to turn the city's disadvantage of being a lesser-known European capital into an entertaining, fun campaign, in which Vilnius laughs at its obscurity.
"Vilnius is continuing the course of presenting itself as an easygoing yet daring city, unafraid to laugh at its faults and break free from certain norms. Our goal is to show that no matter where people think Vilnius is located, it is a great place to go visit," said Ms Romanovskienė.
The "Vilnius: Amazing Wherever You Think It Is" campaign launched on Monday February 3rd.
Follow and Share with Jetsettersblog.