Going Walkabout: An Ancient Means of Transformational Travel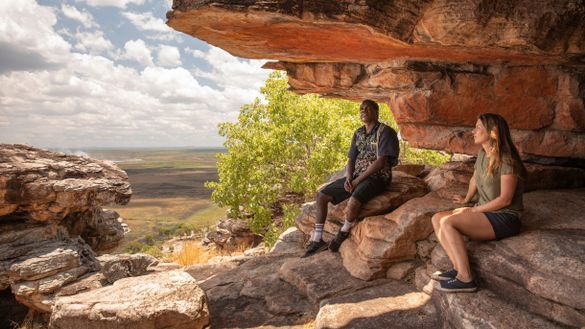 ---
Going walkabout is the Aboriginal version of mindfulness: you leave your everyday worries and responsibilities behind in order to reconnect with country and culture, returning to the basics and becoming centred as you travel lightly through Australia's diverse landscapes. The practice has been used for tens of thousands of years, traditionally as a rite of passage for young men who journey alone – on foot and guided by spirits – for extended periods of time, but also by those travelling to ceremonies and family obligations. Walkabouts often trace ancient paths known as Songlines, a network of orally shared routes marked out by the stars and set by Creation ancestors during the Dreaming. Interestingly, many Songlines have ended up forming major transport highways across post-settlement Australia.
Today's walkabouts tap into the trend of transformational travel, creating immersive, perspective-shifting experiences which are both challenging and enriching.
Tasmania's wukalina Walk involves a conscious setting aside of time to deeply engage with the stunning Bay of Fires and the island-faring palawa people – the only culture to evolve in isolation for more than 10,000 years. You'll also follow in the footsteps of ancestors of the Kuku Yalanji Rainforest Aboriginal people with Walkabout Cultural Adventures where, pattering through the Daintree, you'll see directional markers subtly crafted into tree branches by hunters and discover bush medicine growing under your nose. Take the multi-award-winning Dreamtime Walk through Mossman Gorge for another perspective on Kuku Yalanji culture; your Aboriginal guide will walk you through local lore concerning bush foods, sacred ceremonies and connection to the land.
Near Sydney, Ngaran Ngaran Cultural Awareness' two-night Creation tour asks guests to walk on country with their lead guide, reflecting on Indigenous wisdom at several important places.
Extend the transformation with other multi-day journeys, such as Venture North Safaris' wildlife, rock-art and remote-culture expeditions through Kakadu, Arnhem Land and the Cobourg Peninsula. Additionally, to immerse yourself further into the life and rhythms of the communities, consider a multi-day itinerary with Lirrwi Tourism into Yolŋu country, where Aboriginal culture pulses strong through the veins of its people. Luxury-focused explorations are the specialty of award-winning Lords Kakadu and Arnhemland Safaris.
Tailor-made multi-day experiences are run by long-time local character and guide Sab Lord, who has the blessing of local Aboriginal people to take these private charters on otherwise restricted cultural lands.
DISCOVER ABORIGINAL EXPERIENCES 
Tourism Australia's 'Discover Aboriginal Experiences' is a collective of quality and inspiring Aboriginal experiences, guided by Aboriginal people who share personal stories about their own country to bring the landscape and their culture to life. A diverse range of over 170 experiences is offered. The collective is part of the 'Signature Experiences of Australia' program and is a flagship suite of extraordinary Aboriginal Australian experiences, showcasing the world's oldest living culture through the cornerstones of cultural insight, authenticity and meaningful connection.
Follow and Share with Jetsettersblog.