Great Canadian Trails Introduces $0 Deposit Bookings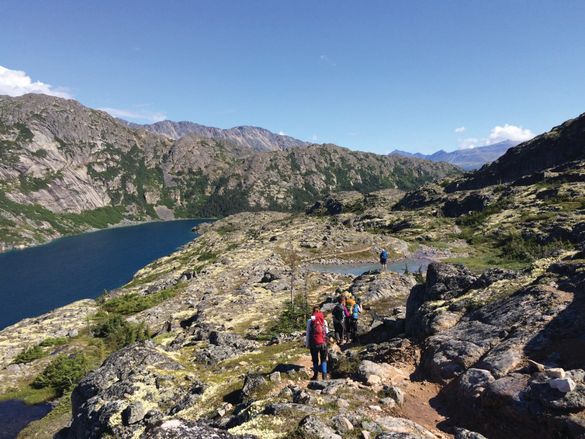 Canadian active holiday specialists, Great Canadian Trails, has introduced a no deposit booking offer, to give travellers the peace of mind to book their next hiking and cycling trip for 2020 or 2021.
Great Canadian Trails Manager, Nathalie Gauthier, said the offer is designed to remove any financial risk to travellers who are ready to start planning their next trip and be the first in line when it's possible to explore once again.
"We expect a renewed interest in active outdoor experiences, particularly remote and wilderness trips." Ms. Gauthier said. "Canada is the perfect destination for this type of travel, and our experience will serve us well as travellers are likely to travel closer to home in the short term."
In addition to the $0 booking offer, Great Canadian Trails have further enhanced their robust operating procedures and practices, adding new measures around Covid-19 to ensure travellers' safety and minimize the risk of spreading the virus.
The new Covid-19 specific practices include new screening procedures for the client's pre-departure, rules to ensure all passengers travelling in group vehicles wear masks, deep cleaning of vehicles and equipment, and new regulations governing food preparation.
Great Canadian Trails supports different networks of trails around the country. Included in all tour packages which use The Great Trail is a $50 donation to support the pan-Canadian project; on the Bruce Trail to the Bruce Trail Conservancy, and on the East Coast Trail to the East Coast Trail Association.
Its supported formula allows travellers to cycle, paddle, or hike without the burden of carrying their luggage, whether on a guided or supported self-guided holiday. Great Canadian Trails' trip ranges from a challenging hike in Yukon on the Tombstone Range with an expert wilderness guide to more leisurely multi-day bike rides in Quebec's Laurentian on Le P'tit Train du Nord rail trail with luggage transfers from inns to inns.
Great Canadian Trails crafts creative itineraries that cater to the individual needs and styles of its travellers. For detailed information and bookings, visit https://greatcanadiantrails.com/
ENDS
For high-res images and media enquiries:
Caroline Mongrain
Marketing & PR Manager
Great Canadian Trails
caroline@greatcanadiantrails.com
About Great Canadian Trails
Great Canadian Trails (GCT) specializes in active holidays in Canada. Offering a large selection of innovative hiking and cycling adventures from coast to coast to coast, its itineraries draw upon some of the country's most inspiring landscapes, incredible networks of trails, and stunning national parks. With both guided and supported self-guided options available, GCT is committed to providing a unique Canadian experience for those who value quality and exclusivity in their trips.
All trips are now carbon neutral
Great Canadian Trails is committed to ensuring its entire adventure travel range has a positive global impact. The company has always minimized carbon emissions in the product development phase by designing trips that travel less by road and air and more under travellers' own steam, with low carbon accommodation preferred. This new initiative comes at no extra charge for travellers: Great Canadian Trails will absorb the cost of credits to offset emissions across its full range of trips.