Great Malvern's Hobbit Door Will Make You Want to Go There and Back Again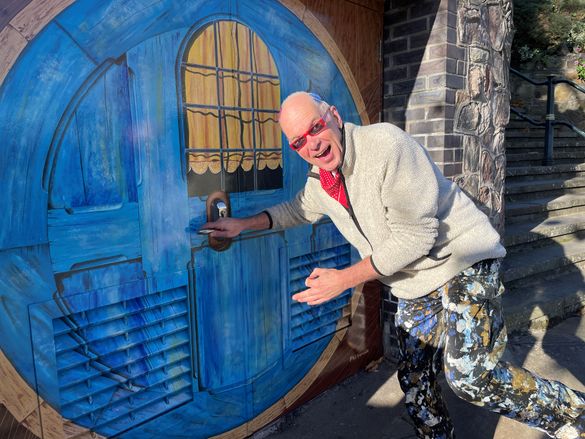 ---
Take an unexpected journey to Great Malvern to see the new 'Hobbit' Door on Belle Vue Island.
The new literary addition has been painted by local artist Phil Ironside from Phil Ironside Studio in Malvern Link as a nod to the town's Tolkien connections.
Malvern Hills District Council organised the installation to celebrate the town's connections with JRR Tolkien, which is located on the Western Power door near the Post Office on Church Street.
JRR Tolkien used to visit Malvern regularly to visit his friends C.S Lewis and George Sayer- a teacher and headteacher at the prestigious Malvern College.
Tolkien and his friends used to regularly walk on the Malvern Hills stopping for a pint in The Unicorn after marvelling at the incredible views.
Whilst it isn't confirmed that Tolkien was inspired by the hills to write The Lord of the Rings, it is hard to imagine he wasn't, with the ever-changing atmospheric views with regular misty vistas and the inspirational landscape.
George Sayer wrote that Tolkien would relive the book as they walked and compared parts of the Malvern Hills to the White Mountains of Gondor.
George Sayer also saved Tolkien from burning The Lord of the Rings manuscript. In 1952. Tolkien, who was having difficulty getting his masterpiece Lord of the Rings published, decided to burn the draft in the fire. Sayer prevented him and praised the work. The Fellowship of the Ring was finally published on 29 July 1954.
Cllr Daniel Walton, Portfolio Holder for Tourism and Economic Development at Malvern Hills District Council, said: "The Hobbit door is a wonderful addition to Great Malvern that will make you want to go there and back again. It is brilliant to see the town's connections to such a literary legend recognised in such an imaginative way. On your visit, why not support local businesses and pop into local cafes for breakfast, second breakfast or even elevenses".
Phil Ironside, Local Artist who painted the Hobbit Door, said: "Painting the door was great fun. It is a privilege to be asked to have one of my works of art situated permanently in the heart of Great Malvern, especially one that is related to JRR Tolkien and all the many extraordinary people who have taken inspiration from Malvern and the surrounding landscape. The wonderful reactions of people who stopped to talk about the project while I was painting was amazing. It has lifted the Belle Vue Island and I hope it will become a memorable photo opportunity for visitors. Please come and have your photo taken in front of Malvern's entrance to Middle Earth, you can't miss it".
#Malvernshiredoor
Visit www.visitthemalverns.org/lovetolkien to see the time-lapse video of artist Phil Ironside painting the Hobbit Door.

Follow and Share with Jetsettersblog.