Great reasons to visit Rhineland-Palatinate in 2020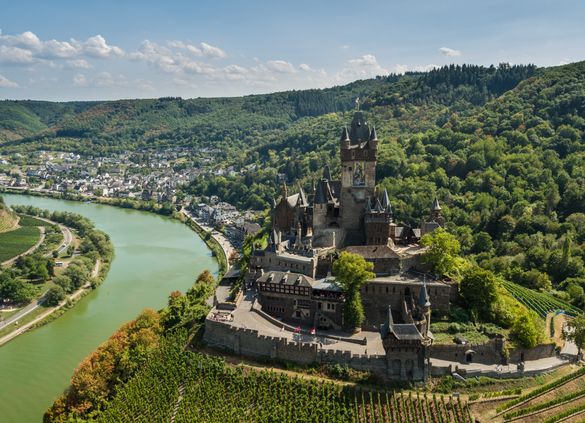 ---
Only a 90-minute direct flight from the UK, Rhineland-Palatinate is home to 10 beautiful regions including the Moselle Valley, the Upper Middle Rhine Valley and the Palatinate. Its countryside, medieval architecture, wine regions and events are but a few of the reasons to visit.
Events
Apart from the famous Christmas markets throughout Advent, it's mostly the wine festivals from late summer to the end of autumn that attract many guests. Yet, 'Rhine in Flames' is one of the major events in the UNESCO World Heritage Upper Middle Rhine Valley that is simply outstanding and well worth a visit. You can find a list of things to do at https://www.romantic-germany.info/things-to-do/.
Castles
There are more than 500 castles and ruins waiting to be discovered in Rhineland-Palatinate! Burg Eltz is a romantic castle that looks like it's come straight out of a fairy tale. The Marksburg on the banks of the Rhine is one of the very few castles that have never been destroyed, and the Reichsburg in Cochem is a truly monumental building. And there are many more! Throughout the year, many events, including medieval markets and festivals, are held in or around castles. Also, why not spend a night at one of the castles? You will definitely feel like a knight or lady! You could even hike from one castle to the next or ride your bike along one of the rivers, through the lush landscape surrounding these places. Further information is available at https://www.romantic-germany.info/things-to-do/culture-castles/castles-palaces/.
Personalised time travel
Dating back more than 2,000 years, Rhineland-Palatinate provides ample opportunity for personal time travel. Trier is a case in point: it is the oldest city in Germany and home to many UNESCO World Heritage Sites. It boasts the country's greatest collection of Roman buildings, including the thermal baths, amphitheatre and Porta Nigra, the famous city gate. It also happens to be the birthplace of philosopher Karl Marx. The quaint half-timbered houses of Bernkastel-Kues, Traben-Trarbach, Cochem and Boppard, to mention but a few, make for a magical dose of the Middle Ages.
Nature
The Moselle Valley is a natural playground for hikers and cyclists alike, with plenty of trails to explore. One of the most popular ones is the 365-km Moselsteig Trail: treading just a small section puts you right in the forest, amid historic wine villages and Roman and medieval treasures galore. You could also try the Rheinsteig on the Rhine, where you can hike to the top of the famous Lorelei. Do you prefer doing your exploring on two wheels? Rhineland-Palatinate has numerous cycle routes, which will take you past vineyards, lush, green hills and chocolate-box towns.
o when will you come and discover your own Romantic Germany?
Follow and Share with Jetsettersblog.