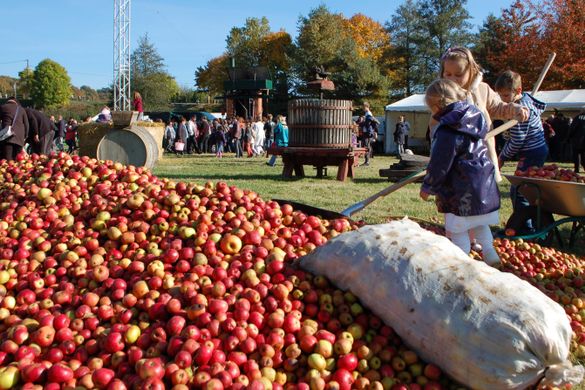 ---
It's coming to that time of year: the days are getting shorter, the nights are getting cooler and you're in need of a family break before Christmas comes along. If you're after holiday ideas for October half-term, then look no further: Normandy is the perfect destination for a short break with the kids, come rain or shine.
Four things to try if the sun's in the sky…
1) Every day: Parc du Chantore (Bacilly)
If you're planning on visiting the Mont-Saint-Michel during your stay, make the most of your day out by touring the fairytale Parc de Chantore, only three miles away from the Bay. Visitors can now come and enjoy the many species of flowers and trees in the chateau gardens, walk around the dreamy lake and marvel at stunning views of the Mont-Saint-Michel. Book ahead by phone on +33 (0)6 74 30 66 64. www.chateaudechantore.com
2) 19 October-18 November: Foire Saint-Romain(Rouen)
Held every year in October on the banks of the River Seine, Rouen's Foire Saint-Romain is nothing less than France's second-biggest funfair. Boasting 230 rides and games for big and small, it's a great family outing on a crisp Autumn day. Smells of candyfloss and toffee apples will fill the air, screams of excitement will be heard across town and firework displays will light up the night at weekends. http://bit.ly/Foire-Saint-Romain
3) 27-28 October: Fête de la Coquille Saint-Jacques et des Fruits de Mer (Villers-sur-Mer)
Seafood fans won't want to miss Viller-sur-Mer's annual Scallop and Seafood Festival, which takes place a mere 20-minute drive along the coast east of Ouistreham. Enjoy a day at the seaside with a difference, tasting and learning about seafood, in particular the town's renowned coquilles Saint-Jacques [scallops] from the region's leading chefs. Stroll through market stalls run by local fishermen selling their wares, listen to live music and entertainment for all the family, and pick up tasty local products to take home. http://bit.ly/FeteCoquilleSaintJacques 
4) Sunday 28 October: Fête de la Pomme, du Cidre et du Fromage (Conches-en-Ouche)
Two hours from Ouistreham and 90 minutes from Le Havre, the Apple, Cider and Cheese Festival in Conches-en-Ouche has become quite the event in Normandy. This year's anticipated 35,000 visitors can expect a farmers market, tastings, cooking demos, folk music, regional cider, honey and gingerbread, traditional Norman games and an abundance of pop-up restaurants serving Norman specialties. http://bit.ly/FeteConchesEnOuche(in French)
Four things to do if the skies aren't so blue…
1) 24-28 October at 3pm: Horse shows at the Haras du Pin (Le Pin au Haras)
Nicknamed the 'Versailles of Horses', the Haras du Pin is the oldest and most prestigious national stud in France. In addition to exploring the stud and meeting its equine residents, visitors can enjoy a brand new show this October half-term, which starts every day at 3pm. Tickets: £19 adults, £14 children. http://haras-national-du-pin.com/en/home
2) Every day, 9:30am-7pm Biotropica (Val-de-Reuil)
Get lost in a tropical rainforest and enjoy up-close animal encounters! Set in a 6000 square-metre greenhouse at the heart of the Seine Valley, Biotropica is home to a variety of rare plants and animals and is dedicated to the discovery and preservation of the environment. A baby red panda was born here just a few weeks ago – come see him for yourself! www.biotropica.fr/en
3) Every day, 11am-7pm: Musée Les Pêcheries(Fécamp)
This new landmark fisheries museum explores the long history of fishing in the port of Fécamp and in Normandy, along with exhibits from local traditions and history. It also boasts a stunning glass rooftop, enabling visitors to enjoy panoramic views of the town and the sea. Until 11 November, you can also catch a beautiful stained glass window exhibition. Tickets: £6 adults, £3.50 children. http://bit.ly/LesPêcheriesMuséeDeFécamp
4) Every day, 9:30am to 7pm: Calvados Experience (Pont-l'Évêque)
This new tourist attraction explores the history of the traditional Norman drink, Calvados, through multi-sensory exhibits, making for a fun and educational visit for young and old alike. Discover the traditional Calvados production process, how it has changed over the years and what drove it to the success it knows today. At the end of the tour, over-18s can enjoy a tasting session with a Calvados Connoisseur, and learn the all-important three stages of Calvados tasting: the appearance, the nose and the palate. www.calvados-experience.com
-ENDS-
For further information, visit: http://bit.ly/OctoberHalfTermInNormandy
Follow and Share with Jetsettersblog.