Havana 500th Anniversary in 2019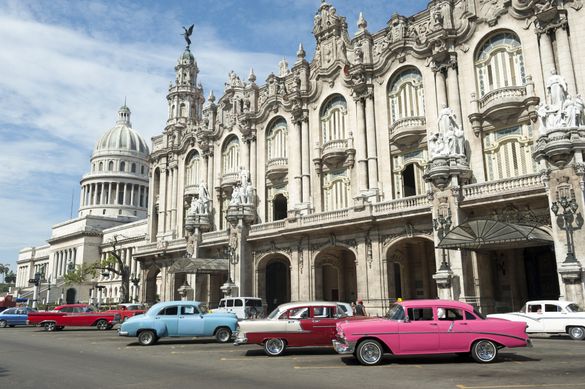 Havana, the capital of Cuba, marks its 500th anniversary in 2019. Founded in 1519 after the Spanish colonisation, the city is now an eclectic hub of culture and history attracting tourists from around the world. During the anniversary year, Havana is set to see a whole host of events featuring concerts, performances and parades that will bring the city to life. Here LATA (The Latin American Travel Association) outlines some of the best tours offered by LATA members to experience the 500th birthday of the city:
HAVANA TO HAVANA WITH TUCAN TRAVEL
To celebrate the 500th anniversary of Havana, Tucan Travel has launched a new Cuban Highlights tour allowing visitors to experience Cuba first hand like a local. The new trip starts in Havana and begins with a walking tour of the capital's highlights such as enjoying a traditional Paladar (family-run restaurant) lunch before riding through the streets of Havana in a classic vintage convertible. Guests will also visit one of Havana's most authentic jazz clubs that grants access via a red telephone box and stay in a 'casa particular', a private establishment that allows visitors to experience the authenticity of Cuban family life. The nine-day tour is priced from £899, including accommodation, internal transport, excluding international flights from the UK.  www.tucantravel.com/tour/cuban-highlights/cuh
UNIQUE CUBA TOUR FEATURING VALERIE HEMINGWAY WITH STEPPES TRAVEL
Steppes Travel is offering a unique Western and Central Cuba tour, accompanied by travel journalist Lydia Bell. The 12-day trip features highlights such as meeting Valerie Hemingway who will share her experiences as Hemingway's PA while he lived in Finca Vigia just outside the capital and discovering Havana's stunning historical buildings including the Havana cathedral, Gran Teatro de la Habana and Hotel Inglaterra with renowned architect Hermes Mallea. Guests will also travel outside of Havana to visit tobacco plants in Viñales and discover the historic city of Trinidad. The tour is priced from £5,995 per person departing in April 2019 including accommodation, internal transport, and meals as stated in the itinerary, excluding international flights from the UK. www.steppestravel.com/cuba-group-tour-hemingway-and-highlights/overview
FAMILY VIVA CUBA! WITH EXPLORE
Explore Travel offers the ultimate itinerary for adventurous families wishing to discover Cuba and Havana in 2019. Family Viva Cuba! is a 15-day trip, which starts with a one-day stop-over in the vibrant city of Havana. Guests will experience the undiscovered side of Havana by cruising around the city in a 1950s vintage American car, before visiting some of Havana's most important tourist sites such as El Cristo de La Habana, El Capitolio and the Paseo del Prado. Guests will also be given a first-hand glimpse into traditional Cuban culture and traditions with an exclusive Salsa lesson – one of Cuba's most characteristic dance styles. The tour is priced from £2,399 for adults, (£2,099 for children) Sunday 7 April 2019 – Monday 22 April 2019. The price includes accommodation, internal transport and some meals and excludes international flights from the UK. www.explore.co.uk/holidays/family-adventure-holiday-in-cuba
HISTORY OF HAVANA WITH CUBA PRIVATE TRAVEL
Cuba Private Travel offers a one day tour that reveals in-depth knowledge on the architecture, politics, culture, arts, dance, and music of Havana, which is told through four specialist guides. Visitors will explore half a millennium of history from Spanish colonial baroque and neo-classical buildings, Soviet-era monuments, and visit the restored mansion of a prestigious collector of Latin American art, homes to Cuban and associated art from the Vanguardia era onwards.  The tour is priced from £120 per person for the whole day with a minimum of three participants. www.cubaprivatetravel.com
TAILOR-MADE TOURS IN CUBA WITH REVEALED TRAVEL
Latin America expert Revealed Travel, offers travellers a wide range of tailor-made tours in Cuba, which can be designed to suit the needs of all travellers. A sample 'Highlights of Cuba' tour with Revealed Travel provides the perfect introduction for the first-time traveller in the city of Havana. This sample itinerary includes two days spent discovering the old centre of this historic city with the chance to see cigars being rolled and a stop at the Havana Club Rum Museum with lunch provided in a traditional local Cuban restaurant. The rest of the 11-day tour would be spent travelling to Pinar del Rio, Vinales Cienfuegos and Santa Clara. Prices of the tour are available on demand. www.cubarevealed.co.uk
HAVANA & VARADERO BEACH TWIN TOUR WITH TROPICAL SKY
Tropical Sky offers a ten-day tour during which guests will discover the hidden secrets of Havana for the city's 500th anniversary. Travellers will start the trip by spending the day admiring the colonial architecture that is characteristic of Havana, whilst touring the city in a vintage 1950s car. The tour is also combined with a stay on the unspoilt beaches of Jibacoa and Verdadero, nestled between the lush mountains and the picturesque Arroyo Bermejo Beach. The tour is priced from £1,729 per person including international flights from the UK. www.tropicalsky.co.uk/caribbean-holidays/cuba/havana-varadero-beach-twin-centre-tour
HAVANA FIRST HAND WITH CHIMU ADVENTURES
Chimu Adventures offers an extensive four day-tour of Havana featuring a guided walking tour of the city visiting the four main squares, Plaza Vieja, Plaza de San Francisco, Plaza de Armas and Plaza de la Catedral, before relaxing in the narrow winding streets of 'Habana Vieja' (The Old City) with a mojito or Cuba Libre in hand. The afternoon is spent on a panoramic tour of the town in classical cars. Guests will also visit Los Jazmines mirador area overlooking the Viñales valley as well as a tobacco plantation and a curing barn. The tour is priced from £561 based on a Standard Package, includes accommodation and meals where stated. www.chimuadventures.com/en-au/tour/havana-stopover
Colin Stewart, Chairman of LATA, says:
"In celebration of its 500th birthday in 2019, the vibrant city of Havana is undergoing a number of restoration projects due to be completed next year and, which are expected to further boost tourism numbers and propel the city to the top of the agenda for UK visitors to Cuba. 
In 2019, the city will welcome the launch of seven new luxury hotels, as well as a diverse programmes of cultural events including live concerts and theatre performance, honouring the history of Havana.
It has been an exciting couple of years for Cuba and Havana. The lift of US travel restrictions, the development of tourism infrastructure and the launch of new airline routes from Europe, have firmly placed the destination on the Latin America tourism route. We look forward to continue to work with our LATA members to promote sustainable tourism to Havana and Cuba."

Follow and Share with Jetsettersblog.