Healthy Eating – Caribbean Style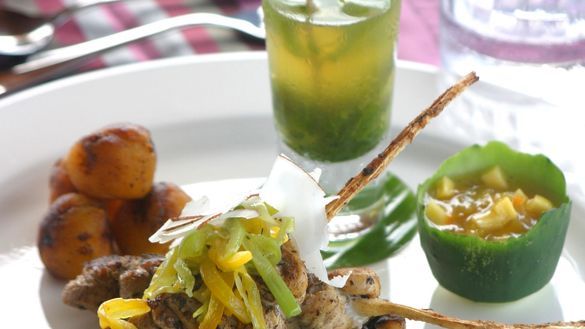 ---
the Saint Lucia Tourism Authority (SLTA) has launched a collection of healthy recipes from across the island to inspire people who want some inspiration for healthy eating at the start of the year.
The dishes have been created by hotels and independent restaurants and are available around the island. They include vegan and vegetarian options, fish, poultry and cleansing juices. Many of the hotels grow their own produce for their delicious Caribbean creations. In this collection, these flavours and recipes are shared for people to cook and enjoy a taste of Saint Lucia at home.
Find the recipes on the SLTA website  https://www.stlucia.org/en_UK/healthyeating/
Saint Lucian recipes include:
Roasted pumpkin wedges with turmeric salsa (vegan)
Avocado Amarillo Seviche (vegan)
Chickpea and Mango Salad (vegan
Snapper cooked in banana leaves
Rainbow breakfast bowl
St Lucian stuffed bakes (vegetarian)
Jerk chicken and fruit salsa
Liquid Lunch juices
Culinary notes from Saint Lucia:
One of the leading lights of the Saint Lucian culinary scene is Chef Orlando who runs his own restaurant in Soufriere. His award-winning menus combine fresh ingredients with Creole flair. https://www.facebook.com/Orlandos.Restaurant.Soufriere.St.Lucia/
I-TAL is the recently launched intimate farm-to-table restaurant at BodyHoliday, based on sustainable farming and plant-based cooking. Inspired by the concept of the Rastafari diet, I-TAL, comes from 'vital', with the diet essentially boosting liveliness through pure and natural foods.
https://www.thebodyholiday.com/dining/ital/
Popular resort Anse Chastanet is home to a dedicated vegan restaurant. Chef Susser transformed the menu at the popular Emeralds restaurant from vegetarian to 100 per cent vegan due to an increased demand for vegan meals from guests

Follow and Share with Jetsettersblog.