Hebridean Adventures in Scotland West Coast Waters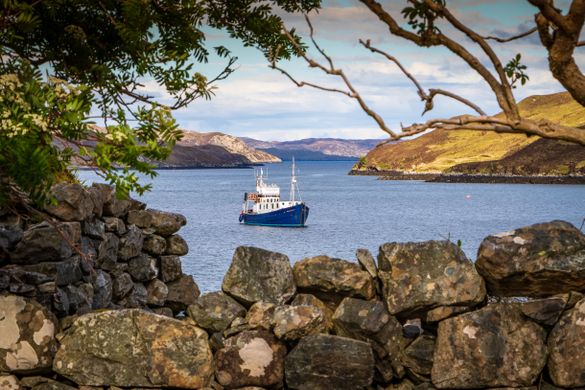 Hebridean Adventures, the Stornoway-based small boat cruise company, are already well-known for their wonderful fully guided wildlife watching and scenic cruises around Scotland's Outer Hebridean islands and Highland west coast. This includes the Isle of Skye, the enchanting Shiant Isles, and even out to the famous archipelago of St Kilda. They carry up to 9 passengers on short affordable cruises of 2 to 6 nights where they share close-up views of the wealth of whales, dolphins, eagles, otters, basking sharks, puffins and a myriad of other seabirds that the rich waters of the Minch play home to – one of Europe's recognised hotspots for cetacean species in fact. As well as offering these shorter cruises than most of the other operators in the area (who often only offer around a week or longer at sea), they are also the only cruise boat located in the north Minch area, meaning they are immediately sailing in the best wildlife zone as soon as they leave port with no additional sailing time required.
To further expand the opportunities for wildlife and cruise lovers to join them on board though, their boat MV Monadhliath will also be offering itineraries departing from Mallaig and Ullapool on the mainland for the first time this year. These will be running from April to May, and then again from September to October with the summer months in Stornoway, where they also offer day trips over the summer holidays between cruises. This offers better chances of calmer waters sheltered from easterly winds in the early and late season, but also the added chance to offer itineraries visiting new locations such as the Small Isles of Rum, Canna, Eigg and Muck, the Isle of Skye, and many amazing destinations along the west coast of the highlands. One cruise at the end of August (the West Coast Wildlife Odyssey) actually sails south from Ullapool to Mallaig, following the coastline with its backdrop of magnificent mountains and stops in at sea lochs along the way for shore excursions. It should be a great one for spotting basking sharks they hope.
New also for the 2020 cruising season starting in April are a range of activity cruises in partnership with national and local qualified experts covering such interesting and exciting things as sea kayaking, snorkelling, hiking remote areas accessed by sea, and photography courses designed to increase your skills and knowledge whilst being immersed in some stunning landscapes and surrounded by wildlife. Furthermore, a tie-up with leading UK specialist wildlife tour operator Naturetrek will also see them hosting 3 trips for them around Hebridean waters. Their tender will ferry passengers ashore for workshops and activities, or just to stretch their legs while visiting fascinating locations like the Shiant Isles, to a quiet otter hide on Skye, or for a walk to a waterfall at the back of a remote sea loch on the Isle of Lewis for example.
Once on board everything is included from the accommodation to all meals (dietary requirements can be met with advance warning), and there are two raised viewing platforms with seating on board their boat MV Monadhliath, a converted inshore fishing vessel, to give you the best chances of spotting the wealth of wildlife you will come across. All you need to do is bring your binoculars, camera and your sense of adventure. (OK and maybe some warm and waterproof clothes as well, just in case – this is Scotland after all!)
Whilst many guests enjoy visiting the Outer Hebrides and include a cruise from Stornoway in their holiday plans, also new for 2020 is a choice of exciting cruises leaving from two other ports, but on the mainland this time to make it even easier to reach them by road and rail, as well as the ferry or plane to Stornoway. Mallaig is one, the little town at the end of the famous Road to the Isles and the West Highland railway line, and the other is Ullapool, the popular seaside and fishing town as well as being the ferry terminal for the Stornoway crossing, it is also on the famous North Coast 500 route and so a great place to stop off for a few days to jump on a short wildlife cruise (especially with the free long-term parking available in town.)
All cruise options are open to single travellers with no extra supplements, and the boat itself is available for charter to groups, whether for one of the existing itineraries or to be discussed to suit your requirements. It is great for family groups of up to 9 or friends/club members who wish to journey together in private and enjoy the very best coastal scenery and cruising that the west coast and the highlands and islands of Scotland have to offer.
You can find full details of all their cruises on the Hebridean Adventures website at https://hebrideanadventures.co.uk , as well as read the latest news on their blog, Facebook and Instagram pages, you can also discover details about the wildlife species most commonly encountered, and also information on some other great things to see and do in Stornoway and the Isle of Lewis while you are visiting the Outer Hebrides.
Don't 'miss the boat'! Book a fantastic cruise with Hebridean Adventures today to experience amazing wildlife and cetacean encounters all set against the background of some of the very best wild and rugged, yet beautiful, scenery that Scotland has to offer.
Follow and Share with Jetsettersblog.