Heritage Charter Boats Set Sail Again in the UK!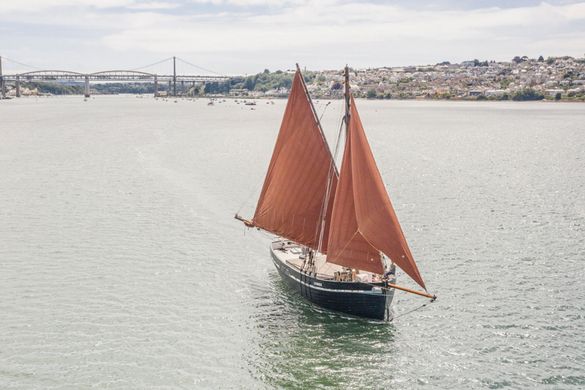 ---
\After cancelling all of this season for their fleet of 20 plus classic ships and adventure vessels, sailing charter agency VentureSail Holidays has now launched 'Boat Bubble Holidays' and 'Day Sails' to help some of their heritage boats stay afloat.
Nikki Alford Director of VentureSail and Skipper of 1904 classic ketch Bessie Ellen says, "the 2020 season has been catastrophic for all charter vessels, but especially for heritage ships and wooden classics that require so much work to just keep them afloat. Lockdown couldn't have come at a worse time for these boat owners as they had just spent considerable money on annual winter maintenance and insurance for the coming season – and to date have not been able to access any help from Government funding."
The green light to start sailing again has come too late for many charter boats, but VentureSail is hopeful that a handful of vessels in West Country can salvage some income for this year to help preserve these historic ships. Bessie Ellen, Agnes, Escape, Lynher and Pilgrim of Brixham are now able to offer either private charters for families or bubble groups or day sails – giving people a chance to experience traditional sailing with additional COVID-19 safety procedures in place.
Sailing from Fowey, Falmouth, Plymouth, Dartmouth and Brixham, guests can enjoy a day, weekend or longer on the water, learn the ropes and enjoy hidden anchorages for the ultimate secluded getaway. Prices start from £130per person per night, all-inclusive.
"We hope that some people will be looking for a last-minute holiday or a day out with a difference this summer and want to help us to keep these boats sailing for many years to come," says Nikki.
Find out more information and to book your sailing adventure, visit www.venturesailholidays.com or @VentureSailholidays, or call +44 (0)1872 487288.
About VentureSail Holidays
VentureSail is based in Cornwall promoting and handling skippered adventure sailing holidays on tall ships, traditional boats and adventure vessels. With 22 classic vessels and adventure ships in its fleet and a range of destinations – from Cornwall to the Caribbean and from the Hebrides to Spain and the Isles of Scilly and from the Mediterranean to Scandinavia- VentureSail Holidays offers an authentic taste of life under sail, and holidays like no other. www.venturesailholidays.com