Hike Coastal-Cliff Landscapes on Aurora Expeditions' New Voyage Along the West Coast of Ireland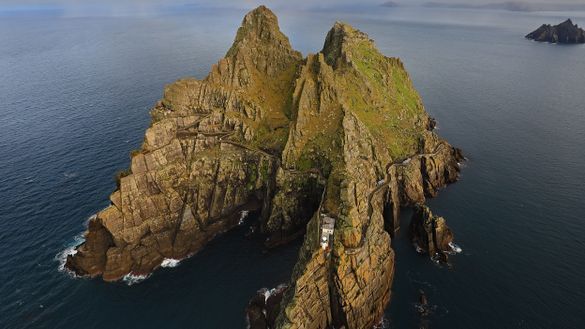 ---
Aurora Expeditions, Australia's leading expedition cruising company, has announced its first ever voyage to Ireland on board the new ship, the Greg Mortimer.
Sailing from Dublin in May 2021, this one of a kind 13-day itinerary features some of the country's most spectacular coastal highlights, including Donegal, Clare Island, Connemara National Park and The Skelligs.
Perched on the edge of the Atlantic, Ireland's west coast is characterised by soaring cliffs, dramatic peninsulas with medieval ruins and enchanting castles steeped in history. This breathtaking scenery will be revealed during expert-led wildlife walks, nature hikes and coastal kayaking tours. Daily trips by Zodiac will showcase breeding seabirds such as puffins, fulmars, guillemots, storm petrels and shearwaters.
Scattered along the west coast and carved out in the harsh Atlantic Ocean are a series of remote and private islands which hold the ghosts of a life, long lost. Hidden away and exclusively available on this voyage, these isles of savage beauty, forgotten in time, hold the archaeological gems of iron and bronze age sites, and early Christian monasteries dating back to 500-600 AD. Some isles were formerly home to pirates who ruled the seas, now they are peacefully occupied by birdlife nesting on the cliffs that dramatically rise from the seas.
Exploration starts at the wild and rugged Inishowen Peninsula, Ireland's most northerly point, and the jewel in the crown of Donegal. Nearby Troy Island boasts an abundance of rare bird life and wildlife species. Gaelic is the islanders' first language and many ancient customs, including the appointment of the island king, endure today. Ceide Fields is home to some of the oldest stone-walled fields in the world, dating back 6,000 years, and on the Dingle Peninsula, passengers will find one of the richest concentrations of archaeological monuments in western Europe.
Given the moniker "The Enchanted Island" the next port of call, Inishbofin, is set in the wild splendour of Connemara amid the magical beauty of sea, cliffs and mountains that make up the Galway-Mayo coastline. One of the most traditional and untouched parts of the country, the island is a breeding area for many bird species, the rarest or most threatened of which is the corncrake. On Inishbofin Aurora Expeditions offers three looped walks, all with stunning views of the island's beautiful scenery and birdlife.
Weather permitting the Greg Mortimer will also land at the World Heritage Site of Skellig Michael, in County Kerry. The monastic site is home to a sixth century "beehive" monastery as well as breeding seabirds including gannets, Arctic Terns and a colony of orange-beaked puffins.
From the ship, passengers might catch site of dolphins, whales, orca and porpoise. There will also be an opportunity to tuck into a west coast meal of locally produced and foraged food from Connemara, and to enjoy an authentic "trad session" of traditional music played by local musicians and Irish expedition team.
Robert Halfpenny, Managing Director of Aurora Expeditions commented: "The rarely-seen and forgotten islands along the Celtic west coast are intertwined with ancient culture, storytelling, mythology, history and wildlife and fit perfectly into Aurora Expeditions' portfolio. Our guests love to go in search of the unusual and authentic and this itinerary really delivers."
Joining this trip is the Australian mountaineer and co-founder of Aurora Expeditions, Greg Mortimer, after whom the ship is named.
Aurora Expeditions Historian and British Isle expert notes, "As an archaeologist and expedition guide, I find the remote corners of the west of Ireland constantly surprising and inspiring. Here we encounter a stunning combination of spectacular Atlantic scenery, wildlife, fantastic ancient sites, and a unique living cultural heritage. What a rare opportunity to explore these little-known treasures."
A 13-day Ireland's West Coast Voyage, 19th – 31st May 2021, from $11,847 per person twin share*
The voyage departs from Dublin and ends in the charming port town of Cobh.
Land extensions from Dublin can be arranged upon request.
About Aurora Expeditions
Aurora Expeditions is an Australian-owned adventure company founded by renowned mountaineer and explorer, Greg Mortimer, and his wife Margaret. Over the past 28 years it has become the leader in small-group, expedition-style travel to polar regions and other wild places.
Aurora Expeditions offers its passengers intimate experiences in remote destinations through a range of flexible, innovative itineraries. Some voyages offer mountain climbing, sea kayaking, camping, photography, and polar snorkelling and scuba diving options. Aurora Expeditions' expert naturalists, geologists, historians, guides and crew help unlock the wonders of these special places.
Committed to the preservation of the environment, Aurora Expeditions was one of the founders of the International Association of Antarctic Tour Operators (IAATO), which created the environmental protocols for all commercial visitors to Antarctica and is a member of the Association of Arctic Expedition Cruise Operators (AECO). In doing so, Aurora Expeditions encourages its passengers to respectfully visit the planet's wilderness areas and return as ambassadors charged with protecting these important regions.
For more information visit www.auroraexpeditions.com.au
For Bookings:
For more information or to book visit www.auroraexpeditions.com.au
Call us on 1800 637 688 (Freecall AUS only) or + 61 2 9252 1033
Or email info@auroraexpeditions.com.au
Greg Mortimer, The Ship and The Founder
The 126-passenger ship is the world's first to sail with the patented ULSTEIN X-BOW®, whose inverted bow design in combination with Rolls Royce dynamic stabilisers offers unrivalled stability and comfort* on ocean crossings. The X-BOW® cuts through the swell, minimising vibrations and disturbances, and makes quicker transits through waves. This helps reduce fuel consumption by up to 60%.
Founder of Aurora Expeditions Greg Mortimer said: "Our ships are designed primarily to connect people with the environment. With the revolutionary ULSTEIN X-BOW® technology to cross oceans more comfortably, expansive observation decks to bring you closer to the environment, a first-class team of naturalists and unsurpassed environmental credentials, our ships offer the perfect base camp for in-depth explorations and culturally led itineraries."
For more information visit www.auroraexpeditions.com.au
Terms & Conditions apply
*Valid on select ship voyages only and select cabin categories. Offer is valid on new bookings only which must be booked and deposited by 31st March 2020, or until sold out, whichever comes first. Promotion is subject to availability at the time of booking and capacity controlled. The promotion is not available in conjunction with any other offer, can be withdrawn at any time and is not redeemable for cash. Prices and offers correct at time of printing and subject to change.
From prices based on Balcony C category inclusive of discount, gratuities are not included. To confirm your booking, a completed booking form and non-refundable deposit of $2,500 pp in the booking currency is required within 7 days of reserved berth/s. Additional terms and conditions may apply. Normal booking terms and conditions apply.
Please visit www.auroraexpeditions.com.au/terms-and-conditions
Follow and Share with Jetsettersblog.