Holidays of a Lifetime – Where Next?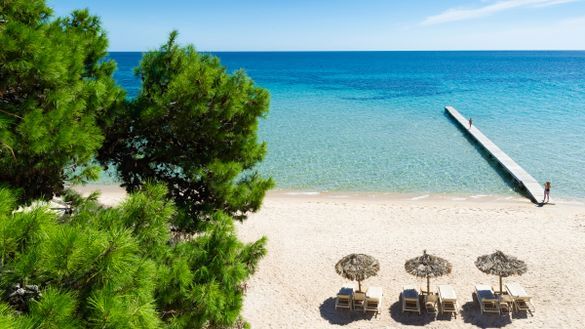 ---
UK
Gilpin Hotel & Lake House, Lake District – New Spa Lodge 100s – Due to reopen on July 4
Family owned quintessentially British hideaway offering a choice of elegant bedrooms in the main house, garden suites with private cedarwood hot tubs and six luxury suites in the stunning Lake House with exclusive use of the Jetty Spa. There are also a number of detached Spa Lodges housing their own steam room, outside sauna and hydrotherapy hot tub in a private walled garden, and five new larger Spa Lodge 100s due to open in the next 12 months, the first will be ready to receive guests later this summer. 
SWITZERLAND
Valsana Hotel & Appartements, Arosa – Best for Low Key Luxury & Eco Warriors – open 
Environmentally conscious travellers can hire e-bikes from one of Switzerland's most forward-thinking eco hotels, powered by an ice-battery and recycled energy.  Reclaimed wood and natural fibres are used throughout the hotel's interiors offering a warm and welcoming ambiance, and all guest rooms are equipped with traditional record players and an eclectic collection of records sourced from Portobello Road market in London. This is a cool, lighter luxury option for guests looking to enjoy time in the mountains. Guests have the choice of a hotel room or an apartment.
Tschuggen Grand Hotel, Arosa – Best for Grand Dining – reopening on July 3
The splendid mountain setting of Arosa makes for an indulgent, alpine summer expedition of horse riding, fly fishing, hiking, yoga, golf and mountain climbing. Spend a night under the stars in a luxury tent, or check in for an afternoon of pampering at the 5,000 sqm Bergoase spa. Enjoy Michelin-starred dining at La Vetta restaurant, or practice your skills in the hotel's private bowling alley. The grand hotel offers unparalleled views across the valley from its spacious suites.
Hotel Eden Roc, Ascona – Best for Lake Views & Lesser-known Switzerland – open
The golden haze as the sun begins to set across the peaceful and mystical Lake Maggiore is best enjoyed whilst sitting on the jetty at Hotel Eden Roc. Uninterrupted views of the elegant landscape can be enjoyed with aperitivo, a selection of Italo-Swiss cuisine and locally produced wine from Switzerland's most southern canton. Spend the days exploring the lake by boat, or cycle around the tracks, or simply bask by one of the hotel's swimming pools fringed with palm trees. Carlo Rampazzi interiors are a feast for the senses following months at home.
ITALY
Borgo Egnazia, Puglia, Italy – Best For Villa Experience – open
Borgo Egnazia is built in the style of a traditional Apulian village and is open all year round. Borgo Egnazia has very much tapped into the notion that families will want to cherish a longer first holiday away from home. There are 63 guest rooms (including seven suites) in La Corte, the castle-like main building, 92 bedrooms in the Borgo which includes 50 Casettes and 28 villas. They have transformed their Casette and Villas into "homes away from home", an ideal solution for long stays, remote working if necessary, ensuring privacy and safety. Borgo Egnazia has also introduced a new 'Happiness Break at Home' which is an extension to the successful Happiness Break package, including a laughter coach, nutritional & fitness coaching.
Forte Village, Sardinia – Best for Families – reopens June 27
Family holiday heaven, with miles of sandy beaches, glorious scenery, countless restaurants and swimming pools and a mass of activities from synchronised swimming, fencing, football, golfing and chess to a Thalassotherapy Spa so good that many believe it to be the best in Europe.
Palace Merano – Best for Detox Spa Retreats – open 
Guests are guided on a journey of rediscovery, improving natural health through harmony between body and mind in a luxurious, historic setting it Italy's oldest spa town. Award-winning specialists have designed dedicated programmes focusing on a series of Western and Chinese therapies. These include detoxification, regeneration and weight loss.
Romeo Hotel, Naples – Best for History – open        
Located in the historic heart of Naples, Romeo Hotel is the perfect setting from which to explore the city's centuries-old treasures. Experience Michelin-starred Neapolitan dining at the hotel's restaurant Il Comandante or enjoy a swim in the rooftop heated plunge pool with views out to the Bay of Naples and Capri. Romeo Hotel is within an hour's drive of nine listed UNESCO World Heritage Sites and just a 40-minute ferry ride to nearby islands or coastal towns such as Positano, Sorrento or Amalfi.
Verdura Resort, Sardinia – Best for Mediterranean Golf & Sea – open
Verdura is an oasis, a centre of wellbeing, escapism and indulgence set in 230 hectares of sun-kissed Mediterranean coastline and countryside surrounded by pretty Sicilian villages and ancient Greek and Roman sites. The resort offers tennis courts, water sports, championship golf and kids' clubs, infinity pools, thalassotherapy and the flagship Rocco Forte Spa. Experience fine dining, healthy eating and world-famous local wine within the luxurious eco-architecture.
Grand Hotel Excelsior Vittoria – Best for Ultimate Amalfi Coast Experience – reopening July 1
Just an hour's drive from Naples, the 183-year-old impressive hotel sits on the clifftops of the Amalfi coastline. Built on the ancient foundations of a villa designed for Emperor Augustus, the hotel has a Michelin-starred restaurant with breath-taking views over the Bay of Naples and Vesuvius, a gorgeous boutique spa and fascinating history. The centre of the city's heart is Piazza Tasso, which is full of energy and people at all hours. Corso Italia is lined with caffes, restaurants and shops but the entire historic centre has life, sights and eateries tucked away in the side streets.
Punta Tragara, Capri – Best for Romance – reopening June 26
Punta Tragara has a heavenly location overlooking the iconic Faraglioni rocks of Capri. This boutique hotel designed by legendary architect Le Courbusier captures the timeless glamour of the island. Watch the sun set over Capri's iconic cliffs and sink into the Tyrrhenian sea from Punta Tragara's infinity pool before heading to one of the hotel's two restaurants offering mouth-watering Mediterranean delicacies.
L'Albereta – Best for Wine Lovers – open
Ivy clad and set on a working Italian vineyard close to Lake Iseo within the renowned Franciacorta sparkling wine region, L'Albereta is the ideal destination for wine-lovers. A stone's throw from the Bellavista wine estate, founded in 1977 and home to some of Italy's finest sparkling wine, L'Albereta became a boutique hotel when the Moretti family converted their private villa in order to accommodate visitors to the winery. Rooms and suites at L'Albereta are individual in design and have a traditional Italian feel, with fireplaces and views of the vineyards surrounding the hotel. There are also three fantastic restaurants and an Henri Chenot spa. A new 2020 accommodation offering, the beautiful Torre Contadi Castaldi building, within the vineyards, has five new suites perfect for friends, families and weddings.
L'Andana, Tuscany – Best for Boutique Retreat – open
Offering relaxation for adults and fun and entertainment for children, L'Andana – with its open spaces and direct contact with nature – is perfect for a family holiday in Tuscany. L'Andana is an idyllic property located in the Maremma region, set in a 500-hectare estate. The property is surrounded by rolling hills, vineyards (where they make their own wines) and olive groves. Cookery classes are given by the hotel's chef, they boast an award-winning ESPA spa and stunning golf course. Set only a short walk away is the exquisite Casa Badiola – offering families the perfect escape with suite-only rooms including kitchenettes and complimentary access to the Kids' Club and Casa Badiola practice golf course.
Sonnwies, South Tyrol – Best for All-Inclusive Family Fun – open
Sonnwies is the ultimate destination for an all-inclusive family holiday. The hotel has grown organically from a small guesthouse on the owner's farm to a modern family's paradise. With 70 fully-refurbished rooms, the 4* family-only hotel offers the perfect accommodation for all group sizes. Meals and 70 hours of free childcare are included alongside pony riding, zip wiring and other activities listed on the weekly programme. During the warm summer evenings, children can sit around campfires roasting marshmallows and sleepovers are organised in the barn amongst hay bales. Children are invited to tend to the animals on the farm and can collect their morning eggs from the henhouse. The owner's grandmother also teaches guests the art of butter churning and cheese-making in a hands-on class. Many of the hotel's mountain villas and suites have saunas, hot tubs, fireplaces and private gardens for all the family to enjoy.
San Luis, South Tyrol – Best for Treetop Living – opens July 2
San Luis is an oasis of calm found hidden on the Avelengo plateau in South Tyrol. The 22 luxury chalets and 17 single or double-storey treehouses located high up in the tree canopies are set around a natural private lake, each with their own sauna and private hot tubs.
Rosa Alpina – Best for Michelin Star Dining Unplugged – opening July 12
Every Sunday during the summer season, the hotel's 3 Michelin starred restaurant, St. Hubertus, will transport itself high up in the mountains to 2,000m altitude, and take up residence in the hotel's cabin on the Piz Sorega plateau to provide a 'St. Hubertus Unplugged' lunch in a new, authentic experience for food and wine lovers alike. Surrounded by breath-taking beauty of the Dolomites, the cabin has no electricity and here, Chef Norbert Niederkofler's "Cook the Mountain" concept, which St Hubertus is based on, goes back to its origins. Guests and chefs will begin the journey and hike up towards the cabin, foraging for wild herbs, mushrooms and other ingredients along the way that will then be used to prepare an unforgettable 5-course menu on the cabin's wooden fire. Cost €230 per person, including wine.
AUSTRIA
Das Central, Sölden – Best for Adventure – due to reopen on July 16
Das Central Hotel is a modern Alpine escape in the heart of Sölden, high in the Austrian Alps. Boasting one of the longest ski seasons in Europe, thanks to two linked glaciers, Sölden is a skier's paradise with 145km of slopes and peaks over 3,000m and views across Austria, Italy and Germany. Summer in the mountains is just as picturesque and action packed. Cycling enthusiasts can enjoy downhill thrills along one of the 15 natural trails formed by mountain farmers, with varying levels of difficulty and gradient. Nearby, Area 47 is 95,000sqm of playground offering rafting, wakeboarding, canyoning and a zipline – or else, head out on foot for long walks by the alpine lakes. The hotel has 125 individually designed rooms, two suites and a recently opened presidential suite, as well as a stunning spa with over ten different saunas. Just one hour from Innsbruck airport, it is possible to get from the city to the slopes in 3 hours.
GERMANY
Orania.Berlin – Best for Cool Factor – open 
Located in the creative heart of the city in Kreuzberg at the Oranienplatz 17, a building which dates from 1913. Formerly home to the legendary Oranienpalast Café, as it was known at the time, the venue played host to outstanding concerts. Reviving this identity, the 41-room Orania.Berlin has a vibrant programme of music concerts, performed by great artists living in Berlin, as well as readings and film screenings. These are hosted in both the property's Orania.Bar, which features a concert stage and Steinway piano, and the Orania.Salon overlooking the city's skyline. Orania.Berlin's culinary offering includes dishes created with the use of a duck oven – which even has its own fun and quirky Instagram character and handle @xbergduck
Schloss Elmau – Best for Music Lovers & Yoga – open
Just 100km south of Munich and 1000m above sea level, Schloss Elmau features two 5-star hotels with a total of 162 rooms and suites, six separate spas for adults & families, a TCM Health Spa (Traditional Chinese Medicine), Yoga Centre, eight restaurants, as well as a unique Cultural Programme in its legendary concert hall with some of the greatest artists of all time. Schloss Elmau is a member of Virtuoso as well as The Leading Hotels of the World and Fine Hotels & Resorts from American Express. The surrounding landscape provides a dramatic landscape for mindful skiing in the winter and yoga retreats in the summer.
TURKEY
Mandarin Oriental, Bodrum – Best for Glamorous Getaways – Now open
Surrounded by pine trees and olive groves that cascade down the hills to sandy shores meeting the azure waters of the Aegean Sea, the Bodrum peninsula is the perfect castaway setting for isolation. Mandarin Oriental, Bodrum has two private beaches, infinity pools and a huge spa for pampering treatments. The resort is built into the hillside offering sheltered seclusion in nature and a selection of al fresco dining outlets that overlook the water. Spend the beach or cast your sails and hire a traditional gulet from the old marina as you explore the coastline and secretive coves.
UAE – Dubai
Mandarin Oriental Jumeira, Dubai – Best for Autumnal Sun
Just as the weather begins to turn in the UK, the heat cools in the UAE and the dazzling gem of the Gulf returns to life. Sitting on the Jumeira beach front and only a 15 minute drive from Downtown Dubai, Mandarin Oriental Jumeira, Dubai opened in 2019 with expansive infinity swimming pools, an immaculate spa and unrivalled beach and skyline views. The hotel has a number of excellent restaurants, including Tasca – Dubai's only Portuguese restaurant. A canopy of lights created by 14 bronze sculptures welcomes guests into the marbled high ceiling atrium and into the cool of Dubai's chicest address.
Follow and Share with Jetsettersblog.