Home Farm on the Aldenham Estate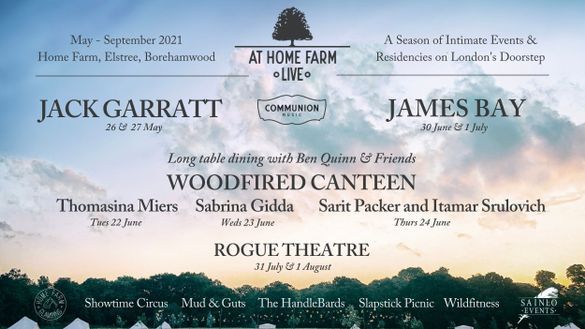 ---
AT HOME FARM
– A festival season of live music, theatre, gastronomy and wellbeing
– Live music in the woods with Communion Presents: Jack Garratt and James Bay
– Long table alfresco feasts from Woodfired Canteen's Woodfired & Friends – Thomasina Miers, Sabrina Gidda & Honey & Co
– Magical wild woodland tales with Cornwall's famous Rogue Theatre
– Cycling Shakespeare from The HandleBards
– Open Air Theatre with SlapStick Picnic
– The best back to nature kids adventures with Mud & Guts
– Circus School with Showtime Circus
– Wildfitness and Yoga Brunch Club
Home Farm, a countryside idyll just 13 miles from Marble Arch will this year debut its first ever festival season At Home Farm, a line-up of intimate outdoor events and residencies designed to leave you feeling nourished inside and out, with some of the best names in independent music, gastronomy, wellbeing and outdoor performance.
At Home Farm is a homage to the halcyon festival days we have all so sorely missed. Handpicked partners showcased from May through to September include Live Promoter Communion Presents, part of Independent Record Label Communion Music, Woodfired Canteen's 'Woodfired & Friends', The HandleBards, Rogue Theatre, Showtime Circus, Mud & Guts, Wildfitness and much more! The events will all be held safely outdoors within 150 acres of wild woodland, meadows and private lake on The Aldenham Estate.
At Home Farm is the realisation of a long-time dream to host a festival season on this precious piece of Green Belt for Jess Allen-Back, Owner and Founder of At Home Farm and Home Farm Glamping. To create this spectacular events season, Jess brought onboard festival curator Tessa Clarfelt, whose back catalogue includes cultural programming for Wilderness Festival, Citadel Festival and Soho House. Founder Jess explains; "I've known Tessa for years and always had ambitions for Home Farm to launch its own festival season! This programme is packed with all those wonderful things in life that we have all missed. As the stage starts to take shape in the woods – I can almost feel the anticipation in the air as people come to enjoy live music and performance, good food and wonderful company and forget the pressures of the last year for a while."
WHAT'S ON…
LIVE MUSIC IN THE WOODS WITH COMMUNION PRESENTS: OPENING WITH JACK GARRATT'S RETURN TO THE STAGE (26 MAY & **SOLD OUT**27 MAY ), FOLLOWED BY AWARD-WINNING SINGER-SONGWRITER JAMES BAY (30 JUNE & 1 JULY)
Top of the bill is a partnership with independent record label and live promoter, Communion which began life as a monthly live music night at London's Notting Hill Arts Club and has quickly grown into an active and supportive community of musicians and fans.  Featuring celebrated artists such as James Bay and Jack Garratt, music fans will be able to enjoy the unforgettable experience of live music and feasting in the wild with a two-course supper from Chef Jean-Luc Sainlo. Tickets are £50pp +BF including live music and a delicious two-course supper.
FEAST IN A FIELD: WOODFIRED CANTEEN PRESENTS…WOODFIRED & FRIENDS WITH: RESTAURATEUR & MASTERCHEF WINNER THOMASINA MIERS OBE (22 JUNE), SABRINA GIDDA (23 JUNE), SARIT PACKER AND ITAMAR SRULOVICH FROM HONEY & CO (24 JUNE)
A foodie experience like no other with purpose at its heart and fire in its belly, At Home Farm will host 'Woodfired and Friends' – long table alfresco dining experiences in partnership with some of London's top Chefs. Each menu will be co-designed by renowned Chefs to create a one-of-a-kind alfresco feast. What better way to celebrate the lifting of restrictions than booking in for one of these feasts. Tickets are £60pp + BF including a three-course feast and welcome drink.
PERFORMANCE IN THE PASTURES: WITH THE HANDLEBARDS, SLAPSTICK PICNIC, ROGUE THEATRE, SHOWTIME CIRCUS & MORE! MAY – SEPT SELECT DATES. 
Theatre lovers who have missed their fill of the arts this last year are in for a treat! At Home Farm will host the spellbinding Rogue Theatre; a national touring theatre company based in Cornwall who create immersive, highly visual theatre.  They will be bringing their magic and pageantry to Home Farm this Summer with their most enchanting and comical theatre, an epic and very entertaining adventure for the whole family.
Pedalling from venue to venue with all of their set, props and costumes on the back of their bikes, The HandleBards are a four-strong troupe of actors who are spending the summer bringing environmentally sustainable Shakespeare to venues across the UK. Join the all-female troupe for a bicycle-powered production of Shakespeare's classic Macbeth. Forget the tears and tragedy – this is a frantic, delirious, full-of-beans show like you've never seen before. Later in the summer, The HandleBards sister company, Slapstick Picnic will present The Importance of Being Earnest.
Unicycling into your life this summer is Showtime Circus. Learn aerial hoop and trapeze, tightrope, unicycle, juggling, hula hoop and loads more from professional teachers at this circus summer camp! Children will play games, do physical warm-ups, some arts and crafts, devise little shows and routines and basically have the most fun ever learning the skills of the circus.
WELLBEING IN THE WILD: WITH WILD FITNESS, YOGA BRUNCH CLUB AND MUD & GUTS
The wellbeing programme curated for 'At Home Farm' is a celebration of this precious piece of Green Belt and an invitation to come and explore it to boost physical and psychological wellbeing. Taking place on select dates throughout the season, the programme includes:
Wildfitness: Use the natural landscape as your gym with Wildfitness one-to-one coaching sessions. Put simply, this is the practice of listening to your body and mind and responding to your instinctual needs to move naturally, for deep relaxation and for unprocessed food.
Yoga Brunch Club: Yoga Brunch Club will be winding down and stretching out your weekend with yoga and a well-earned 3 course brunch.
Mud & Guts is an outdoor adventure company for children who has been teaching children how to build shelters, light fires and not get lost in the woods for eight years. Sessions are designed to stimulate body and mind and give children an awareness of natural world learning. For any children who may have missed some school time this year, this is a great opportunity to build confidence, self-esteem and learn new skills.
LOCATION & GLAMPING:
Home Farm is on London's doorstep in Elstree, within easy reach of tube and rail links for guests to come just for an evening to reconnect with nature and be transported to a 'secret garden'. For those who want to make the most of the time in the wild, overnight stays are available in the glamping fields with Home Farm Glamping.
AT HOME FARM BOOKING INFORMATION: 
What: At Home Farm, a season of intimate events and residencies
When: May – September 2021
Where: Home Farm, Aldenham Road, Elstree, Hertfordshire, WD6 3AZ
How to book events: Visit www.athomefarm.live
Where to stay: Guests can stay in the glamping meadow and choose from beautifully furnished Yurts & Bell Tents. To book visit www.homefarmglamping.com
Closest tube and rail: Stanmore Jubilee Line and Elstree & Borehamwood Thameslink. Taxis available for the short 10 minute ride from either station. 

Follow and Share with Jetsettersblog.