Hong Kong Cyclothon Hammer Series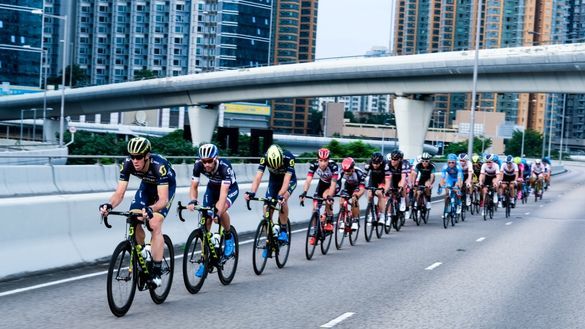 ---
Hong Kong is preparing to welcome world class cyclists and cycling enthusiasts from around the globe for the fourth edition of the annual Sun Hung Kai Properties Hong Kong Cyclothon.
Held in partnership with the Hong Kong Tourism Board (HKTB), Hong Kong will host the Asian leg of the 2018 Hammer Series for the first time on 14 October 2018, following stages in Norway and Netherlands earlier this year. 11 UCI WorldTour teams will go head-to-head covering a total of 64.5km over the course of the day.
Races:
Unlike other professional cycling races, only a whole team can win, not an individual rider. The race is designed to allow fans the opportunity to see some of the world's best team's work together in order to reach victory.
The Hammer Sprint: This is a fast and furious race over a 4.3km circuit in Tsim Sha Tsui, along the picturesque Victoria Harbour. The teams, consisting of five cyclists per team, will compete over 10 strenuous laps (43km in total).
The Hammer Chase: The teams will set off in two separate groups, according to the points won in the sprint race. The "runner-up" and "finalist" groups will battle separately over five laps (21.5km in total) along the same course. The team in the "finalist" group whose fourth rider crosses the finish-line first wins.
In addition to the professional Hammer Series, amateur cyclists can put their speed and endurance to the test by participating in the 30km or 50km rides. Participants will cycle through the diverse cityscapes, set against Hong Kong's world-famous skyline and make their way from Tsim Sha Tsui to Tsing Yi, Ma Wan and back to Tsim Sha Tsui. The 50km riders will also sweep through three tunnels and past spectacular Hong Kong landmarks including: Tsing Ma Bridge, Ting Kau Bridge and Stonecutters Bridge.
The team that accumulates the most points in total across all three stages will be crowned the 2018 series champion.
The Hong Kong Tourism Board (HKTB) Regional Director – Australia, New Zealand and South Pacific, Andrew Clark said, Cyclothon is another jewel in the Hong Kong events calendar and showcases the strength of Hong Kong as a sporting destination.
"Cyclothon is a Union Cycliste Internationale (UCI) Asia Tour Class 1.1 Road Race, and hosting the final leg of this globally regarded competition will ensure Hong Kong has a spot on the international sporting stage," Mr Clark said.
"Not only do we have this fantastic international cycling event, but Hong Kong is also a year round cycling destination with a multitude of tracks to discover by road or mountain bike."
To register or watch:
The 30km and 50km rides are open to all passionate cyclists, for more information and to register visit register.hongkongcyclothon.com. Online registrations www.discoverhongkong.com/nz open on 21 July 2018.
To find out the best vantage points visit www.discoverhongkong.com/au/see-do/events-festivals/highlight-events/cyclothon.jsp.
For more information on Hong Kong visit www.discoverhongkong.com/au or www.discoverhongkong.com/nz.
Follow and Share with Jetsettersblog.