Hook, Line & Sinker: 10 of the Best Destinations for 'Sole' (And Salmon) Searching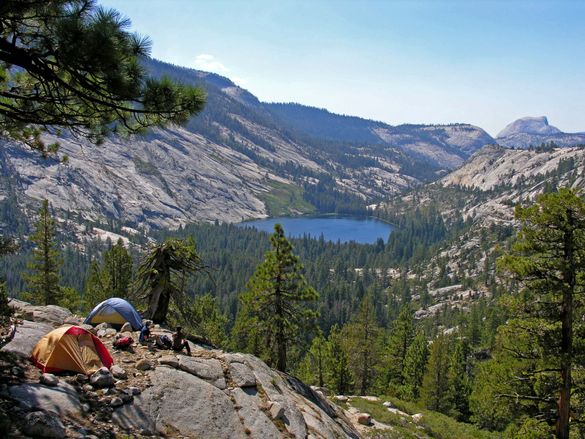 ---
To celebrate National Fishing Month starting on 26th July, we've pulled together our favourite destinations across the US, Japan and Tahiti that offer even the most expert angler a new experience.
USA
Casting in Colorado, USA
It may be landlocked, but with 8,000 miles of rivers (including 329 miles of Gold Medal streams) and more than 2,000 lakes, Colorado offers visitors some of the best and most abundant fishing in the world. Fly-fishers, ice-fishers and pure rod-and-reelers will find plenty of places to drop their line in the Centennial State; and with the majestic Rocky Mountains as their backdrop, there is arguably no better place to do so. Those looking for the ultimate fishing experience can visit The Broadmoor Fly Fishing Camp, located just over an hour west of Colorado Springs. This private escape pairs world-class fishing with luxurious cabins and dining. Featuring more than five miles of private river, ranging from timbered canyons to grassy meadows and winding bends, guests can fish for wild brown and brook trout in whichever style they prefer or under the guidance and tutelage of professional Broadmoor guides. colorado.com
City Baiting in Pittsburgh, Pennsylvania
Pittsburgh sits at a unique confluence of rivers unlike any other in the world. The three rivers that meet in the centre of downtown at Point State Park are actually a vast watershed of more than a dozen unique creeks and river systems that include more than 30,000 miles of rivers and streams extending into New York and West Virginia. These clean and accessible waters have become an icon of Pittsburgh's environmental transformation. There are over 38 miles of river shoreline within the city limits and Point State Park is a good spot to embark on some casual fishing. Visitors can cast a line into the shallow waters of the Ohio River from the paved banks of the park or dock a boat here for a full day. Further afield, accessible fishing piers can be found at both Deer Lakes Park, North Park and more options in Butler County in Moraine State Park. www.visitpittsburgh.com
Fishing Florida's Paradise Coast, Florida
Water is a way of life in Florida's Paradise Coast and perfectly positioned to offer a multitude of fishing activities with the added bonus that many hotels and resorts are just steps away from the ocean as the coastline hugs the Gulf of Mexico. Avid anglers will be in their element with endless options for fishing and the pinnacle is south of Chokoloskee Island, in the Ten Thousand Islands section of Everglades National Park, offering a huge variety of marine life. Licenses are required, however Naples Pier is covered with a blanket license for those wanting to join the locals casting off from the pier. As with much of Florida, restaurants offer a 'cook your own catch' service. www.paradisecoast.com  
Salmon Run in Seattle, Washington
Salmon spawn in the Seattle waterways before swimming to the salty waters of the Pacific Ocean for a few years and then returning home to continue the lifecycle. One of the best places to see salmon running to spawn upstream is in Issaquah Creek, greater Seattle. Nearby to the city, the beautiful Puget Sound offers fantastic fishing and is one of the best ways to experience the Pacific Northwest. Suitable for all levels – from beginner to expert – visitors can learn about saltwater trolling aboard 28′ charter boats departing from Seattle, just seven miles from Downtown Seattle with Fish Finders. These fishing tours are offered year round (regulations permitting). www.visitseattle.org
Alpine Trout Adventures in Mammoth Lakes, California
Mammoth Lakes, located in California's High Sierra, is known as one of the most challenging and rewarding fishing destinations in the Western U.S. With access to an abundance of high alpine lakes, reservoirs, streams and creeks, Mammoth Lakes offers some of the best trout fishing in the world. Monster rainbows, wise old browns, feisty brookies and elusive native golden trout – whether bait-setting from a folding chair on a sunny beach with a view, trolling from a boat, nymphing from a float-tube in the middle of a quiet pond or casting barbless midges from a grassy bank on a quiet oxbow, there are plenty of places to try a fishing adventure. Mono County fishing season takes place during April-November, meaning visitors can enjoy the stunning summer weather or take a trip in autumn as the Eastern Sierra landscape turns into a breathtaking sea of brilliant golden colour. The catch-and-release fisheries of the Upper Owens River above the Benton Bridge to Big Springs, the East Walker River below Bridgeport Reservoir and Hot Creek remain open year-round for those interested in winter fishing. To find out more about fishing in the area check out the brilliant video guides created by the team at Mammoth Lakes. www.visitmammoth.com
World-class Fly Fishing in Yosemite Mariposa County, California
Yosemite Mariposa County offers visitors an exceptional variety of sport and fly fishing opportunities. Boasting 58 permanent streams stretching a combined length of 770 miles, plus a multitude of mountain lakes and excellent rainbow and brown trout keepers, Yosemite offers visitors world-class fishing in a one-of-a-kind setting. The National Park Service website has information on the regulations for those who plan on fishing in the park itself. Outside of the park itself, there are tons of great, quiet fishing spots. One of California's secret fishing destinations, sun-soaked Lake McClure and its little brother Lake McSwain are nestled in the oak-studded Sierra foothills on the western edge of Mariposa County, both lakes are fed by Yosemite's Wild and Scenic Merced River. With affordable, well-maintained facilities and three marinas, the lakes feature trophy-level fishing, family camping, and plenty of hiking opportunities. www.yosemite.com
Catch a Striped Bass in California's capital, Sacramento
Originally it was the lure of gold and silver in the streams and river beds that drew people from all over the world to California's Gold Country, but these days it's the promise of everything from salmon, trout, steelhead and striped bass in the water that will catch a visitor's eye! Sacramento sits at the confluence of the Sacramento and American rivers, and with the expansive Delta region, California's capital makes a great fishing destination. There are guides located all throughout the Sacramento region that accommodate all types of anglers, or if you're feeling adventurous, head to the Port of Sacramento on the westside of town and rent a kayak. When it's spawning season, you can expect to catch the likes of Shad, Trout, Bass, and more. www.visitsacramento.com
TAHITI
Deep Sea Fishing, The Islands of Tahiti
Whilst enjoying the crystal clear waters and white sand beaches, visitors to The Islands of Tahiti can try their hand at deep sea fishing. Options include fishing off the coasts of Moorea or Bora Bora with expert guides. Visitors can be (almost) assured of getting some good catches, such as tuna fish, swordfish, blue spearfish, barracudas, and mahi-mahi. Tahiti Trip Fishing offers guided tours where anglers can experience a day of big game fishing; this trip includes a briefing on the Olphi Nui with Captain Sebastian who will then track down some of the largest species of Tahiti. www.tahititourisme.uk/en-gb/
JAPAN
Urban Fishing in Japan
Fishing in Japan started as a necessary means of subsistence, but has evolved into a popular pastime. Today, visitors can enjoy fly-fishing in the lakes and rivers that run through the country or head to the ocean for deep-sea fishing. Even major cities, such as Tokyo and Osaka, have found space for 'urban fishing' – a reminder of just how influential the activity remains. Lake Akan in the Akan-Mashu National Park in Hokkaido has a tremendous reputation for fly-fishing with the Japan Alps near Gifu and Nagano prefectures also being notable spots. Each location has different rules for how to acquire a license, so visitors must check before they set out on their adventure. www.japan.travel
Scenic Lake Fishing in Hachinohe, Japan
The Oirase Stream flows from Lake Towada on the border of Aomori and Akita prefectures through the equally scenic Oirase Gorge. Visitors can either walk or cycle an 8.5 mile route setting out from Yakeyama and ending at Lake Towada in Nenokuchi. Nenokuchi offers numerous activities, including year round fishing and sightseeing cruises on the lake, meanwhile, Lake Towada is particularly popular during autumn when the foliage on the trees on the surrounding mountains burst into brilliant colour. Autumn is also the season for Kokanee Salmon fishing in the lake. Additionally, Ogawarako Lake, located in Aomori Prefecture just 50 minutes north of Hachinohe, is a famous spot for ice Wakasagi fisheries. Wakasagi can be found in large shoals under frozen lakes. www.visithachinohe.com
Follow and Share with Jetsettersblog.