Houston – La Colombe d'Or Hotel Renovation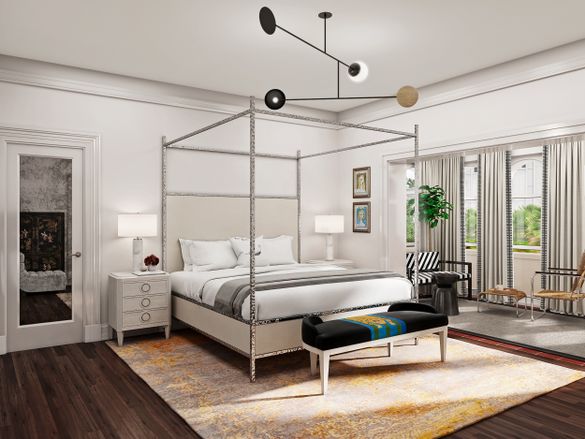 ---
Legendary historic Montrose mansion transformation will welcome a new era of guests
The Zimmermans, represented by NewForm Real Estate, in a joint venture with Hines, announced the full details for the highly-anticipated La Colombe d'Or Hotel renovation.
In addition to the 34-story The Residences at La Colombe d'Or developed and previously announced by Hines, La Colombe d'Or Hotel's footprint will grow to a total of 32 hotel rooms across the Mansion, Tower and Garden Bungalows.
"La Colombe d'Or Hotel has served as a unique hospitality experience for guests traveling to the city of Houston and locals seeking an elevated dining ambiance for four decades," said Dan Zimmerman, President of NewForm Real Estate. "The renovations and additions gracefully merge the history and grandeur of the mansion while modernizing the overall aesthetic. We are passionate about evoking the essence of Montrose and the Museum District while also exceeding the evolving tastes and expectations of our guests."
Offering three distinctive yet collective guest experiences
The Mansion, classified as a historical landmark, is undergoing a full renovation and restoration to update the classic sophistication of La Colombe d'Or. To provide updated conveniences to guests, modern comforts will seamlessly complement the original historic elements including all new mechanical, electrical and plumbing systems. Led by internationally renowned design firm Rottet Studio, the design polishes and refreshes the traditional elegance of the historic 1920's mansion and layers in modern notes to add drama and depth to the hotel.  The renovation revolves around the expanded restaurant and bar which are draped in rich colors and patterns that create a luxurious oasis in the city. The revitalization includes the restoration of the original parquet flooring and woodwork, windows and green glazed Ludowici roof tile. The Mansion suites will receive all new soft-good materials, lighting, bathrooms and personalized cooling and heating systems. The first floor of the Mansion and the existing La Colombe d'Or Hotel will serve as the reception point for the overall hotel experience and will feature a reception living room, a coffee and libations bar and a full-service restaurant. The second floor of the Mansion, accessed by a central winding grand staircase, houses all 5 suites ranging from 470 to 721 square feet.
The Tower includes 18 hotel suites on the lower level of The Residences at La Colombe d'Or and is accessed by a pass-through garden from the Mansion. With architecture by Muniz + Albin and interiors by Rottet Studio, the design creates the feel of a modern and open pavilion with flowing spaces to showcase art in a gallery like setting. This modern expansion of the hotel deliberately contrasts the historic mansion to amplify the beauty inherent in each architectural era. Each room ranges from 483 to 910 square feet and features a bedroom, bathroom and a seating area in a suite setup. The Tower is well suited for guests looking for a traditional hotel room experience.
The Garden Bungalows, a collection of 9 suites grouped around a charming courtyard, are accessed via a walkway from the new tower. Designed by gin design group, this experience offers guests a respite from the bustle of the city with a whimsical nod to the Mansion. Textured walls of bone-white chiseled stone, artisan wallcoverings and antique tiles serve as a backdrop to the sculptural custom furnishings upholstered with velvets and boucles in mossy greens and earthy rust tones. Designer lighting punctuates a collection of original art tastefully displayed throughout. The flats range from 840 to 1540 square feet and feature 1 or 2 bedrooms and baths, each with a full kitchen and living room. The Garden Bungalows are ideal for guests visiting for an extended period of time or seeking a more private experience during their stay. Each unit has either a private patio, balcony or interior courtyard access.
Guests of La Colombe d'Or Hotel will have access to a variety of amenities shared between the hotel and residences including multiple gardens, a private park, a state-of-the-art fitness facility and pool with downtown views, a full-service restaurant and bar, in-room dining and a gallery with rotating art exhibits. A short walk from the hotel, guests will find Houston's Museum District offering 19 museums including The Menil Collection and Museum of Fine Arts, as well as world class restaurants and night life.
"It was important for us to offer a variety of accommodation types to suit the many needs of our guests at La Colombe d'Or Hotel," continued Zimmerman. "Paired with our central location, walkable neighborhood, hotel amenities and neighborhood attractions, future guests of La Colombe d'Or can expect a very memorable stay at our property."
About The Zimmermans
Long-time real estate investors in the city of Houston, The Zimmermans have been shaping the fabric of the neighborhoods they develop since the early '70s.  Led by Steve and Dan Zimmerman, the family's acquisition strategy focuses on redeveloping and rehabilitating core real estate that adds layers of character and richness to the community it serves. The Zimmermans continue to seek real estate investing opportunities that combine culture, commerce and community involvement. Visit www.newformrealestate.com for more information.
About La Colombe d'Or Hotel
An iconic luxury property owned by The Zimmermans for 40 years, La Colombe d'Or Hotel has served as a distinctive boutique hotel for the city of Houston. Over the last four decades, the hotel has provided a bespoke hospitality experience for politicians, celebrities and guests.
Originally built in 1923 as a residence for Houston's Fondren family, the La Colombe d'Or Mansion was acquired in 1979 and transformed into a hotel featuring suites, a restaurant and bar, an art gallery and notorious Le Grand Salon de la Comtesse—a Rococo ballroom outfitted in English oak, gilded-frame mirrors and chandeliers once built for French royals in the 1730s and purchased by The Zimmermans in 1995.
About Hines
Hines is a privately owned global real estate investment firm founded in 1957 with a presence in 205 cities in 24 countries. Hines has approximately $133.3 billion of assets under management, including $71 billion for which Hines provides fiduciary investment management services, and $62.3 billion for which Hines provides third-party property-level services. The firm has 165 developments currently underway around the world. Historically, Hines has developed, redeveloped or acquired 1,393 properties, totaling over 459 million square feet. The firm's current property and asset management portfolio includes 539 properties, representing over 232 million square feet. With extensive experience in investments across the risk spectrum and all property types, and a pioneering commitment to sustainability, Hines is one of the largest and most-respected real estate organizations in the world. Visit www.hines.com for more information.
About The Residences at La Colombe d'Or
Combining the charm of old-world Houston with the grace and elegance of new contemporary design, The Residences at La Colombe d'Or will evoke an elegant, stylish and sophisticated lifestyle reflective of the landmark property. The 34-story luxury residential high rise will connect to the neighboring La Colombe d'Or Hotel through a series of amenitized areas, including an art gallery and outdoor plaza with fireplace. The new building will also provide 18 additional luxury rooms for guests of the La Colombe d'Or Hotel. A joint venture with Hines, TIAA Global Asset Management and the Zimmerman family, the project broke ground in February 2018 and is expected to open summer 2020.
Follow and Share with Jetsettersblog.