Human R'evolution Retreat Ibiza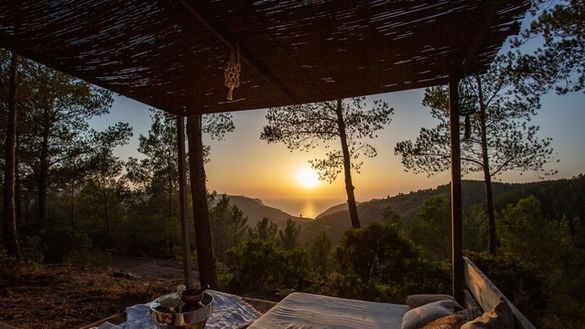 ---
HUMAN R'EVOLUTION RETREAT LAUNCHES FROM IBIZA
The magic healing powers of Ibiza at home
The real Human R'Evolution starts WITHIN
Be part of it
Ibiza Retreats and Transformation Station, two of Ibiza's most respected holistic wellness organisations, have collaborated on an extra special project that will benefit not only the people on the beautiful white isle, but humans across the globe by opening the uplifting energy of Ibiza as they announce the first online Human R'Evolution: a virtual retreat hosted over the last weekend in November (which is also set to be the weekend before the end of England's lockdown).
This newly formed collective, an Ibizan supergroup of healing energy and wellness specialists, led by Larah, Susie, Steve and Leigh who share a collective vision, have joined together to give people the chance to experience the calming magic and harness the unique spirit of Ibiza as a virtual retreat experience at home, with the ultimate goal of transforming people's lives as widely and accessibly as possible.
"We are delighted to be collaborating with Larah and Susie – say Leigh and Steve, Transformation Station founders. – We have been huge admirers of Ibiza Retreats for many years now and feel that this partnership will truly be a huge success as we share a similar vision as well as motivation towards the ultimate goal of transforming people's lives. Individually we are great but together we are extraordinary. We at Transformation Station believe that true greatness can only be achieved as a result of collaboration with like-minded individuals, groups and organizations whose primary thinking is based on inclusiveness, respect and synergy. We look forward to a continued working relationship with Ibiza Retreats and are committed to transforming the global community one retreat at a time."
Larah Davies said: "As we continue through this pandemic, people begin to see shards of light, glimmers of NEW hope for health, happiness and freedom as we all now recognise not only the need to heal the body and the mind synergistically; but also the  power to facilitate this healing from within using body, breath, mind and spiritual techniques."
Human R'Evolution is an online retreat that provides an authentic connection, an ongoing support network, practical tools and techniques to improve mental and physical health, emotional wellbeing and it empowers spiritual evolution through the portfolio of experts guiding you in holistic mind-body practices.
The Ibizan supergroup of healing energy and wellness experts will individualise the wellness journey, beginning with 1:1 wellness coaching, daily, professionally taught creative and intuitive flow and Kundalini yoga classes, which are hosted in magical Ibiza locations, guided meditations, visualisations, yoga nidras (self-healing deep-sleep support), restorative yoga, nutritional guidance, MET (Tapping – Emotional Freedom Technique), Wim Hof workshop,  and sound healing.
Ibiza Retreats have been at the forefront of the wellness movement on the Island, collectively for over 12 years. Ibiza Retreats, founded by Larah Davis and developed with Co-Director Susie Howell, works with a team of teachers, healers and holistic therapists to offer wellness techniques and complementary therapies in integrated wellness retreats – both privately, for corporate groups and in their signature R'Evolution and Rejuvenate retreats. Transformation Station is the brainchild of Ibizan residents Steve Davies and actress, Leigh Arnold. After relocating to the island in 2016, at their private hilltop Finca in the north of the island, the couple has created a space where highly-experienced transformational coaches and facilitators can work with individuals and groups who feel, for any reason, that a shift is needed to allow them to live their personal or professional lives on a more conscious level.
The dates for this online retreat have been confirmed for Thursday 26th – Sunday 29th November inclusively. You can book online and pricing is from 295 Euros per person –  a 50% discount for this first retreat from the normal price of 595 euros.
The participants can benefit from extra offers and sessions that provide ongoing support.
After-care = feel your new life rhythm, find your flow, let your evolution grow
With ongoing support for your conscious  evolution
We will follow up 1 week later with a live 2 hour workshop with Larah, Susie, Leigh and Laor Oman Naharin inviting you to celebrate and reconnect, reflect, coach and then liberate your self-expression with Laor's high vibration, voicessence session.
Bonuses include :
1 month free Transformation Station online platform access to all classes, workshops and experiences.
Downloadable MP3 of recorded meditations, guided visualisations evening deep-sleep relaxations from the retreat.
"How to" guides from the retreat.
And OPTIONAL further 1:1 QUANTUM Coaching / Yoga Therapy / YOGA PRIVATE sessions with Susie and Larah
More information about the retreat:
https://www.transformationstation.online/online-retreat-human-revolution-nov-2020
The team is also holding a series of LIVE events for everybody who wants to meet the founders of the retreat in person and taste the benefits of the Human R'Evolution practices, as well as ask questions. The Live events are held on Tuesday, November 17th at 6 pm, Wednesday, November 18th at 6 pm and on Monday, November 23rd at 10 am.
Here is the registration page:
https://www.transformationstation.online/webinar-registration-human-revolution
Follow and Share with Jetsettersblog.