ibis Styles Weekend Beach Getaway in Vung Tau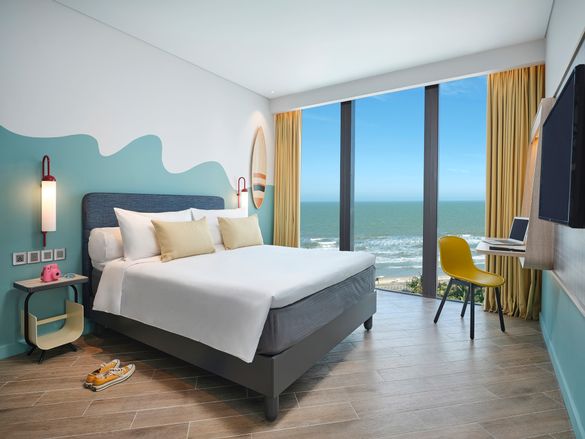 Accor unveils the second ibis Styles in Vietnam, bringing the brand's vibrancy to the heart of Vung Tau with the opening of ibis Styles Vung Tau.
Overlooking Vung Tau's long sandy Back Beach, just a two-hour drive from Ho Chi Minh City, the hotel shines with stylish guest rooms offering a comfortable base to explore the closest beach destination from the economic capital of the country.
"Vietnam is blessed with over 3,200 kilometres of coastline, including the beautiful beaches of Vung Tau, located just two hours from Ho Chi Minh City. The opening of ibis Styles Vung Tau offers an attractive coastal getaway for guests looking to get out of the city yet delivers on budget-friendly and contemporary comforts," said Patrick Basset, Chief Operating Officer of Accor, Upper Southeast & Northeast Asia and the Maldives.
ibis Styles Vung Tau is the embodiment of fun style and creative energy, boasting a gallery of potential backdrops for Instagrammers at every turn. The design of the hotel is inspired by the sea. Its clean and modern aesthetics are enlivened with dynamic colour accents, providing an alluring contrast to the palette of tropical greens and blues outside the oversized windows.
The hotel's 250 guest rooms range from the 24 sqm Standard Room to the 46 sqm Premium Family sea view room with balcony. Featuring cosy and soothing design, the guest rooms offer everything guests need for an enjoyable stay, including the premium quality Sweet Bed by ibis Styles and Wi-Fi access.
The culinary hub of the hotel, StrEATs restaurant, is designed similarly to a street food concept featuring an open kitchen and a spacious terrace with various selections of Vietnamese food and international cuisine. Ideally suited to light bites and casual socials, OnTheTop rooftop bar invites guests to unwind with delicious drinks and snacks befitting of the glittering Vung Tau skyline..
Also situated on the rooftop, the hotel's infinity pool is an irresistible draw for guests looking to refresh with an afternoon dip. To reenergize after a relaxing swim, the 24-hour gym is equipped with the latest cardio fitness equipment and a range of free weights.
Families are well catered too at ibis Styles Vung Tau. In addition to family rooms which can host up to four guests, there is also a Kid's Club to ensure an enjoyable seaside vacation for the whole family.
The hotel's proximity to Ho Chi Minh City makes it a popular venue to host seaside meetings and teambuilding events. The two meeting rooms at ibis Styles Vung Tau are named after the city's main beaches – Back Beach and Front Beach. The two rooms can combine into a large sea view Ballroom featuring natural daylight to welcome up to 200 guests.
In addition to beach activities, guests of ibis Styles Vung Tau can enjoy the succulent catches of the day at the Night Seafood Market just 10 minutes away by foot. Perched atop Small Mountain and a short walk away stands the 32-meter-tall statue of Jesus Christ, from which visitors can enjoy a panoramic view across the ocean. Other sites of interest within a short drive away are the Lighthouse Tower, White Palace, and Ho May Park.
"Vung Tau has long been a popular beach getaway for locals from Ho Chi Minh City, and in recent years we have also seen arrival of travellers from other regional countries. With the opening of ibis Styles Vung Tau, we look forward to welcoming guests looking for an economy-priced hotel with all the modern travel necessities including a stylish design, premium bedding and fast Wi-Fi," said Mathieu Le Besq, General Manager of ibis Styles Vung Tau.
To celebrate its launch, ibis Styles Vung Tau is offering a Superior Room stay for two with breakfast starting from USD 90++ per night valid from now until 15 May 2020.
For more information, please email HB2U9@accor.com, or contact +84 (0)254 352 6008 for general enquiries and reservations.
ABOUT IBIS STYLES
Creative design and a playful atmosphere are what travelers find when they stay with ibis Styles. With a unique design concept built around a precise theme and a confident, optimistic approach, ibis Styles hotels deliver simple, trendy and economical hospitality. The friendly staff delight in surprising guests with joyful little extras to make every stay feel personal and special. Couples, families, solo travelers and business guests are all welcomed warmly at more than 500 uniquely designed ibis Styles hotels, with 52,000 guestrooms across 45+ countries.
ibis Styles is part of Accor, a world-leading augmented hospitality group offering unique and meaningful experiences in 5000 hotels, resorts, and residences across 110 countries.
ibis.com | group.accor.com
Follow and Share with Jetsettersblog.