Illuminated Trail Returns to Blenheim Palace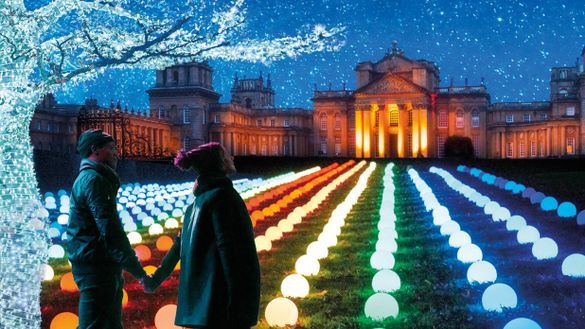 ---
Between 20 November 2020 –3 January 2021 the Illuminated Trail makes a welcome return to Blenheim Palace, transforming England's finest view into a magical winter landscape.
Following last year's sell-out success, Christmas at Blenheim Palace returns to this historic UNESCO World Heritage Site with a host of stunning new installations along the one-mile trail.
New for 2020:
Blue Neuron – Created from reworked heat-treated plastic bottles, Blue Neuron is a beautiful kinetic light installation with a mesmerising blue light which fizzes and dances through the branches.
Heart of Stars – This stunning, magical lighting effect scatters thousands of tiny refracted beams across the path leading to the Rose Garden immersing visitors within fantastical, swirling and changing patterns.
Water Terrace Fire Garden – Walk between pea-lit Christmas trees towards a magical mix of fire and water as the pools of the lower Water Terrace dance with the shimmering reflections of flickering flambeaux and large flame-filled sculptures.

Back by popular demand:
Tunnel of Light – This majestic tunnel, adorned with over 100,000 pea-lights and almost 50 metres long, is stunning to look at from a distance or to immerse yourself within – making it an Instagram showstopper.
Sea of Light – The much-loved, much-photographed Sea of Light springs to life with a carpet of tiny lights flashing in time to a festive soundtrack.
Don't forget to download the FREE MyChristmasTrails App for all the latest Christmas illuminated trail news, trail map, sounds of Christmas, food and drink, photo booth, and fun exclusive competitions.
Christmas at Blenheim Palace is brought to you by leading events promoter Raymond Gubbay Limited, a division of Sony Music, in partnership with Blenheim Palace.  The trail is created by Culture Creative.
What:              Christmas at Blenheim Palace
When:             20 November 2020 – 3 January 2021
Why Visit:       Discover a Christmas illuminated trail for all the family set within the beautiful landscape of this UNESCO World Heritage Site.
Admission:     Tickets for popular dates sell out fast therefore early booking is advised.
Advanced Admission Tickets From:  Adult £19 – £21.50, Child (Age 3-16) £13-£15, and Family £60-£68 (2 adults and 2 children).
Blenheim Annual Pass holders receive £1.00 per person discount for advance booking only.  Free entry for carers and children aged 2 & under.  Parking from £8-£10.
For full pricing and ticket information visit blenheimpalace.com/christmas
Website:         blenheimpalace.com/christmas #christmasatblenheimpalace
FB: mychristmastrails
Address:         Blenheim Palace, Woodstock, Oxfordshire, OX20 1PP
For full pricing details and booking please visit: blenheimpalace.com/christmas
Additional facilities and significantly increased hygiene procedures will be made available for visitors to the trail, as well as 'contactless' catering options. For further information about COVID19 and booking tickets with confidence visit:  https://mychristmastrails.co.uk/covid-19/
The Palace will be open and dressed for Christmas and visitors will also be able to view the Cecily Brown Art Exhibition. The outdoor market and the themed event within the Palace will not take place this year but it will be back. Watch out for the story of The Nutcracker in the State Rooms in 2021.
About Blenheim Palace
Blenheim Palace is the home of the 12th Duke and Duchess of Marlborough and the birthplace of Sir Winston Churchill. This masterpiece of 18thcentury Baroque architecture boasts over 300 years of history and is a World Heritage Site, surrounded by more than 2000 acres of 'Capability Brown' landscaped Parkland and Formal Gardens.
Not only an iconic part of history, Blenheim Palace is a living and changing experience with a wealth of events, themed tours and exhibitions throughout the year.
blenheimpalace.com | FB @BlenheimPalace | Twitter @BlenheimPalace
About RGL, a division of Sony Music
Leading events promoter, RGL (Raymond Gubbay Limited), a division of Sony Music, has been delivering illuminated Christmas and Lightscape trails for over seven years.  The chosen partners for national and international heritage and prestigious venues including Blenheim Palace; The National Trust; The Forestry Commission; The Royal Botanic Gardens, Kew, Botanic Gardens, Chicago, USA and Royal Botanic Gardens Victoria, Melbourne, Australia.
Each trail is designed to showcase the natural and unique environment of the individual location. RGL also presents over 500 concerts annually throughout the UK.
Raymondgubbay.co.uk | FB @RaymondGubbay | Twitter @RaymondGubbay
About Culture Creative
Culture Creative is a creative project and production management company based in Scotland and the North East of England. The Company works across a wide-range of cultural fields including art, sport, heritage, tourism, festivals and events, developing projects from concept to delivery. Since 2013, Culture Creative has worked closely with leading entertainment promoter Raymond Gubbay Ltd. a division of Sony Music, to create Lightscape and Christmas themed trails in various venues across the UK and overseas. www.culturecreative.co.uk | FB @culturecreativeltd | Twitter @CCLCreative | Instagram @culturecreativeltd
Follow and Share with Jetsettersblog.