Immune System Repair and Strengthening Program at The Farm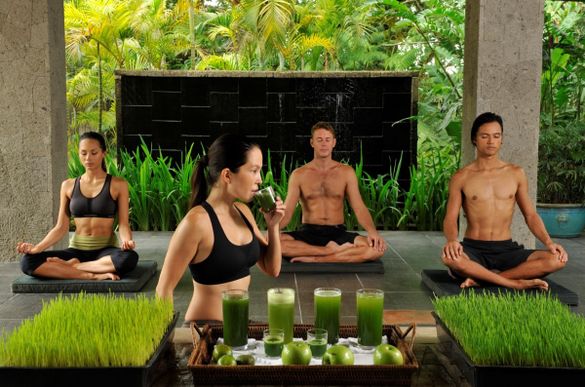 There are many different methods to stay healthy and when it comes to fighting infections, one of the best ways is to improve the body's defense against viruses, bacteria, and the like. A healthy immune system can help eliminate these pathogens before they start causing some problems whether it's the common cold or something more serious. The Farm at San Benito, an eco-luxury holistic medical wellness resort located in Lipa, Batangas, has effective immune system repair and strengthening treatments and program for people who wish to avoid getting illnesses through holistic means.
An advocate of preventive health care, The Farm has different programs designed by licensed and experienced professionals which varies depending on the guests' needs. As one of the global pioneers of holistic medical wellness in the country that also specializes in week-long health optimization programs, The Farm only offers these evidence-based and science-based treatments that will help guests regain their bodies' ideal balanced state.
The Farm's immune system repair and strengthening program aims to protect the cells to fight viral infections. This program also includes detoxification, which is a pre-requisite if one wishes to boost the immune system. The Farm's Detox Cleanse Program can help guests get rid of the unwanted substances accumulating deep in their bodies' tissues. Once the toxins are flushed out of the system, the body can better absorb the nutrients it needs to go about its daily functions.
Like all the other offerings, Detox Cleanse Program can be tailored to each guest's body condition and personal goal. The program makes use of cleansing juices, guided fasts, nutritional enrichment, and fitness sessions for a deep cellular healing, ridding the body of the impurities and restoring the body to its ideal balanced state.
Guests will have a consultation with the Farm's team of experts before continuing with the holistic treatments that will break down fat and flush the toxins out. Mental and emotional stress also depresses immunity. The Farm also offer treatments that will help guests have a more positive outlook by acknowledging any psycho-emotional issues that linger in their subconscious. The Farm offers Harmonizing Flow Series with various forms of healing therapies that allow the clients to navigate inner experiences in a safe and nurturing space.
Depending on what the guest wants to achieve, they can also choose the Chlorophyll Body Wrap, which will cleanse the lymphatic system, helping the white blood cells in doing their functions. This also nourishes the liver and kidneys and benefit the skin greatly.
Another option is The Human Microbiome Skin Care Treatment. The state of the body's microbiome is of utmost importance when it comes to overall body protection. The treatment makes use of the skin being one of the largest organs (second only to fascia) to maximise absorption. This treatment includes high caliber Human Microbiome (high quality, high variety, high quantity) that strengthens and revitalizes the body by enhancing our natural Good bacteria that fights all Viruses, bacteria, and various disease-causing microorganisms trying to harm the body by releasing a non-specific antigen strong enough to kill pathogens.
European Wellness, one of The Farm's medical partners also offers RASHA treatment to boost the immune system. The machine uses vibrational medicine for organisms resistant to anti-virals, microbials and fungals.
IV Nutrition includes intravenously administering a cocktail of nutrients and minerals, allowing a high level of antioxidants to more efficiently enter the body. This treatment helps with the stimulation of the immune system to fight harmful microorganisms, and aids with the elimination of malignant cells or tumors.
Other immune boosting treatments offered at The Farm is the Hyperbaric Oxygen Therapy (HBOT), acupuncture, aura cleansing and many various energy healing techniques.
The holistic medical wellness resort has always encouraged consuming plant-based food that are high in enzymes, essential nutrients, and rich in fiber. Preventive is indeed better than reactive health care. Getting rid of toxins, whether physical or emotional, from the mind and body and taking care of the immune system are among the best things one could do to ensure optimum health. As Dr. Marian Alonzo, The Farm's Medical Chief, often quotes: "There's no threat from the outside if there's no enemy from within," from an African proverb.
Detox Cleanse 4-Night Program starts at USD 1,810++ per person in a Palmera Suite based on double occupancy and USD 2,270 ++ on single occupancy.  Enjoy up to 30% on The Farm's immune boosting treatments until March 31, 2020. For more information, simply visit www.thefarmatsanbenito.com. To book, call (+632) 8884-8074, (+63) 918 8848080, or email info@thefarm.com.ph or reservations@thefarm.com.ph.
ABOUT THE FARM AT SAN BENITO
The Farm at San Benito, a proud member of CG Hospitality is an eco-luxury holistic medical wellness resort located in Lipa, Batangas, a 90-minute drive south of Manila, Philippines. It rests on 48 hectares of lush green jungle, with a stunning view of the majestic mountains, pure and fresh air with clear and positive life-giving energy radiating around the property. Its world-class facilities and services have made it a recipient of 60 prestigious international accolades, including 'The Best Medical Wellness Resort in the World.'
Guests visit for a large number of reasons – from well-being and rejuvenation to deeper health issues. The Farm offers natural and holistic medically-supervised health programs addressing some of the most alarming and prevalent lifestyle illnesses in today's society such as diabetes, obesity, hypertension, chronic pain, hormonal imbalance as well as anxiety, stress and depression. Programs are carefully planned and conducted by internationally –trained integrative medical doctors, nurses, spa therapists, nutritionists, living food experts, fitness coaches and yoga teachers.
The Farm's healing journey is focused around five pillars: Diagnose, Cleanse, Nourish, Repair and Sustain. The aim is for guests' bodies to return to their ideal, balanced state and achieve holistic optimum wellness using five key healing components: Holistic integrative medical services, Nurturing spa and hydrotherapy water wellness, Plant-based, wholefood, vegan cuisine, Mindful movement and functional fitness, Healing environment and heartfelt service.
To mark this milestone of leading the wellness lifestyle revolution, we have collaborated with European Wellness and Living Life Well Integrative Medical Clinic (CIGNA accredited global health care provider) to enrich quality by offering evidence-informed holistic solutions for addressing and treating chronic health disorders, work related chronic pain, work related stress, anxiety, depression and more.   The Farm is also proud to offer non-invasive Aesthetic beauty & anti-ageing services for those who wish to enhance their physical aspects through a holistic approach.  All these are a culmination of efforts to create the next level of luxury holiday through life transformative retreats.
With only 40 exclusive suites and villas, a well-maintained property, world-class service, and the Filipinos' nurturing touch, The Farm offers guests an unparalleled life-changing holiday experience.
The Farm at San Benito's all-inclusive Life-Changing Holidays:
Health Optimization Programs
Holistic Wellness
Detox Cleanse
Weight Management, Diabetes Prevention, & Heart Health
Executive Health Programs:
Pain Management
Mental Health
Cellular Health Programs:
Immune Modulation
Male Revitalization
Female Revitalization
Cellular Detoxification
Natural Athletic Performance Enhancement
Body Composition Optimization
Stress Reduction
Ultra Wellness/Prevention
Aesthetic Beauty & Anti-Ageing:
Beauty & Anti-Ageing
Vigor & Vitality
Follow and Share with Jetsettersblog.