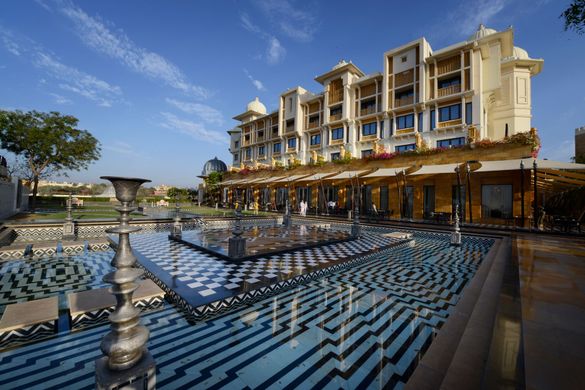 ---
India's Holi Festival may have just ended, but there are still many ways that travelers can experience the vibrant hospitality, culture and cuisine of India. With that in mind, here are the top seven experiences you can have on a Luxury Gold journey around India.
Leela Palace, Udaipur: Called Udaipur's only modern palace hotel, Leela Palace is an exquisite stop on Luxury Gold's 'Imperial Rajasthan' itinerary. Rated the No. 1 hotel on TripAdvisor in 2017, this five-star property offers guests sumptuous suites with stunning views of Lake Pichola, an artificial fresh water lake created in the year 1392. For weary travelers, the hotel's award-winning spa offers a unique fusion of Ayurvedic and European therapies to relax and restore the entire body. From high-quality skin care products and oils to revitalizing seaweeds and cleansing muds, every desire will be well taken care of at the spa.
Nahargarh Ranthambhore Hotel, Rajasthan: Nestled in the foothills of the spectacular Aravalli Range, the five-star Nahargarh Ranthambhore Hotel is a magnificent place to spend a night or two – if you can bear to leave, that is. Built in the style of a traditional Rajput hunting retreat, the Ranthambhore boasts three outdoor swimming pools, sprawling Mughal-style gardens, and rooms with individual courtyards and private terraces with stunning views of the Ranthambore National Park. Resembling an extravagant 16th-century fairy tale palace, this hotel is luxury personified. Guests on the 'Essence of India with Ranthambore' itinerary stay in this remarkable property.
Baradari Restaurant, Jaipur: Designed by Delhi-based architect Ambrish Arora and his team at Studio Lotus, Baradari Restaurant has only been open for two years, but has still amassed a reputation for traditional and authentic cuisine that delights the palate. Alongside delectable dishes like laal maas with baati and pan-seared kasundi fish are choices for international travelers like pesto pasta and pearl barley risotto. Located at the City Palace, a museum housing an amazing art collection, the sights, sounds and smells of Baradari Restaurant will never disappoint. Dinner at this restaurant is included in the 'Essence of India with Ranthambore' itinerary.
High Tea at Sukh Niwas, Jaipur: This VIP experience, available only to Luxury Gold guests, takes place amid the pure opulence of Sukh Niwas, Jaipur's City Palace. This elegant palace is replete with artwork and fantastical architecture, including the renowned Lalique Peacock table, made to order for the Royal Family of Jaipur by the world-famous artist Marc Lalique. Found in a room whose gilded walls date back over 200 years, the Lalique table is surrounded by other stunning pieces of royal memorabilia, making this High Tea a once-in-a-lifetime experience. High Tea at Sukh Niwas is included on the 'Imperial Rajasthan' itinerary.
Fairmont Jaipur, Jaipur: This luxury five-star property offers an entire vacation's worth of experiences on site, from hot air balloon rides, to hikes in the famous Aravalli hills. The jewel of the Fairmont might well be the spa, a sanctuary offering a range of therapeutic and rejuvenating treatments, including traditional Indian massage. Numerous notable eateries serve delectable Indian cuisine that will delight even the most discerning diners. ZARIN, the hotel's signature restaurant, serves amazing Indo-Persian dishes, while ZOYA prides in offering a dedicated menu featuring authentic Rajasthani fare. Everything at the Fairmont Jaipur, from the rooms and food to the excursions and wellness offerings, will truly amaze guests. Stay at the Fairmont Jaipur on the 'Classical India with Nepal' itinerary.
Rooftop Tea and Pakoras, Agra: A breathtaking view has the ability to elevate any dining experience, but nothing in the world can compare to a refreshing cup of tea with the dazzling Taj Mahal perched in the horizon. While sitting on a rooftop in a village in Agra, guests on the 'Imperial Rajasthan' itinerary have the chance to taste an authentic India favorite, pakoras (vegetables dipped in a spicy batter and deep fried to make fabulous fritters), and gaze at the iconic dome of the Taj Mahal in the distance. It's the ultimate backdrop for an unforgettable moment on an unbelievable journey.
Mughal Chamber Hotel, Agra: Sprawled over 35 acres of luxurious gardens near the Taj Mahal, this 233-room luxury hotel is a fitting tribute to the great Mughal builders of the past. Guests enjoy Indian hospitality while enjoying the opulence of expansive suites whose doors open into private wading pools. A highlight is the health and wellness spa, which covers almost 10,000 square feet and offers 43 spa treatments. Surrounded by fountains and courts full of greenery with two swimming pools, a popular treatment at the spa is the Himalayan Clay Body Envelopment, a 90-minute escape that detoxifies, purifies, heals and tones. Guests on the 'Classical India with Nepal' itinerary can book a treatment at the spa.
Guests who book these and other India itineraries by April 26, 2018 can take advantage of Luxury Gold's 5% Early Payment Discount.* Book now before this offer expires!
For reservations, contact your favorite travel agent, call 1-888-862-5952, or visit www.luxurygoldvacations.com
* Terms and Conditions
5% Early Payment Discount applies only to trips featuring the "Early Payment Discount" in the price panel – see the new 2018 Luxury Gold Worldwide magazine. Not applicable to Mini Trips, trips that include cruise components, Last Minute Deals, Special Interest or Expert Hosted Itineraries. Valid on new bookings only and must be booked by April 26, 2018. A $200 deposit is required within three days of booking and Full Payment is due by April 26, 2018 or 45 days before departure, whichever is sooner. This offer is based on availability, does not apply to all journeys/departures, and may be withdrawn at any time and without notice. Further restrictions apply.
Follow and Share with Jetsettersblog.