Indonesia – Scientific Breakthrough on Board Luxury Phinisi Yacht: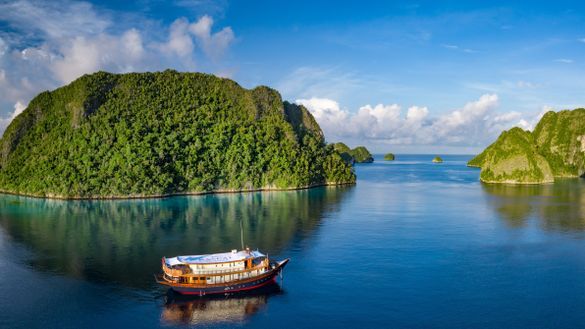 ---
Set to be one of the most notable scientific expeditions of Raja Ampat of recent years, Indonesia's luxury private charter vessel, Rascal, recently partnered with Conservation International (CI) for a high-tech scientific voyage across one of the most remote corners of Indonesia's vast archipelago – in a quest to raise awareness for the protection of manta rays and the seas it cruises.
With world renowned ichthyologist, Dr. Gerry Allen and Vice President of CI's Asia Pacific Marine Program, Dr. Mark Erdmann at the helm of the mission, the beautiful private charter phinisi, Rascal collaborated with Conservation International, in a bid to lend support to a cause close to the Rascal team's heart – sustaining the communities and reducing the negative tourism impact on Raja Ampat.  The seven-day pursuit sought to fill in knowledge gaps in the population and migration patterns of manta rays in Raja Ampat, as well as survey coral reef fish biodiversity in some of the lesser-visited areas of Raja Ampat. Armed with a team of Conservation International and Manta Trust scientists, manta ray tagging equipment and cutting edge drone technology, the expedition was a notable progression from Dr. Allen and Dr. Erdmann's typical journeys, and offered the luxury accommodation and five-star hospitality from Rascal and her crew around the clock.
Dr. Allen says: 'Rascal was able to take us to Ayau — an area off the beaten path. The biodiversity in these waters is overwhelming, and even after 20 years of diving in Raja Ampat it still continues to amazes me. There is so much we have yet to discover and we are still finding new fish species on most expeditions to Raja Ampat.'
The expedition immersed the team into Raja Ampat's fascinating unstirred waters, local environments, culture and sustainability. The trip made scientific headway with the underwater discovery of a new manta cleaning station at Dayan (off Batanta Island), identifying at least 25 new manta individuals, and another cleaning station in Ayau. The team also visited the residents of Abidon Village in Ayau and trekked to the top of Mount Pindito. Not least, the trip was pioneering in terms of surveying technique, with the successful application of brand new drone technology to survey for feeding mantas playing a vital part in the expedition.
Dr. Erdmann explains: 'Until recently we've use boats to survey for mantas feeding in new areas, but due to the nature of the species, this approach is frequently challenging and time-consuming; as mantas are black on top and white underneath, they can be quite difficult to spot cruising beneath the surface, particularly when the sky is overcast.  From a vantage point 50-100m above the sea surface, a drone can see much further than the human eye and avoids the glare on the sea surface we frequently have to deal with when scanning from boats. By using them in our efforts, we can cover a large area of sea significantly faster and more effectively'.
Upon detecting the mantas, the team jumped on the Rascal speedboat to follow them, while continuing to monitor their movement real-time via drone. The drones also allowed for monitoring of manta ray feeding and cleaning behaviour in shallow waters. Conservation International is currently training Indonesian scientists to use this new technique during future manta expeditions.
Due to overwhelming success in the luxury travel industry, Rascal Voyages is in the process of expanding its fleet to offer expeditions to even more remote and protected seas of Asia and the Maldives. Although the yachts are primarily built for luxury travel, the Rascal team is passionate to play an active CSR role in supporting environmental research of the seas it cruises. The long-term plan is for the Rascal yachts to house marine 'experts in residence' that will allow Rascal guests, divers and conservation enthusiasts to have an educational experience whilst on their luxury charter.
Erik Barreto, owner of Rascal says: 'We're a team united by our passion for the Indonesian islands and we're committed to ensuring Rascal contributes positively to the sustainability of remote communities and their livelihoods. By bringing our relationships in this field onboard Rascal for a series of initiatives, we are able to offer a new dimension to our luxury private charter experience, by housing experts in residence to host tours through this incredibly fascinating part of the world.'
Dr. Mark Erdmann and Dr. Gerry Allen are highly regarded for their contribution to marine biology.  With twenty species of fish named after him and having described over 500, Dr. Allen, together with Dr Erdmann, discovered at least two potential new species of fish whilst on the Rascal voyage (a Grallenia goby and a Silhouettea goby, the former whose genus is named after Dr Allen). Additionally, they recorded seven species of reef fish not previously known to inhabit the Bird's Head Seascape, proving once again that its waters are the epicentre for marine biodiversity.
Confirmation of results and further findings will be announced in due course.
About Conservation International
Since 1987, Conservation International has been working to improve human well-being through the care of nature. With the guiding principle that nature doesn't need people, but people need nature for food, water, health and livelihoods—CI works with more than 1,000 partners around the world to ensure a healthy, more prosperous planet that supports the well-being of people. Learn more about CI and the "Nature Is Speaking" campaign, and follow CI's work on Facebook, Twitter and YouTube.
Conservation International is a trusted adviser to communities, corporations and governments. Grounded in science, partnership and field demonstration, CI advances innovative solutions that protect nature to ensure the well-being of everyone on Earth. Building upon a strong foundation of science, partnership and field demonstration, Conservation International empowers societies to care for nature in order to ensure the long-term well-being of people. Founded in 1987 and marking its 25th anniversary in 2012, CI is headquartered in the Washington, D.C. area. CI employs 900 staff in more than 25 countries on four continents and works with more than 1,000 partners around the world.
About Rascal Voyages
Rascal Voyages was founded in 2017 by its initial three founders who wanted to expand upon the success of Rascal – Indonesia's first luxury phinisi yacht with five above deck cabins. Extending the Rascal private charter experience into 'Voyages' across Southeast Asia, the Indian Ocean and beyond, a further five new luxury boats will be constructed – meticulously handcrafted and elegantly designed vessels which will strengthen the Rascal pursuit to provide bespoke journeys across some of the most stunning seas on the planet. New destinations include Thailand, Myanmar, Cambodia, The Maldives, Singapore and Malaysia.