Inghams Best Chalet / Winter Sports Accommodations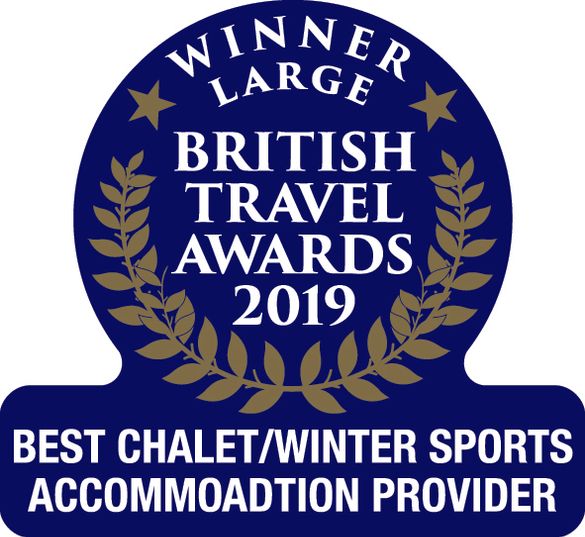 ---
Inghams has won gold in the BEST CHALET / WINTER SPORTS ACCOMMODATION PROVIDER category at the prestigious 2019 British Travel Awards. The brand was also proud winner of a silver award in the BEST SKI & WINTER SPORTS HOLIDAY COMPANY category. The announcement was made on 27th November at a glamorous Gala Awards ceremony, held in London and attended by nearly a thousand travel industry people.
Paul Carter, Inghams CEO, comments: "We're over the moon to have been recognised in not one but two categories at this year's British Travel Awards. Inghams is proud to offer a diverse accommodation mix, from self-catering apartments to all-inclusive ski hotels, which suit groups, couples and families alike, and appeal to all budgets. The quality of our accommodation is really important to us and our guests value the convenience, service and comfort of our chalets, Chalet Hotels and carefully-selected partner hotels in our resorts. For this winter in all our chalets and Chalet Hotels we're pleased to offer six nights' catering, with new and improved regional menus and new wine upgrade packages. Also new for this winter is our partnership with French Alpine food delivery company, HUSKI, to offer even more choice for guests staying in our self-catering apartments in France. We look forward to welcoming all to the slopes with us this winter and we invite guests to take advantage of our Black Friday ski sale – you could save £100 per person on bookings made this weekend!"
Inghams, whose head office is based in Surrey, is not only celebrating this British Travel Awards victory, but this year marks its 85th birthday and the brand continues to pride itself on being one of the UK's leading, most experienced specialist tour operators. In winter, Inghams offers a fantastic range of winter holidays to nine countries including, new for the Winter 2019/20 season, Japan.
British Travel Awards' chief executive Lorraine Barnes Burton said: "Inghams is to be congratulated on winning gold in the Best Chalet / Winter Sports Accommodation Provider category. Competition was particularly strong this year but ultimately it is the travelling public who decide the winners by voting for the travel companies they consider the best in the business. The British Travel Awards is the largest consumer awards programme in the UK and to win is truly an accolade."
The British Travel Awards is a proudly independent organisation. Votes are verified by leading global business practitioners Deloitte.
For more information, visit:
www.inghams.co.uk or call 01483 938 047
www.britishtravelawards.com or follow @BritTravAwrds
For media enquiries, please contact:
INGHAMS: Frankie Gibson
T: 01483 791 045 E: Frankie.gibson@hotelplan.co.uk
BRITISH TRAVEL AWARDS: Jane Richards
T: 07711 101493 E: Jane@britishtravelawards.com
NOTES TO EDITORS:
Inghams was founded by Walter Ingham in 1934, born out of his enduring passion for ski, mountaineering and walking. In 2019, Inghams celebrates its 85th year in business and the brand continues to pride itself on being one of the UK's leading, most experienced specialist tour operators, delivering a wide range of award-winning holidays to its loyal guests. Today, Inghams offers winter holidays to 88 resorts in nine countries, with flights from 21 UK regional airports. It also has a popular Lakes & Mountains summer holiday programme to many European destinations and a dedicated Inghams Italy programme. For more information, visit www.inghams.co.uk. 
The British Travel Awards is the largest awards programme in the UK created to reward the best companies in travel. The British Travel Awards are easily the most recognisable of all travel industry accolades amongst consumer and industry professionals alike with categories spanning all types of holiday experience – transport, destination, cruise, customer service, holiday extras, and accommodation. The British Travel Awards symbol is the benchmark for excellence when it comes to finding out who really is the best in the business. The British Travel Awards are funded by the registration fees and patronage of sponsors who have identified the ROI from increased brand visibility and sales opportunities as the consumer and trade audience grows exponentially year-on-year.
Follow and Share with Jetsettersblog.