Inntravel Launches New Cycling Holiday in Slovenia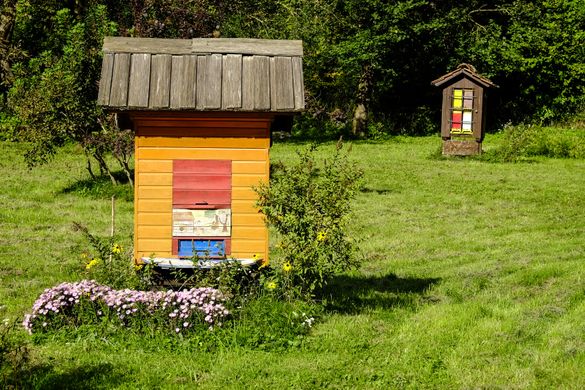 The Slow Holiday company Inntravel is buzzing following the United Nations' endorsement (20 December) of the first ever World Bee Day which is to be celebrated on 20 May 2018. Slovenia, which proposed the resolution, has a special place for bee-keeping in its heart, its economy and its way of life, and Inntravel will mark this in 2018 with a new self-guided cycling holiday to Slovenia's Julian Alps, showcasing its bee-keeping traditions. 
Bee-keeping is one of Slovenia's oldest traditional crafts and a crucial part of its economy, equal to that of other types of agricultural activity. The Carniolan honeybee is an endemic species in Slovenia, and no other bee species are allowed to be kept. Slovenians are a genuine bee-keeping nation, with four out of every thousand residents currently engaged in this activity. In the past, when sugar was in short supply, almost every farm kept honeybees, in addition to other domestic animals.
Inntravel's new Slovenia cycling holiday showcases bee-keeping at its best, passing brightly painted beehives en route, plus Breznica, the birthplace of Anton Janša (1734 – 1773) a bee-keeping pioneer whose birthday will coincide with the first World Bee Day (20 May). In 1771 he became the first royally-appointed teacher of apiculture for all Austrian lands, teaching at the Habsburg Court and keeping bees in Vienna's Imperial gardens (Augarten). Inntravel's route finishes in Radovljica, home to Gothic and Renaissance mansions and, charmingly, a museum dedicated to Slovenia's bee-keeping traditions. 
The majesty of Slovenia's Julian Alps, a constant companion on this cycling holiday, has to be seen to be believed. Beginning on the shores of Lake Bled, the region's jewel, guests ride the Lake's shores past the castle and visit the Vintgar Gorge, where a pathway of boardwalks leads past waterfalls and rapids. The rest of the week is spent cycling through timeless landscapes: green meadows dotted with traditional beehives and hayracks.
Price: Inntravel (inntravel.co.uk 01653 617000) offers cycling In the Shadow of the Julian Alps from £798pp based on two sharing, including 6 nights' B&B in well-located hotels (2 with pools), 4 dinners, cycle hire, maps and notes, and luggage transfers.
Follow and Share with Jetsettersblog.