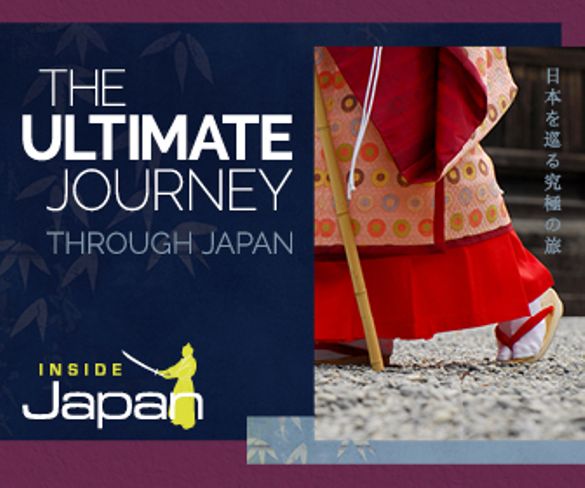 "2020 was the first time in over 20 years that I didn't visit Japan. The first time I didn't step off the plane and feel like part of me had arrived home. And I miss it," begins InsideJapan Co-founder, Alastair Donnelly. "This Ultimate Journey is the tale of our collective love affair with Japan. The things that are forever etched on the memory of our team."
The end of 2020 marked InsideJapan's 20th year as a Japan travel specialist, but it's a difficult milestone to celebrate when the world has ceased to travel for almost a year. With 2021 underway, the Year of the Ox is one that promises to get the world "moving" again, but there's still some time to go until that happens. As a result, InsideJapan's founders, long-established travel consultants and Japan-based Insiders have brought together some of their favourite stories and places to create their Ultimate Journey.
The Ultimate Journey covers 27 locations with 38 personal stories and tips, travelling over 2,000 miles by bullet train, bus, ferry, cable car and more. The trip travels from Hokkaido in the far north, through mainland Honshu, over to Shikoku, Kyushu and Okinawa's tropical islands, covering select places and experiences that have made a lasting impression on the specialists.
There are tales of singing karaoke with monks in the World Heritage town of Hiraizumi, and of making friends around the hearth of a traditional Gassho-zukuri farmhouse in Gokayama. There are first-time accounts of staying at a shukubo Buddhist temple lodging on Mount Koya, and bathing in a natural onsen hot spring bath overlooking the ocean on a stormy night on Yakushima island. Recommendations of alternative districts of Tokyo and quieter parts of Kyoto are also shared by the Insiders that live there.
The Ultimate Journey aims to build on what seems to be an increasing urge to travel; a growing desire to make the next trip a big one, and travel for longer. Japan is also topping travel bucket lists across multiple consumer surveys due to, amongst other things, the perception that it's a country that's fared well during the pandemic.
"The Ultimate Journey started out almost as an emotional release. It then turned into an inspirational travel piece, and incredible itinerary in its own right," said long-term Insider and PR Manager, James Mundy. "These are the places and experiences that have made Japan special to us. They're where we want to go when the pandemic is all over. But our Ultimate Journey also works well as a list of lesser-known places to pick-and-choose from and pair alongside Tokyo and Kyoto to create other 'ultimate journeys'."
The free PDF guide is supported by a short series of emails full of valuable advice, Japan travel basics and cultural insight and knowledge that has proved popular for InsideJapan customers during lockdown.
The Ultimate Journey closes with a comment from Co-founder Simon King, saying, "It's what the Japanese might call our ikigai: our reason for being."
The Ultimate Journey is a series of stories, ideas, places and essential Japan travel tips. InsideJapan can tailor each Ultimate Journey to suit each traveller. It can also be done as one trip and takes at least 31 days, costs from £7516pp (based on twin share excl. international flights) and includes all accommodation, breakfast every day, all transport across Japan, some private guiding and experiences such as a ryokan stay, cruise off Shiretoko Peninsula, tea ceremony and a lot more.
The free Ultimate Journey PDF is supported by a short series of emails with InsideJapan's essential travel tips, cultural insight and Insider favourite places. To download a free copy of the Ultimate Journey and receive a wealth of supporting travel content, head to www.InsideJapanTours.com/ultimate-journey.
NOTE TO EDITORS:
Here is the Ultimate Journey PDF for your viewing.
We ask you not to publish this link.
Part of the Inside Travel Group with InsideAsia, InsideJapan Tours (launched 2000) has become the UK's biggest independent Japan travel specialists. The Bristol based team of specialists have all lived, worked in or travelled extensively in Japan. The tour operator has a range of original small group tours with their own Insider tour leaders. The team also offers curated, fully-tailored self-guided adventures designed to suit all interests and budgets,  with the aim of getting people 'beneath the surface'.
InsideJapan also has offices in Nagoya (Japan), Boulder (USA) and Brisbane (Australia).

Follow and Share with Jetsettersblog.