InterContinental Yokohama Pier 8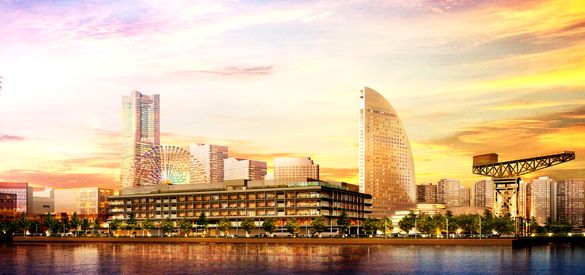 ---
InterContinental Hotels Group (IHG®) has opened InterContinental Yokohama Pier 8, the second InterContinental in the port city of Yokohama, the gateway between Japan and the Pacific. Pier 8 offers an exquisite luxury experience, combining the unique culture of Yokohama and the international design and service excellence from InterContinental, the world's largest luxury hotel brand.
Upon entering the hotel, guests will be enveloped in a world of silence that makes you forget the bustle of the city. Each of the 173 guestrooms and suites offer refreshingly spacious design with 45 to 133 square metre rooms, accentuated with nautically-inspired design to evoke the spirit of the sea. The waterfront location offers uninterrupted harbor views and vistas of the cruise ships coming into port, adding to a distinct sense of place.
Introducing the InterContinental Yokohama Pier 8 Rooftop
Hotel guests can indulge in a breathtaking panoramic seascape with the Pier 8 rooftop offering commanding views of the port of Yokohama. Guests will enjoy a close-up view of inbound and outbound luxury cruise ships; a special experience available only at a hotel located on a pier.
*The rooftop space is exclusive for hotel guests and events.
Dining experience unique to Yokohama
A resort-like culinary experience is delivered with terrace seats at The Larboard Restaurant & Bar, delivering a colourful menu with a wide variety of dishes made using seasonal ingredients. The menu has been specially designed to showcase Yokohama's locally developed specialty of yōshoku (Japanized forms of European dishes), offering a half-buffet style meal for breakfast an à la carte lunch, and a table d'hôte menu for dinner. At Katabami sushi bar, guests will indulge in quality edomae-style sushi and fine sake from local breweries in a soothing space that emulates a sophisticated urban retreat.
Special activities in the harbor location
In collaboration with Pier 8's neighboring sister hotel, the InterContinental Yokohama Grand, various activities and packages are available to enhance guest stays. As Pier 8 and InterContinental Yokohama Grand both enjoy locations on their own piers, a special boat service is available for easy travel between the hotels to enjoy their signature luxury hospitality. Activities unique to this location include the "drive & cruise" and "fly & cruise" packages based on the unique perspectives and sense of place and comfort.
Hans Heijligers, the CEO of the IHG ANA Hotels Group Japan (headquartered in the United Kingdom with an office in Minato-ku, Tokyo, Japan), the company that manages IHG in Japan, commented: "I am very excited that we are opening the second InterContinental Hotel in the ever-evolving Minato Mirai district in Yokohama. The addition of InterContinental Yokohama Pier 8 to the history of InterContinental Yokohama Grand Hotel, which has been popular among international tourists over many years as the first InterContinental Hotel in Japan, will enable us to deliver a colorful and sophisticated luxury experience. As the world's largest luxury hotel brand, InterContinental serves as a gateway to connect the world with various localities. We will stay committed to providing heartfelt experience at InterContinental, while expanding our network all over Japan into the future."
Minoru Suzuki, the general manager of InterContinental Yokohama Pier 8, said: "The port of Yokohama opened in 1859. Shinko Pier, where our hotel is located, has long served as a gateway to the Pacific, welcoming and sending off many travellers. For example, the film giant Douglas Fairbanks and the American Major League Baseball team including Babe Ruth disembarked on this pier in the first half of the 20th century. From Japan, a team of athletes representing the country departed from this pier to participate in the 1932 Los Angeles Olympics. This year, which marks the 160th anniversary of the opening of Yokohama Port, we are going to open InterContinental Yokohama Pier 8 on this historic waterfront. From our hotel located by the sea, which is a relatively rare feature even in Japan, you can enjoy exclusive spectacles such as the sweeping view of the Pacific free of obstructions, and the dynamic arrivals of luxury cruise ships. Although situated in the center of the city of Yokohama, you can feel a resort-like atmosphere everywhere in the hotel, enabling us to provide you with fresh impressions at all times and no matter how many times you visit us. Pier 8 opens as a marine guest palace for a new era. We offer a hotel stay experience unique to this location, combined with the rich expertise of InterContinental brand that has a history of more than 70 years."
For more information please visit: www.icyokohama-pier8.com
Follow and Share with Jetsettersblog.