Intrepid Travel 2022/23 Polar Season on Ocean Endeavor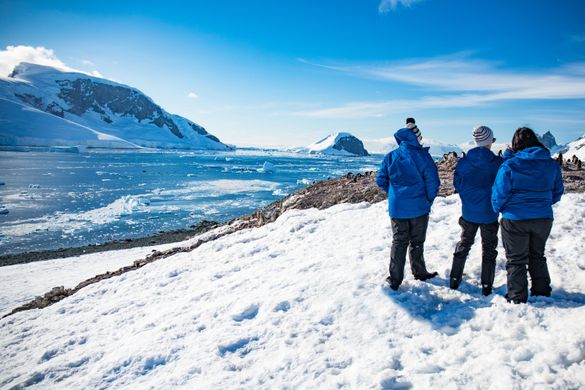 ---
New Antarctica itineraries launched with early bird discount as Intrepid sees huge uplift in demand for ultimate adventure
New low deposits and flexible booking policy for extra peace of mind
Innovative new itineraries to lesser-visited sites
Up to 25% discounts for early bookings
Intrepid Travel has released its 2022/23 polar season early after seeing a significant uplift in interest for Antarctica expeditions.
The decision to launch the season three months ahead of schedule came after September saw record bookings for Intrepid's inaugural 2021/22 season on the Ocean Endeavor.  Intrepid has also seen a 70% increase globally in searches to its Antarctica pages.
Managing director EMEA Zina Bencheikh said: "Unspent holiday funds and months spent at home means Brits are planning those bucket list trips that they've always dreamed about. Trips exploring the natural world are proving popular, and of course Antarctica is the ultimate once-in-a-lifetime experience.
"With customers looking to book further ahead than ever, we're excited to have launched the 2022/23 season with some great offers and a new flexible booking promise."
To offer peace of mind, it has also introduced a flexible booking policy, with no fees for changes to departure dates up until 30 days before the sailing date. Reduced deposits are available until January 2021.
New voyages include the Uncharted Antarctica: East and West Peninsula, which visits the less-visited east side of the peninsula, and the chance to welcome in the new New Year with whales and penguins on Journey to the Circle.
Intrepid has teamed up with WWF to offer expeditions where guests will be joined by scientists from WWF-Australia, who will share their insights into whale conservation while they conduct cutting edge research.
All voyages take place on the Ocean Endeavor, which carries 199 passengers and is one of the few polar expedition ships with a focus on health and wellness on board. Facilities include a spa serviced by organic spa provider VOYA, gym, a heated salt water pool, and yoga classes.
There is a ratio of one expedition staff to eight guests and activities include camping, snowshoeing, kayaking and a 'citizen science' programme in partnership with the World Wildlife Fund and Antarctic Science Foundation.
In line with Intrepid's commitment to responsible travel, all voyages are carbon offset with no single use plastic on board, a reusable water bottle for every guest, and only sustainable seafood will be served.
New itineraries for 2022/23
Best of Antarctica departing Punta Arenas (12 days)
November 2 to 13 2022
Was £8,040 Now £6,432 based on a Cat 5  cabin (twin window) – 20% saving
Head on a polar expedition from chilly Chile to the even cooler Antarctica. On this 12 day trip, travellers will discover the historic Chilean town of Punta Arenas before hopping aboard Intrepid's Ocean Endeavour to learn about their upcoming explorations through photographers, marine biologists and glaciologists. Highlights include heading out on a zodiac excursion in Antarctica's glacial waters, through icy coves and along wildlife-rich shores, and witnessing the country's famous penguins, seals, whales and albatrosses.
Uncharted Antarctica: East and West Peninsula (14 days)
November 30 to December 13 2022
Was £10,070, Now £8,065 based on a Cat 5 cabin (twin window) – 20% saving
Offering an unparalleled experience of true exploration, Ocean Endeavour's Uncharted Antarctica: East and West Peninsula will visit several excursion sites on the Peninsula's less-trodden eastern side. This is where British explorer Ernest Shackleton and his crew began their legendary journey north after their ship was crushed and sunk. There are so many potential landing sites from this location, like Paulet Island with its large Adelie penguin rookery and Swedish Antarctic Expedition history; the sweeping Prince Gustav Channel to the south; and the protected and glacier-lined coves of Duse Bay.
Journey to the Circle at Christmas & New Year (14 days)
December 21,  2022 – January 3, 2023
Was £12,490, Now £9,992 based on a Cat 5 cabin (twin window) – 20% saving
Bring in 2023 in style while taking the adventure of a lifetime to the Antarctic Circle. On this 14 day trip, travellers will be able to take advantage of a few extra days at the Antarctic Peninsula for more opportunities to see Antarctica's incredible wildlife and landscapes, and learn from the ship's experienced leaders who are experts in marine biology, glaciology and Antarctic history. Highlights include exploring the water on zodiac kayaks to really experience the open water, camping overnight along the shores of Antarctica like a true explorer and introducing their taste buds to sustainably sourced seafood.
-Ends-
Notes to Editors: 
Sale dates apply to bookings made between November 2 2020 – December 18 2020 for travel dates between November 1 2022 –  March 31 2023
Prices vary depending on booking category
20% off Categories 5, 6 and 7 on selected Antarctica trips
25% off Categories 8, 9 and 10 on selected Antarctica trips
About Intrepid
Independently owned by the founders and staff of Intrepid Travel, Intrepid Group is a collection of three tour operator brands and 25 destination management companies united by the vision of Changing the Way People See the World. For more than 30 years, Intrepid has been taking small groups to travel the local way, on real life experiences that give back to the places and people we visit. As this style of travel has caught on, Intrepid has grown and in 2019 offered more than 2,700 trips to more than 130 countries and on all seven continents. We cater for all ages, budgets, and appetites for adventure through Intrepid Travel, Peregrine Adventures and Urban Adventures. Globally renowned as a leader in responsible travel, in 2018 Intrepid became the world's largest travel business to be certified B-Corp, joining a growing community of businesses looking beyond the bottom line. Our not-for-profit, The Intrepid Foundation, has raised over AUD $10M for more than 130 charities around the world.
For further information on Intrepid or to download the company's 2019 Integrated Annual Report, visit www.intrepidgroup.travel
Follow and Share with Jetsettersblog.