Intrepid Travel Offers Up to 40 percent Off Antarctica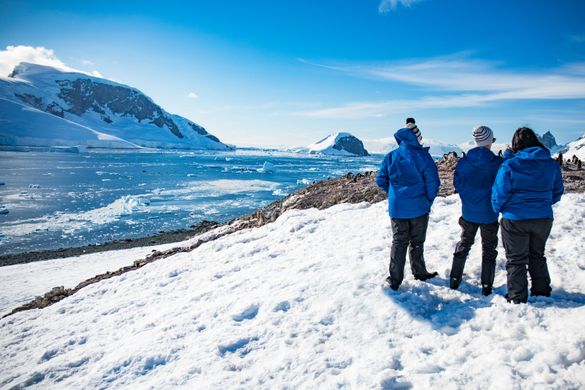 ---
For a limited time only, travellers dreaming of a trip to the seventh continent can save BIG on Intrepid's 2021/22 Antarctica expeditions
Sept 9, 2020 – Intrepid Travel is launching one of its biggest offers on its range of Antarctica Expeditions. For a limited time, a selected range of Antarctic adventures for the 2021/22 season can be booked with up to 40% OFF.
The offer is available from now until September 30 on a range of over 10 Antarctica departures. Highlights include the 11-day Best of Antarctica and the highly anticipated 15-day Journey to the Circle and Giants of Antarctica in partnership with WWF.
The offers are available exclusively by phone to ensure the best customer experience. Customers can opt to pay in full for the maximum discount, while alternative discounts with reduced deposits are also available.
While these departures are still over a year away, they will all operate under Intrepid' s new Safe Travel protocols developed and endorsed by the World Travel & Tourism Council. The trips will be fully run by Intrepid Travel, who last year chartered the Ocean Endeavour to become a seven-continent operator.
Zina Bencheikh, MD of EMEA for Intrepid Travel, said: "Everyone is thinking of their next big trip and for many Antarctica is at the top of their bucket list"
Intrepid travellers and agents are encouraged to act fast as spots are limited and will fill up quickly. For more visit https://www.intrepidtravel.com/antarctica-cruise-deals-2021-2022

Save £4,998 per person
Antarctic Eclipse (14 days) – departs 29 November 2021
Was £12,495, now £7,497
Save £4,666 per person
WWF Journey to the Circle and Giants of Antarctica (14 days) – departs 25 February 2022
Was £11,665, now £6,999
Save £3,666 per person
Best of Antarctica (11 days) – departs 29 December 2021
Was £9,165, now £5,499
Prices exclude international flights.
About Intrepid
Independently owned by the founders and staff of Intrepid Travel, Intrepid Group is a collection of three tour operator brands and 25 destination management companies united by the vision of Changing the Way People See the World. For more than 30 years, Intrepid has been taking small groups to travel the local way, on real life experiences that give back to the places and people we visit. As this style of travel has caught on, Intrepid has grown and in 2019 offered more than 2,700 trips to more than 130 countries and on all seven continents. We cater for all ages, budgets, and appetites for adventure through Intrepid Travel, Peregrine Adventures and Urban Adventures. Globally renowned as a leader in responsible travel, in 2018 Intrepid became the world's largest travel business to be certified B-Corp, joining a growing community of businesses looking beyond the bottom line. Our not-for-profit, The Intrepid Foundation, has raised over AUD $10M for more than 130 charities around the world.
For further information on Intrepid or to download the company's 2019 Integrated Annual Report, visit www.intrepidgroup.travel