Ireland Blue Book Celebrates 45 Years and Welcomes Six New Properties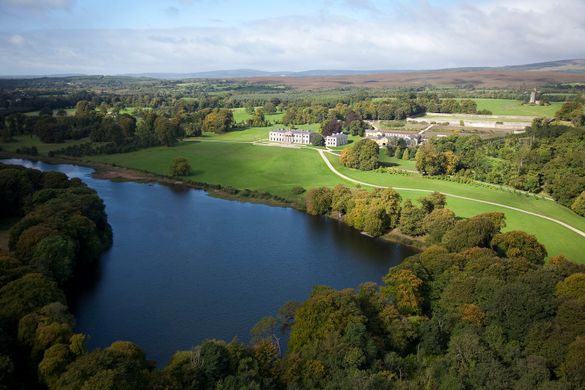 ---
Ireland's Blue Book, the impeccable collection of country house hotels, manor houses, castles and restaurants located throughout the island of Ireland launch their 45th Anniversary Edition with the addition of six new properties.
Ballyfin Demesne Co. Laois, Bishop's Gate Hotel Derry/Londonderry City, Cahernane House, Killarney, Co Kerry and Butler House, Kilkenny City are being revealed as new members of this exquisite collection for 2019. Two private rental properties are being unveiled, Dunowen House in West Cork and The Hideaway at Dromquinna Manor, Co Kerry bringing to 56 the total of properties in the collection.
Welcoming the new properties, Ireland's Blue Book Chairperson, Simon O'Hara comments, "As we celebrate the 45th Anniversary of Ireland's Blue Book, I am delighted to welcome these 6 fine properties. Not only do they provide wonderful locally sourced food and luxurious accommodation, but their charm, history and individuality make them a highlight of any Irish journey or occasion. I feel privileged to continue my role as Chairperson for 2019 as we look forward to an exciting year ahead for Irish tourism"
The announcement of the new additions was made at a reception in The Merrion Hotel on November 21st to celebrate 45 years since the collection was founded in 1974.
About Ballyfin Demesne, Co Laois
Ballyfin is a lavish Regency mansion in Ireland offering the very best of Irish hospitality in the most beautiful surroundings imaginable.  Conceived on a generous scale for receiving guests, Ballyfin combines magnificence and intimacy in its State Rooms. The decoration of these interiors has long been acclaimed as among the finest of the Neoclassical and Empire periods in Ireland.
The property reopened on May 2011 as a 5-star country house hotel like no other after 8 years of extensive restoration. The restoration has aimed at returning Ballyfin as closely as possible to how it functioned when it was built.
The house itself was built in the 1820s designed by the great Irish architects Sir Richard and William Morrison for Sir Charles Coote. The Cootes enjoyed the house for exactly one hundred years employing a large team of servants to preserve the life of refined leisure that is documented in Edwardian photographs showing tea on the terrace or skating in the walled garden. As the political situation changed with the dawning of the Irish Independence, the Cootes sold the estate to the Patrician Brothers who, for much of the twentieth century, ran a much-loved school at Ballyfin.
In 2018, Ballyfin was named #1 Top Resort in Ireland, UK & Europe & #2 Top Hotel in the World by the Travel & Leisure.
Bishops Gate Hotel, Derry/Londonderry
Bishop's Gate Hotel is perfectly positioned within the historic city walls of Derry/Londonderry; nestled in the heart of the city's "Cathedral Quarter" this iconic landmark is the epitome of Edwardian elegance.
The building now occupied by Bishop's Gate Hotel was originally home to The Northern Counties Club, a private members club where many civic leaders, intellects and business leaders such as Sir Winston Churchill, W.B. Yeats, William Carson, amongst many others, met to discuss plans and ideas.
At the heart of the hotel, "The Wig and Gown Champagne Bar and Restaurant" offers casual, high end dining all day and provides the perfect place to relax and unwind with a cocktail or glass of Champagne, complemented by live entertainment on select evenings.
Butler House, Kilkenny
Butler House is the Dower House of Kilkenny Castle and has always been associated with the Butler Family, Dukes & Earls of Ormonde who resided at Kilkenny Castle for 500 years.
Nestled in the heart of vibrant medieval Kilkenny, Butler House brings history, charm, romance and a warm welcome to all who visit. Sweeping staircases, magnificent plastered ceilings, marble fireplaces and a charming walled garden are all features of this notable Georgian residence.
Their tea room walls are adorned with magnificent pieces of art from the Basil Goulding Collection.
Cahernane House, Co. Kerry
Cahernane House is beautifully situated on its own private estate on the edge of Killarney National Park.
The property was built as the family residence of Henry Herbert in 1877 at a cost of £5,992. By 1914 Cahernane House had been leased for use as a hotel. A 1939 brochure from The Polytechnic Touring Association offers a seven-night stay for £3!
Today, Cahernane is a boutique four-star hotel, exuding a sense of relaxation and peacefulness where guests can retreat from the hectic pace of life into a cocoon of calmness and serenity. The only sounds you may hear are the cows bellowing, the lambs bleating or the birds singing.
Dunowen House, Co Cork
Originally built in 1771 by Captain George Sandes, Dunowen House has had many interesting owners over the years, including Noel Redding, former bass guitarist with the Jimi Hendrix Experience. For more than 30 years Noel lived here, where he entertained music legends throughout the 70's, 80's and 90's. After his death in May 2003, his ashes were interred in the garden and we love to think his spirit lives on at the house! The Studio Suite was once an artist studio used by Noel Redding's former partner, Carol Appleby. The ensuite bathroom has the original 1700's beams
Dunowen House is now recognized as one of Ireland's finest private holiday rental homes. When you stay at Dunowen, it's like having your own boutique country house hotel entirely to yourselves. With six luxuriously appointed bedroom suites, a formal drawing room, dining room and large music and memorabilia room, Dunowen House makes the perfect venue for an escape with friends or extended family groups.
The stunning Cathedral Suite at Dunowen House features vaulted ceilings and original 1700's pitched beams. The free-standing stone bathtub is a real wow factor, set beneath the exposed stone wall section.
The Hideaway at Dromquinna Manor
The Hideaway is the ultimate in luxury camping. In reality it is not camping at all but a luxurious en-suite bedroom in its own private grounds on an Estate like no other. The Hideaway is perched atop a wooded cliff and is nothing short of a surrender to nature.
Guests are greeted with a private garden and path that leads to the magical tented home. Decorated with an eclectic mix of antiques and native rustic furniture the style is laid back natural elegance. The only intrusion is the slow fly-by by your only neighbouring resident, the Heron. Breakfast is delivered to the Hideaway Tent each morning which includes yogurt, granola, croissants and juice.
About Ireland's Blue Book
Ireland's Blue Book is a unique collection of Irish Country House Hotels, Manor Houses, Castles and Restaurants. Located throughout the island of Ireland, these charming and stylish hideaways are the perfect choice for your romantic escape or weekend retreat. Activities vary from golf, fishing, spas and cookery schools or just relaxing in warm and comfortable surroundings. We have something for everyone.
With a choice of elegant Georgian Manors, Stately Castles, Historic Hotels, Luxury Boutique Hotels and Designer Lodges, there is a property in the collection to suit everyone's tastes and requirements
Follow and Share with Jetsettersblog.