Island Buyouts to Boat- Only hotels in Maldives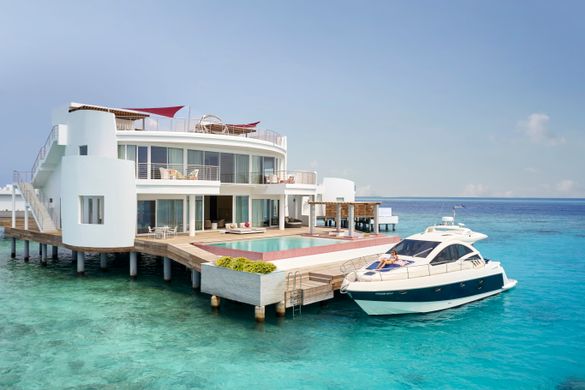 ---
Home to some of the world's most beautiful retreats, the Maldives is famous for being a pioneer of once-in-a-lifetime experiences and breathtaking lavish getaways.
Along with the Maldives' 'one-island-one-resort' concept and abundant choice of private villa facilities, all of which have reopened in-line with the COVID-19 safe tourism guidelines issued by the Maldivian Ministry of Tourism in June 2020, the unique geography of the country ensures the Maldives is the ideal destination for travellers looking for a winter sun getaway but also keen to avoid crowds during their holiday this year.
Travellers in need of a true island escape can indulge in their ultimate bucket-list adventure with luxury offerings including the new private island buyout offer at Joali or the recently launched overwater retreat villas at LUX* North Malé Atoll, which are only accessible by boat. Or for those travellers looking for complete privacy, The Nautilus Maldives is offering guests exclusive use of the entire resort with the new 'An Island to Yourself' package.
Here are three dreamy distractions UK holidaymakers can embark on when they next visit the Indian Ocean nation:
Discover Tropical Island Opulence With Joali's Private Seaplane and Island Buyout
Paradise seekers looking for 'deserted island privacy' can experience Joali's new private island buyout offer, which includes exclusive use of the island's 73 villas, residences and facilities. Guests will be treated like VIPs as they arrive at Joali onboard the resort's brand-new private seaplane which collects travellers directly from Malé International Airport for the 45-minute journey to the resort. The seaplane experience also includes a private lounge reserved exclusively for guests to relax with complimentary food and beverages. Whilst staying on the island, guests can dine in one of Joali's four restaurants and re-energise at the Joali Spa by ESPA, as well as spend time with the resort's Marine Biology and watersports team to grow the islands' coral nursery, embark on a turtle quest or scuba dive. In the evenings, travellers looking to end the day with visionary vistas can take sunset boat trips onboard Joali's own luxurious yacht. For more information, visit: www.joali.com.
Fun But Finessed: LUX* Overwater Retreat At LUX* North Male Atoll, Maldives
Lively and luxurious describe the new 67-villa LUX* North Malé Atoll resort which recently launched its 'LUX* Overwater Retreat' Villas. The three-story villa is complete with a terrace and infinity pool, perfect for relaxation and sun seekers alike. Each villa also offers an expansive rooftop, ideal for daytime yoga classes and barbecues, or come night-time, under-the-stars film screenings, cocktails and music played by the hotel's resident DJ. Those dreaming of this Overwater Retreat should also note, it comes complete with a private butler and chef, in-villa spa facilities including a sauna and hammam, and a dedicated fitness area. Guests can even dock their own yacht at the villa or opt to take out the resort's luxury catamaran to explore the Maldivian waters in style. For more information visit: www.luxresorts.com.
Experience 'An Island To Yourself' With The Nautilus Maldives Exclusive Island Buyout Package
Those daydreaming of a bohemian hideaway can holiday at The Nautilus Maldives, in complete privacy. The resort is elevating the traditional private paradise experience to new heights with the introduction of 'An Island to Yourself' exclusive buyout options. Offering a fully personalised experience, the two new buyout packages include exclusive use of the entire resort. For bookings of up to 62 adults, holidaymakers will have the run of the whole island, whilst more intimate groups of up to 30 adults can also enjoy exclusive use of the island and accommodation in 14 of The Nautilus' Houses.  Dining is unscripted and unscheduled, with cuisine tailored to each guest's taste. An overwater spa, a liveried fleet of yachts, personal butler service, daily sunset cocktails and a vibrant house reef all complete this whimsical Maldivian experience at the pinnacle of privacy and elegance. For more information visit: www.thenautilusmaldives.com.
For further information on the Maldives, visit www.visitmaldives.com.
Website            |www.visitmaldives.com
Facebook          |www.facebook.com/visitmaldives
Instagram         |www.instagram.com/visitmaldives
Twitter             |www.twitter.com/visitmaldives
YouTube          |www.youtube.com/visitmaldivestv
Follow and Share with Jetsettersblog.