Isolated Villas with Tuscany Now + More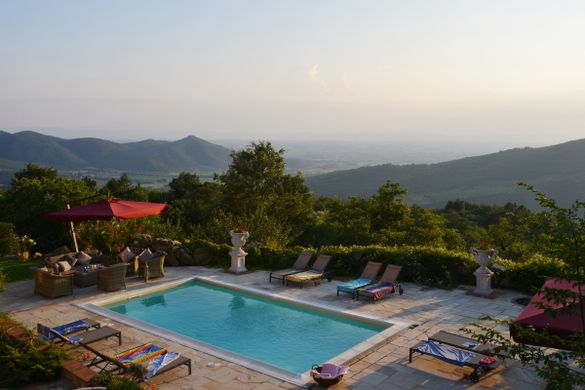 ---
Tuscany Now & More, Italy & Tuscany villa rental specialists since 1990, is delighted to announce a collection of properties ideally suited for isolated villa holidays. Those longing for an escape to rejuvenate in an idyllic setting can sample a luxurious stay in delightful remote locations.
Tuscany Now & More offers an array of exquisite villas and unique experiences perfectly suited to those looking to nurture body and soul or connect with family and friends. Properties offering isolated retreats include:
Il Molinaccio, Chianti
This beautiful stone farmhouse and its private swimming pool sit peacefully on a terraced hillside surrounded by olive groves and woodland enjoying magical views of rolling hills, farmhouses and vineyards. In the heart of the Chianti, the property sits at the end of a private road surrounded by sixty-four acres ensuring total privacy and peace but just minutes from the charming town of Castellina in Chianti.
Originally built as a mill in the 17th century, the current owners have spent years slowly and carefully renovating Il Molinaccio into a very sophisticated modern home, with spacious air-conditioned bedrooms, luxury bathrooms, a modern kitchen and stylish furnishings creating a very comfortable and easy to use home for all seasons. The interior has a very tasteful, contemporary feel, with retained historic features and the external original stone walls, barely touched in the restoration, ensure a stark contrast of the century-old walls…a clear reminder of its heritage.
The beautiful courtyard at the front of the house is fitted with shade-giving canvass sails furnished for dining and relaxing al fresco with rows of lavender and rosemary leading across the garden to the private infinity pool set amongst the terraced olive groves with sweeping views of the stunning valley. For the sun worshipers there are loungers and umbrellas for sunbathing on the stone-paved terrace that runs the length of the pool.
This 5-bedroom property sleeps up to 10 people and Tuscany Now & More (www.tuscanynowandmore.com, 020 7684 8884) offers I Il Molinaccio from £ 3,966 per week.
Le Bruciate, Cortona
A meticulously restored 15th century stone farmhouse with private swimming pool and separate guest house is nestled in the hills close to Cortona. The breath-taking views over the surrounding countryside of the Val d' Esse and Valdichiana provide a heavenly backdrop to this sophisticated and very private home, and is renowned as one of Tuscany's most sought-after areas.
This villa offers genuine tranquillity, seclusion and privacy appealing to the non "city-slicker" who genuinely wants to discover Tuscany and is looking for a peaceful and private holiday. Important to note is the location, with the final stretch of road to access the villa being trickier than most to access, so a four-wheel drive is recommended to travel here. An idyllic setting for keen walkers, trekking and various sports including mountain bike rides where undisturbed nature is seen at its best.
This 5-bedroom property sleeps up to 8 people and Tuscany Now & More (www.tuscanynowandmore.com, 020 7684 8884) offers Le Bruciate from £ 2,835 per week.
Casalta, Chianti
Casalta is an irresistible stone farmhouse in the most idyllic and peaceful setting one could ever wish for. It's loosely-translated name means "house up high", and is faithful to the nature of this gorgeous home; it's elevated position provides a vantage point like no other to savour some of the best views in Italy.
Although originally a typical Chianti farmhouse, Casalta is far from lacking in modern comforts such as air-conditioning in the bedrooms, outside living area and a shaded dining loggia with a barbecue. The private swimming pool is set across the lawn, fenced for security with a gate and offering shade as well as loungers. The private astro-turf tennis court is instead set further up, just above the parking area. This and the garden in general are truly picturesque spots from where to watch the sun set behind the hills in the distance, perhaps awaiting a private chef meal to be ready and with a glass of wine in your hand.
The farmhouse has been in the same family as the rest of the estate for generations, in all five-hundred years and counting. The owners have been able where possible to maintain the original floors and beamed ceilings; only adding the bathrooms and a modern Tuscan kitchen. Lots of character and heaps of history echoes from the 3-foot-thick walls which have remained standing for centuries.
This 4-bedroom property sleeps up to 7 people and Tuscany Now & More (www.tuscanynowandmore.com, 020 7684 8884) offers Casalta from £ 3,435 per week.
Follow and Share with Jetsettersblog.