Japan's Spring Ski Season Skiing and Hanami, All in One Trip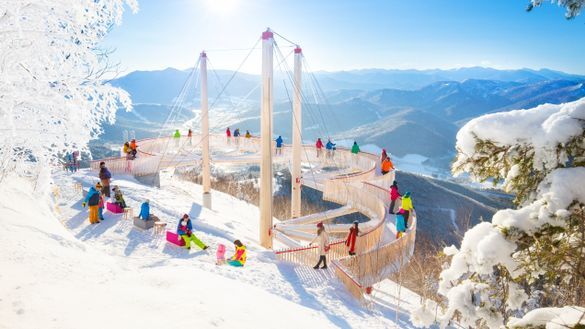 ---
It's a question that can be a challenging decision: "When is the best time to visit Japan?"
One could say that you need to visit on more than one occasion to admire and appreciate the beautiful contrast of Japan's distinct four seasons.
Each year, however, a two to three-week window of opportunity allows Aussie travellers to experience just that – the best of both worlds – the joys of Japan's winter and spring, all in one return trip.
According to Japan Meteorological Corporation (JMC)'s 2019 cherry blossom forecast, bloom dates are anticipated to be earlier this year! This means a last-minute winter getaway towards the end of March could be ideal for those that want to experience hanami (cherry blossom viewing) before heading home. It's also a way to enjoy the advantages of a late ski season which include discounted lift passes, clearer skies and fewer crowds.
Start in Hokkaido and return via Honshu
Featuring some of the best, high-quality snowfall in the country, there's a reason why Hokkaido, Japan's largest and northernmost prefecture cannot be missed. Rich in spectacular scenery and fresh local produce, winter sightseeing and festivities is nothing short of amazing in this particular part of Japan.
One of the largest and most family-friendly ski resorts in Japan, Hoshino Resorts TOMAMU has an array of world-class facilities to entertain both ski fanatics and outdoor lovers. With two ski-in ski-out hotels and a shopping precinct, it's a convenient hub to access a variety of slopes and explore Hokkaido's winter terrain through outdoor activities like snowmobile tours, ice fishing and Baumkuchen making in the snow.
For a chance to witness Japan's most iconic flower in all its beauty, it's best to time your return around the dates where full bloom is predicted. For example, you may want to book a return flight from a city near an international airport such as Tokyo, Osaka or Kyoto, all of which are expecting full bloom in the first few days of April.
Don't forget that spring in Japan brings not only a marvellous shift in attitude amongst locals but a change in cuisine! Be sure to try some of Japan's favourite spring delicacies like Sakura (cherry blossom) mochi and ice-cream.
For more information on 2018-2019 Winter Packages, visit https://www.snowtomamu.jp/winter/en/reserve/
About Hoshino Resorts TOMAMU
Surrounded by 1,000 hectares of vast nature, Hoshino Resorts TOMAMU is one of Hokkaido's largest resorts to enjoy sightseeing and activities in the Tomamu region, all year round. In winter, it is regarded as Japan's most family-friendly ski resort with its convenient ski-in ski-out accommodation and world class facilities. With high-quality dry powder snow gracing a diverse terrain, the resort caters to skiers and snowboarders of all levels. During the summer, guests can further explore the region through a variety of outdoor activities including river sports, cycling and hot air balloon rides, and witness a beautiful "sea of clouds" from the Unkai Terrace.
For more information visit: https://www.snowtomamu.jp/winter/en/
About Hoshino Resorts
Hoshino Resorts is a leading hotel management company in Japan. Founded in 1904 as a forestry business in Nagano, it opened its first hot spring resort in 1914. The company was rebranded as Hoshino Resorts by CEO Yoshiharu Hoshino in 1995. Through its expansion across Japan and Asia, Hoshino Resorts has developed multiple hospitality brands with a focus on providing traditional, Japanese-style accommodation and cuisine using local organic produce at its restaurants. The company operates 36 properties across Japan and two overseas resorts in Tahiti and Bali. For more information visit: www.hoshinoresorts.com/en/
Follow and Share with Jetsettersblog.