Jasper, Alberta Kicks Off Winter!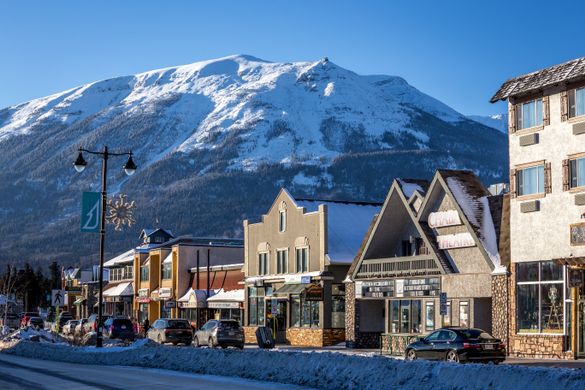 ---
MARMOT BASIN – NOW OPEN
There are few joys in life that are more or equally exhilarating and peaceful than gliding down a sparkling slope of fresh morning snow. And Jasper's beloved local ski spot, Marmot Basin, boasts some of the best pow around. Untouched, pristine and secluded, Marmot offers a completely unique skiing experience with abundant wildlife, beautiful landscapes, high alpine bowls, deep chutes, and wide open groomers. Located just 20 minutes from the town of Jasper, the ski season runs from the middle of November until end of April.
FAT BIKING – NOW OPEN
Experience Jasper's awe-inspiring winter cycling terrain by fat biking along frozen paths and ice-covered lakes. With tires that are almost twice the size of regular mountain biking tires, this fast-growing sport allows cyclists to stay on top of the snow rather than fighting against it. Ride along the marked trail towards Lake Annette, returning by way of Trefoil Lake, to see the different forests and mountains along the way. Don't have your own? Try out this addictive sport by renting a fat bike from The Bench Bike Shop.
ICE CLIMBING – OPENING DECEMBER 2
Challenge yourself with one of winter's most exhilarating sports: ice climbing. In the winter, Jasper National Park is a mecca for ice climbers. Every type of climb can be found for climbers at all skill levels, from long alpine ice routes to short bolted mix and dry tooling routes.
MALIGNE CANYON ICEWALK – OPENING DECEMBER 12
Drive 10 minutes north of Jasper for an ice-walk adventure that you won't soon forget. Arguably more magical in winter than summer, Maligne Canyon is the deepest canyon in the park. With a guided tour (which also provides anti-slip crampons and helmets) anyone can venture through the frozen canyon to see waterfalls of ice and magnificent natural sculptures
SNOWSHOEING – OPENING SOON
Jasper's lakes have plenty of room for this increasingly popular winter activity. If conditions are right, snowshoeing grants access to terrain that even cross-country skiers have trouble reaching. Walks & Talks Jasper provides snowshoes, transportation and guidance along trails that are selected to take advantage of the best snow conditions of the day.
ICE SKATING – OPENING SOON
Take part in a classic winter pastime and feel yourself glide over a frozen Rocky Mountain lake. Popular locales for skating include Lake Mildred and Pyramid Lake. The former has a groomed skating rink offering a round-the-lake oval and hockey rinks for pick-up games; skate rentals are available at the Fairmont's nearby winter rental shop.
Follow and Share with Jetsettersblog.