Journey with JR East for the ultimate Japanese ski experience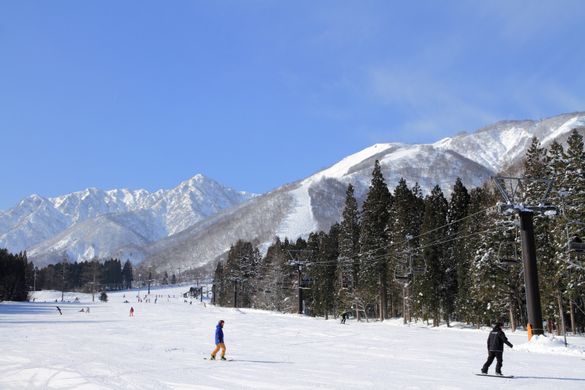 ---
If you're are looking for a ski-getaway, these resorts north of Tokyo might be the right place to start for you. The highest quality powder snow, a wide variation of courses and hospitality make Japan a superior winter sports destination. While in Japan, travellers can also take advantage of the cultural attractions and culinary delights that await outside of the major cities.
Head north-west of Tokyo for a family-friendly ski experience
For those wishing to stay close to Tokyo and being new to winter sports as well as intermediate skiers, Nagano Prefecture is a great place. Hakuba in Nagano Prefecture is arguably one of the most loved winter sports regions in Japan with an elaborate collection of resorts and spectacular scenery of the Japanese Alps.
Hakuba village is home to some of the most renowned resorts such as the neighbouring Hakuba Goryu and Hakuba 47 Winter Sports Park. Hakuba Goryu has a total of 23 runs for snow sporters of all levels, while Hakuba 47 Winter Sports Park offers various tree riding zones for people wanting to enjoy untouched powder tree runs. The two resorts also have various indoor and outdoor facilities for children and have guided lessons from experienced instructors.
By taking the Hokuriku-Shinkansen from Tokyo, these Hakuba resorts can be accessed by bus from Nagano Station.
Aside from snow sports, visitors can enjoy many of the other wonderful offerings of Nagano Prefecture. One of these, Matsumoto Castle, is the oldest surviving structure of its kind in Japan and is a breathtaking scene to behold when covered in snow.
Those wanting to experience traditional Japanese hospitality can seek out ryokans in Shibu Onsen, a hot spring village with a 1,300-year history. Nearby is also the internationally famous Jigokudani Monkey Park, home to the hot spring loving snow monkeys.
Adventure further north to experience the winter paradise of the Tohoku region
By making your way further north-east of Tokyo, you can experience the deep snow and abundant nature that Iwate Prefecture has to offer. Being further away from the city, winter resorts here are generally less crowded and have many fresh tracks that are waiting to be explored, adding to the many benefits of making a trip to Iwate.
Geto Kogen Resort is located in south-west Iwate and it's basin shape allows windblown snow from mountain peaks to gather on these mountains. The resort has 14 different ski courses in its basin, tree runs, backcountry courses and other activities as well.
From Tokyo, you can take the Touhoku-Shinkansen to JR Kitakami Station and access this resort by shuttle bus.
While in Iwate, travellers can go on a boat cruise at the Geibikei Gorge and revel in the picturesque winter scenery. Osawa and Hanamaki hot springs which are found along the river deep in the mountains offer the perfect escape from civilisation. Nature lovers can take a tour of Ryusendo cave and see the spring water rivers and lakes deep underground, the deepest being 98 meters that is lit-up to see it's crystal-like emerald-green waters.
For Australia media enquiries, please contact Satsuki Hosokawa at s.hosokawa@thedoq.com or call 0412 508 651.
About East Japan Railway Company
The East Japan Railway Company (JR East) operates trains including the Shinkansen (high-speed bullet trains) in the East Japan region. The company is the largest passenger railway company in Japan, serving around 17 million people every day and their network covers the half of the main island of Honshu, from the Tokyo metropolis to multiple areas in Eastern Japan. Apart from the main railway business, JR East Japan also operates various other establishments such as shopping malls, retail shops, restaurants and hotels as well as managing office buildings.
For more information, please visit:
https://www.jreast.co.jp/e/
About the JR EAST PASS
The JR EAST PASS is a special discount pass for international visitors to Japan (limited to those entering on a short term 90-day visa). Pass holders can get unlimited access to all JR East Japan Railways (Shinkansen bullet trains), affiliated railway companies and JR buses for 5 days within the period of 14 days from the date of issue of the pass. Visitors arriving into Narita or Haneda Airport can start their holidays by using the pass to head straight out to the beautiful and lesser-known Tohoku region and multiple other locations throughout Eastern Japan. We hope visitors will enjoy their trip to Japan with this great deal, the JR EAST JAPAN PASS!
JR East Fares & Passes
https://www.jreast.co.jp/e/pass/index.html?src=pcbtn
Follow and Share with Jetsettersblog.