KE Adventure Travel New Pioneer Collection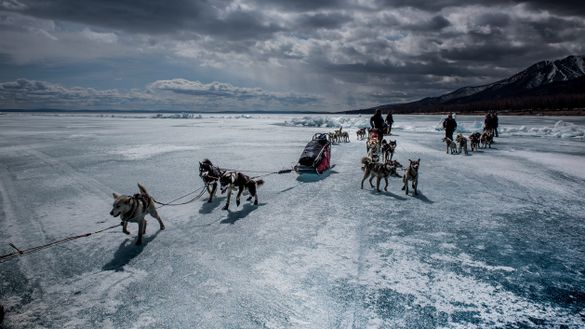 ---
Today, KE Adventure Travel launches its brand new Pioneer collection to the public. These one-off, expedition-style holidays break new ground for travellers who want to experience something truly extraordinary. The collection launch includes four trips, each with a single departure, which will run across 2020 and 2021. These unique holidays have limited spaces and we're expecting them to go quick. Our Lake Khuvsgul Dog Sled Adventure has already sold out, but you can join a waiting list.
NEPAL – An expedition to climb Khang Karpo in Nepal's remote Rolwaling Valley, a 6646m peak which has only seen two previous ascents.
CHILE – Trek in Chile and summit the two highest active volcanoes in the world – Ojos des Salado (6893m) and Llullaillaco (6739m).
MONGOLIA – Circumnavigate the blue ice of Lake Khuvsgul in northern Mongolia on a 9-day husky dog-sled winter expedition.
PERU – An expedition by raft on the Rio Tambopata in Peru. Also features stand-up paddle boarding, 1 night at the Tambopata Research Centre and a visit to Machu Picchu.
Further details;
Nepal Pioneer trip: Khang Karpo and the Rolwaling Valley
This is an exciting opportunity for experienced trekkers with Alpine or Scottish Winter mountaineering experience to get off the beaten track in Nepal, summiting a 6000m+ peak which has only seen two previous ascents. KE has been in contact with the original ascensionists (Squash Falconer and her team) and have recruited IFMGA Guide Tshering Pemba, one of the Rolwaling Sherpas involved in the first ascent, to be the guide in summiting the 6646m peak of Khang Karpo. Travellers will explore the remote Rolwaling Valley and acclimatise with the summit of a 5630m alpine-style peak, before spending a week making the ascent of Khang Karpo. Views from the summit encompass six of the world's 8000m peaks, including Everest. There are 12 spaces on this 20 day trip, which starts from £4995 land only. The departure date is 12 October 2020.
Webpage: https://www.keadventure.com/holidays/nepal-trekking-climbing-khang-karpo-rolwaling
Chile Pioneer trip: Volcanic Summits of Chile
At 6893m, the peak of Ojos Del Salado is the highest volcano in the world and one of the Volcanic Seven Summits (the highest volcanos on seven continents). KE's trip offers the opportunity to stand not only on Ojos Del Salado but also on Llullaillaco (6723m), the world's second highest active volcano. This trekking adventure is a serious challenge, as travellers will carry their own equipment and some camping gear, but KE guarantees it will be well worth the effort. Not only about climbing peaks, travellers will also visit the Atacama Desert, the Nevado de Tres Cruces National park which is home to pink flamingos, and spend time in Copiapo. There are 14 spaces on this 20 day trip, which starts from £3995 land only. The departure date is 14 November 2020.
Webpage: https://www.keadventure.com/holidays/volcanic-summits-of-chile
Mongolia Pioneer trip: Lake Khuvsgul Dog Sled Adventure (SOLD OUT– Register for the waiting list sales@keadventure.com)
By March, the largest and deepest lake in Mongolia, Lake Khuvsgul, freezes over. Its thick ice is then strong enough to support a husky-sledding expedition. KE's trip will give 5 travellers the chance to be their own husky sled driver, managing a team of Alaskan huskies and Greenland Dogs as they make a complete circuit of the lake. Taught and led by local guides, travellers will find their journey subject to the changing nature of the ice, making their journey one which will truly never be repeated. As the circuit is completed, travellers will experience the spectacle of Khuvsgul's changing ice patterns, camp on the lakeshore, ice-fish for dinner and stay in traditional gers (yurts). There are just 5 spaces on this 15 day trip, which starts from £3595 land only. The departure date is 1 March 2021.
Webpage: https://www.keadventure.com/holidays/mongolia-lake-khuvsgul-dog-sled-husky
Peru Pioneer trip: Descent of the Rio Tambopata
An expedition by raft from the thin air of the Andes down into the depths of the Amazon jungle on the Tambopata. The Rio Tambopata is one of the Amazon's most biodiverse ecosystems and a visit to this region would normally require flying into the jungle and travelling upriver into the rainforest. KE's trip will start by meeting indigenous communities on Lake Titicaca, before joining the Tambopata to begin the river journey. KE's experienced guides will ease travellers in on gentler waters before descending into class IV rapids. Camps for the night will on the beaches of the river and there will also be the chance to explore tributaries by stand-up paddleboard, all of which offer unparalleled access to see jungle wildlife. The journey will finish with a night at the Tambopata Research centre, home to the world's largest macaw clay lick and featured on David Attenborough's new Seven Worlds, One Planet series. There are 16 spaces on this 14 day trip, which starts from £3695 land only, and will include a visit to Machu Picchu. The departure date is 5 July 2020.
Webpage: https://www.keadventure.com/holidays/peru-Andes-Amazon-rafting
KE Adventure Travel offers 400 active adventures in 90 countries, creating expertly guided small group adventures worldwide and self-guided walking and cycling holidays in Europe. Best known for its pioneering itineraries and challenging trips with an edge, KE also provides a range of easier holidays, creating unforgettable adventures for active travellers of all abilities. Based in Keswick in the Lake District, KE is passionate about creating unique travel experiences for their customers. Established in 1984, KE Adventure Travel is a member of ABTA (W4341), AITO (5075) and holds an ATOL license (2808). www.keadventure.com.
Follow and Share with Jetsettersblog.