KE Adventure Travel – Top Destination 2019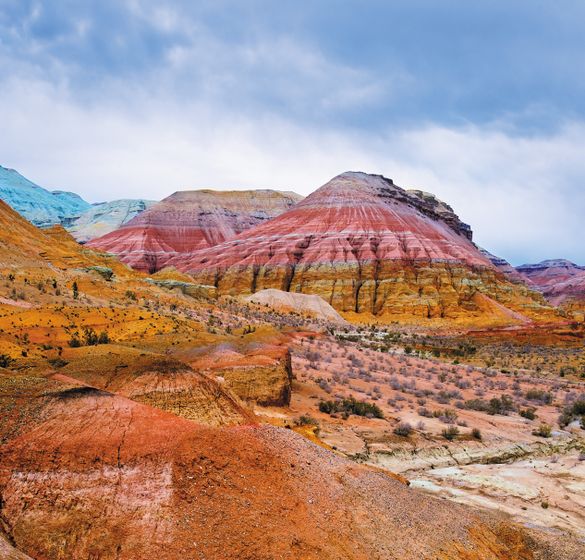 ---
With more and more choice of adventure travel holidays on the market, new destinations opening up and travel becoming easier, it's hard to know where should be on your travel radar. We've tapped into the latest industry news, insights and expert advice to predict what awaits travellers in 2019. Uncovered are exciting trends and destinations – from adventures that explore new frontiers to trips that reinvent iconic adventures.
The Guianas
We've seen sales of discovery holidays to areas in Latin America such as Chile, Argentina and Bolivia rocket up by a whopping 90% in the last year. It's clear that travellers are looking for adventure which explores new frontiers, and so in 2019, we've launched a thrilling NEW tour to Discover the Hidden Guianas. Suriname, French Guiana and Guyana are the three least-visited countries in South America, and Guyana is home to the Iwokrama, one of the four last pristine rainforests in the world. This tour offers our intrepid travellers the chance to discover a part of the world still little-seen by outsiders, and as a result, untouched by tourism.
East Bhutan
In 2018 new flights were launched in Bhutan from Paro to Yonphula in the east, making this region much more accessible than ever before. This, together with the fact that there is a waiver on tourism fees in 2019 for those heading east, means there has never been a better time to go. Our brand NEW  Merak and Sakteng trek offers a 16-day trekking adventure in this beautiful, untouched region, where you'll have the unique chance to meet the Brokpa people and get a taste of their semi-nomadic way of life.
Kazakhstan
The Stans have been a feature on trending lists for a few years now, but we see no sign of the wave of travellers intrigued by Central Asia stopping soon, mostly because there is so much to offer in these vast and epic lands. After spending years running bestselling trips to the Fann Mountains and the Tien Shan, for 2019 we're launching two new tours to explore Kazakhstan. One trekking through mountains and deserts and one cycling the wild and wonderful corner of the South East. Both trips are unique to KE. You're guaranteed to encounter a host of stunning landscapes, from the jaw-dropping Charyn Canyon to the multi-coloured Aktau Mountains, and meet nomadic Kazakh shepherds as you pass scattered yurt camps along the way.
Japan
Another new destination we're visiting in 2019 is Japan. Over the next few years new investment will be rife here, with Japan playing host to the Rugby World Cup in 2019 and then the Summer Olympics in 2020. Head there next year to enjoy the buzz but miss the crowds, and we've got two new adventures coming soon to help you take advantage of this exciting moment. You'll be able to explore the Best of Japan on Foot to discover sacred sights and modern marvels, and trekkers will be able to take on the incredible Kumano Kodo Trail.
Nepal
Nepal is a timeless destination for intrepid travellers which only ever becomes more popular, with KE experiencing a marked increase in bookings across the range of our Nepalese holidays in the last three years. We have recently added to our programme three new trekking holidays in scenic and largely undiscovered areas perfect for those who love to get off-the-beaten-path. Trek into the Ganesh Himal and enjoy an incredible ridge-walking finale on the Tiru Danda, discover a different Annapurna perspective on our Kopra Ridge Trek or go completely off-grid on a hike through the little-known Lamjung Himal. Also, reintroduced this year, is the classic Gosainkund and Langtang Trek;accessible, spectacular and proving to be very popular.
Jordan
The Middle East is currently the fastest growing region for travel in the world, and in 2018 we've seen a 145% increase in travellers wanting to experience it for themselves. With the launch of the Jordan Trail, a new long-distance hiking trail from Um Quais to Aquaba, Jordan is set to see more visitors than ever before in the coming years. You'll want to head there in 2019 to experience Jordan's incredible trekking at its quietest. Our bestselling Dana to Petra trek includes some of the best sections of the new Jordan Trail and finishes with a unique visit to the Lost City of Petra, designed to get away from the crowds and fully experience one of the New7Wonders of the world.
Tibet
From 2019 onwards, travellers will be able to access new infrastructure connecting Nepal and Tibet. After roads were destroyed in the 2015 Nepal earthquake, 2018 has seen the completion of a newly established road across the Nepal-Tibet border through Kyirong. Our newly revised and improved Everest from Tibet tour will take you from Kathmandu to Lhasa and back again, experiencing life in Tibetan monasteries and meeting nomadic herdsmen who still live in yak-hair tents. This new route also means visitors will be able to travel along the 'Friendship Highway' to reach Rongbuk Valley, home one of the highest monasteries on Earth and the ideal location to view Everest's stunning North Face.
Serbia
Whilst the Balkans have been trending each year, it's in Bosnia and Albania that we've prominently seen growth. Serbia so far remains an undiscovered gem and as a result is the perfect base to enjoy a cross-border adventure in the Balkans, another trend we've seen on the up. In 2019 we're offering you the chance to travel through the heart of the Balkans on an unforgettable cultural trekking adventure, which includes staying in mountain shepherd huts scattered amongst Montenegro's Bjelasica Mountains before walking into Serbia to visit the Uvac canyon, home to one of the largest colonies of the rare Griffin Vulture in Europe.
Central Europe
Continuing the cross-border adventure trend, we've also created a brand new adventurewhich will take you into 5 countries in a 2-week tour across Central Europe, a destination perfect for travellers looking to uncover a lesser-seen area of Europe. In 2018 we saw an increase in travellers looking for tours which combine culture and walking, and this new tour offers opportunities for all, with sightseeing tours in Prague, Vienna, Budapest and Krakow, alongside the unique chance to walk the Iron Curtain Trail and enjoy easy hikes in the Tatras Mountains.
Italy
Italy is an iconic destination for adventure travellers, with options ranging from walking in wine country to conquering peaks such as Gran Paradiso in the Italian Alps, a trend that's seen a 22% increase in bookings for us over the past year. Conscious of over-tourism becoming an increasing problem in more popular sites, we specialise in lesser-visited regions and in 2019 will continue to do so with the launch of a new walking adventure in the Garfagnana region of Tuscany. Small groups will be able to experience the beautiful trails with views of the Alpi Apuane and Apennine mountain ranges whilst staying in a low-impact Tuscan farm. Organic produce is prepared and served each evening fresh from the orchards, meadows and gardens surrounding the accommodation, alongside excellent local wine.
Notes to Editors: Established in 1984 KE Adventure Travel Ltd is one of the leading independent adventure tour operators with over 400 holidays specialising in trekking, walking, family, self-guided, climbing, discovery, and cycling worldwide. KE Adventure Travel Ltd is a member of ABTA (W4341) a member of AITO and holds an ATOL license (2808).

Follow and Share with Jetsettersblog.