Last Second Summer Availability in a European Ultra Villa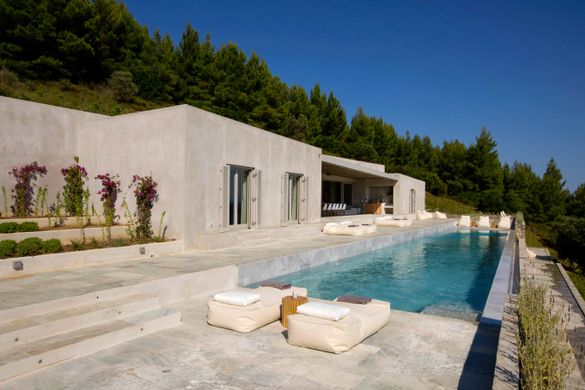 ---
Summer is sweeping through Ireland, the UK, and Western Europe. And some of our UltraVilla experts still have a few extra special villas and incredible private rentals still available for rent.
From Elegant Ireland
Sleeps: 20
Rate: on application
This spacious French-style house is all about style, comfort and privacy.  With two golf courses next door, an indoor pool, private cinema, fishing on the nearby River Liffey and full house staff, you can enjoy some serious pampering.
Available: 25th June-14th July
La Fontanella, Amalfi Coast
From excellence.villas
Sleeps: 12
Rate: €15,600 per week (15% discount)
This medieval watchtower has been turned into a style-conscious seaside villa half way between Positano and Amalfi.  It sits within an extensive lemon and orange grove, and has a private pool as well as private access to the sea.
Available: 14-28th July
SKIATHOS SM, Skiathos
From Five Star Greece
Sleeps: 12
Rate: discounted on application
In the desirable Kanapitsa area of Skiathos, this stunning contemporary, two-storey villa runs along the side of a lushly forested hillside, with a path down to a splendid sandy beach and swimming cove below. Crisp, cool, modern interiors open out to the wraparound terrace and jade coloured pool, all commanding fabulous views of the sea below. Sliding doors create fluid indoor/outdoor spaces.
Available: July
Villa Fiorentina, Tuscany
From Homebase Abroad
Sleeps: 8-12
Rate: €20,200 per week
The full staff at the elegant, Villa Fiorentina ensures your comfort. Beautiful gardens with trails, private pool and broad lawns are there for the active. While a broad terrace and nearby location to Florence allow time for relaxation and culture.
Available: 18th July-11th August
Barton Farm, Cotswolds
From Luxury Cotswold Rentals
Barton Farm, on the edge of Guiting Power in the heart of The Cotswolds, is a beautifully renovated seven bedroom former farmhouse sitting in 13 acres of gardens, pasture and woodland. Features include a barbecue barn, heated swimming pool, 'party' barn and tennis court.
Sleeps: 14
Rate: £15,000 per week
Available: 31st July-17th August
Villa Alegria, Algarve
From Vila Vita Collection
Sleeps: 8
Rate: on application
This outstanding beach-front property is contemporary in design, combining elegance, luxury and sophistication. Sweeping ocean views surround the villa, which sits on a cliff top overlooking Salema Beach.
Available: 23rd June-7th July
Villa Glamour, Saint Tropez
From Villas Prestige & Services
Sleeps: 14
Rate: on application
Set in a private Domain on top of a hill, this sensational villa overlooks both countryside and sea. Glamour is in a peaceful and privileged location thanks to its beautiful surroundings, yet within easy reach of beaches, enchanting villages, exceptional restaurants, and St Tropez.
Available: 12-17th August
Follow and Share with Jetsettersblog.