Learn Something New in Buenos Aires in 2020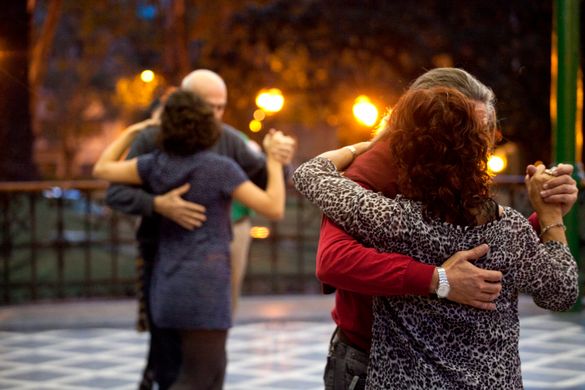 ---
From soccer skills in the footsteps of Messi and Maradona, riding out with the polo ponies and tangoing with the old school pros, for 2020 visitors to Buenos Aires can delve beyond the usual tourist trails and upskill on a series of immersive learning experiences.
Taking its national pastimes to a new level, Buenos Aires Tourism has picked its top five immersive itineraries and courses for 2020:
LEARN TO PLAY FOOTBALL LIKE MESSI AND MARADONA
Having nurtured some of the world's greatest soccer stars, Buenos Aires' footballing legacy can be enjoyed to the max, with FC BAFA (Buenos Aires Futbol Amigos). As well as a Tinder-type set up for football fans, in which visitors can link up with local players and join games on an ad hoc 'play and play' basis, FC BAFA also organises immersive courses. These include a one-day Boca Juniors camp which comprises a professionally led training session, lunch and game; also, an overnight training and match play with Rosario Futbol Club. Week-long footballing courses can also be booked including training, matches with locals, behind the scenes stadium visits and homestays with local families. To book visit: https://www.bafutboltours.com/ or more footballing options visit: https://turismo.buenosaires.gob.ar/es/article/pasi%C3%B3n-por-el-f%C3%BAtbol
While it may be known as the Sport of Kings, the locals' passion for polo can be very much enjoyed by all visitors to the city. As well as booking tickets to see one of the three major events which take place from September to December at the Palermo ground or 'Cathedral of Polo', there are several day-long polo trips. Based slightly out of the city in the countryside setting of a polo ranch, as well as watching the professionals at play, participants also learn the basics of the game then put their newly acquired skills to the test and play a match themselves. Prices from 12,000 ARS (£77 per person) for a full day trip including tuition, transportation, a welcome breakfast, BBQ lunch and Argentine wine tasting completes the experience. For more information on Buenos Aires polo programme: https://turismo.buenosaires.gob.ar/en/article/experience-passion-polo or to book a course https://www.ba.tours/en/activity/full-polo-day-30772153
Tango is the backbone of Buenos Aires' cultural identity and no visit to the city would be complete without a taster class at the very least. Once armed with some background information from the tourist office's online fact file https://turismo.buenosaires.gob.ar/en/agrupador-noticias/tango; wanabee Strictly types can book a series of one to one or group sessions which range from a quick 'learn the basics in an hour', to a more intensive course spread over a week or two. Prices from 1000 ARS (£12). More practice can be enjoyed at the many Milongas dance venues, many of which welcome dancers of all levels. See hoy-milonga for the latest day-by-day listings https://www.hoy-milonga.com/buenos-aires/en
LEARN TO MAKE STREET FOOD
The fragrant aromas of street food are certain to create an evocative memory of any visit to Buenos Aires – and to ensure the delicious aromas can be recreated on home soil, local husband and wife team Veronica and Manuel offer a year-round programme of cooking courses. Operating out of their own home, the courses at Tierra Negra include an empanadas masterclass, as well as a street food experience and medialunas or mid-morning sweet treat-making.  All classes include a demonstration, hands-on cooking experience and tastings. Prices from 3300 ARS (£43) For more information and to book contact: https://www.tierranegragourmet.com/classes
LEARN SOMETHING CREATIVE: FILETEADO ART CLASS:
Adorning many of Buenos Aires' public signs and buildings are the colourful painted swirls of fileteado art. UNESCO protected, this beautiful stylistic artwork is an integral part of Buenos Aires' artistic culture. And while plaques can be bought direct from the workshops of the 'fileteadores' artists, many also offer classes – enabling visitors to create their own souvenirs.  Classes start from 2120 ARS (£25) for a two-hour workshop, to more intensive courses spanning several days.  For more information about the artform visit https://turismo.buenosaires.gob.ar/es/article/fileteado-el-arte-porte%C3%B1o-que-conquist%C3%B3-el-mundo or to book a course: https://ba.tours/en/activity/buenos-aires-cultural-san-telmo-class-of-porteno-fileteado-art-68246620 or www.fileteado.com.ar
For more information on tourism, visit: https://turismo.buenosaires.gob.ar/en or follow Buenos Aires' Facebook page or Instagram.
Follow and Share with Jetsettersblog.