LOCALIKE New York Wellnes Destination Guide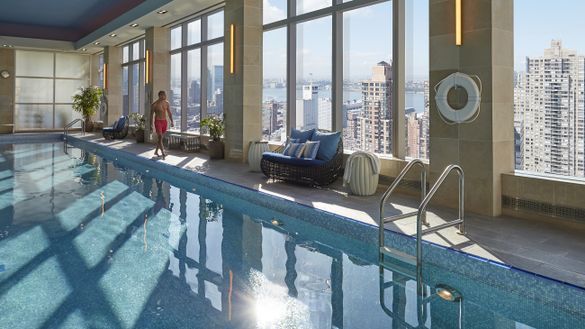 ---
Health-conscious travel is on the rise, with many travel operators adapting and expanding their offerings to accommodate the growing demand from travellers eager maintain personal well-being while on the road.
Recognising the growing trend of health, fitness, and self-care, New York-based insider travel service LOCALIKE has this month launched their latest product, the New York SELECTION: Wellness & Beauty.* Crafted in consultation with leading New York wellness and fitness professionals, the curated SELECTION is the most recent in a series of themed destination guides showcasing a detailed offering of the city's hidden gems and local hotspots. Recommendations offered within the SELECTION include: the tranquil oasis of Aire Ancient Baths; America's oldest apothecary C.O Bigelow; and pay-by-donation classes at Lauren Hanna's Sonic Yoga.
Founded by Manhattanite, Andreas Leuzinger, LOCALIKE's unique and insightful travel service became available to Australian travellers in January this year. LOCALIKE's range of bespoke itineraries and carefully curated city guides expose visitors to experiences often reserved for New York City locals.
"In recent years the concept of wellness has taken centre stage within the travel and tourism industry," says Leuzinger, "We've noticed the surge in demand has come from not only health-conscious millennials looking to combine fitness and culture, but from Baby Boomers and prime-of-life travellers eager to maintain their health and vigour while on vacation."
"New York City has always been ahead of the curve in adopting emerging wellbeing and health trends. With everything from Himalayan Salt Rooms, to vegan cafes, and niche fitness studios on offer, health-conscious travelers may feel overwhelmed by the city's extensive range of fitness amenities, healthy lifestyle options, and wellness-focused operators. LOCALIKE provides travelers with only the best and most relevant recommendations," says Leuzinger.
LOCALIKE's health and wellness-themed recommendations include free meditation sessions, island-wide bicycle tours, sustainable locally-sourced salad bars, day spas with RnB soundtracks, alfresco pedicures, and of course the all-important ath-leisure boutiques. Crucially, LOCALIKE's thorough guides present travellers with only the most relevant, must-do experiences to ensure no valuable holiday time is wasted, guaranteeing a fulfilling and stay in New York from the first minute to the last.
This increase in wellness-driven products and services is indicative of an industry-wide effort by destinations, properties, and providers to better position their assets to attract today's growing base of health-minded consumers (Intrepid Travel Trends Report 2018). As travelers become more aware of the importance of staying fit and healthy, the travel industry continues to adapt to consumer's preferences, with holidays evolving from pampered indulgence to now encompassing personalised, functional health and fitness (Health and Fitness Travel Wellness Travel Trend Insights).
Available for AU$65, the New York SELECTION range showcase a detailed offering of rooftops, nightlife, shopping, art and culture, while LOCALIKE's New York PERSONAL itineraries start at AU$105. Each product presents rare insider-perspective, inclusive of all the tips and tricks necessary to ensure ease of experience.  For more information and to view sample Travel Profiles and Travel Planners, visit: https://www.localike-newyork.com
– ENDS –
*LOCALIKE's New York SELECTION: Wellness & Beauty is available to media upon request. Please note, LOCALIKE New York must be credited as a source if publishing any of the suggestions contained within the SELECTION itinerary.
LOCALIKE New York is an online travel service generating truly customizable travel itineraries for the city's local and international visitors. Established in response to changing consumer attitudes, and the subsequent shift toward highly bespoke experiential travel, LOCALIKE recognises that today's traveler is less concerned about familiar destinations and iconic souvenirs, and more about individualised and transformative experiences.
Recommendations provided are based on insights from LOCALIKE's team of in-the-know New York-based concierges and scouts. LOCALIKE does not work on a commission basis and is therefore neutral and independent.  Beyond LOCALIKE's bespoke travel advising, staff are available to provide assistance via phone, Skype, email or in person at LOCALIKE's Manhattan offices to ensure a seamless experience throughout the visit.
Follow and Share with Jetsettersblog.