Look Forward to Family Fun at Fodele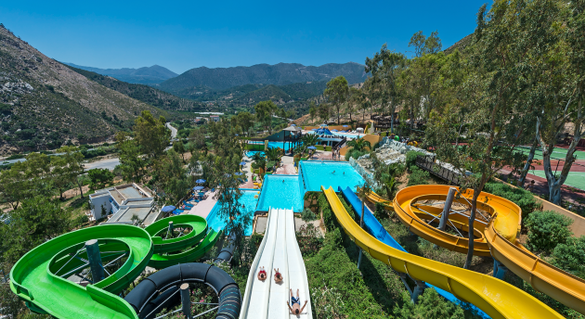 ---
There have been positives to take from the current climate. Many people have discovered a shining treasure: a newfound gratitude for family. Family time has never been more abundant than it is now, and lockdown has helped many appreciate the importance of spending quality hours with loved ones. More than ever, we are sticking together and appreciating each other. No doubt, when this is all over, you'll want to start travelling the world again. And how better to enjoy such a holiday than with the family you've grown closer to throughout these months of isolation?
Fodele Beach & Water Park Resort looks forward to welcoming you back to sunny Crete. The resort serves as both a tranquil escape to relax and an adventure playground, where children and adults alike can run free after a long period of domestication.
Let us distract you for a moment. Found on an imposing cliffside near Heraklion airport, Fodele is blessed with sweeping views of the Cretan sea from almost anywhere on the resort. Imagine – lying by the swimming pool, refreshing drink in hand, glowing sun on your skin, primed to unwind completely and let go of your post-lockdown stress. Just a short walk down to the foot of the complex will grant you entrance to the golden beach, where you can admire the azure vista from up-close, while sinking into a soothing Balinese bed.
Beyond being just a place to loosen up, Fodele Beach presents a vast array of opportunities to quench your thirst for excitement, and satisfy your need to get active in the outdoors, after being indoors all this time. For one, aside from having an impressive range of sports facilities, Fodele is home to the largest hotel waterpark in the region. Nine thrilling slides decorate the park, varying from body slides to freefall slides to rafting slides, each providing you with a unique way to dive into hours of family time. You and your family, at any age, will spend the whole day going up and down the slide, without awareness of the time.
If you're especially energetic, Fodele encourages you to explore the beauty of Crete's nature while staying active with scenic mountain bike expeditions across the island. Whether you and your family decide to traverse the rugged terrain alone, or on a guided excursion with adventure bike tour company JoyRide.bike – whose base lies in the hotel itself, you will be able to experience that precious bonding time you're looking for while witnessing the majesty of Crete's mountainous landscape.
Fodele Beach can't wait to welcome you back once we can all travel again.
Website: https://www.fodelebeach.gr/
About Fodele Beach & Water Park Holiday Resort:
Located 25km west of Heraklion International Airport, Crete, Fodele Beach sits on a majestic cliffside, towering over the peaceful Cretan Sea, with a sandy beach right below the complex. Families will feel at home in the elegant range of guestrooms and bungalows which reflect centuries of Greek culture. Graced with glorious views, fragrant gardens, and memorable dining experiences of international cuisines, you will find a paradise at Fodele. No matter the kind of family holiday you're after, Fodele Beach is the destination you've been looking for.
Follow and Share with Jetsettersblog.