Lošinj, Croatia Action-Packed Year as European Island of Sport 2020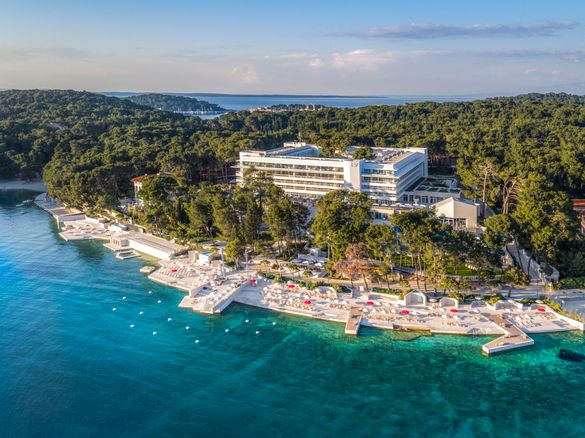 ---
'
Island of Vitality' to welcome triathletes, mountain bikers, marathon runners… and even cricketers!
4 February 2020: Long known as Croatia's 'Island of Vitality', Lošinj is set to step into the sporting spotlight this year after being officially named 'European Island of Sport 2020'. Blessed with a mild Mediterranean microclimate, pure air, immaculate seas and a natural topography ideally suited to outdoor pursuits, Lošinj will this year welcome some of the world's leading triathletes, cyclists, runners – and even cricketers! – for a series of sporting events that will reinforce its long-held reputation as the perfect destination for a restorative active break. From April's XTERRA Croatia off-road race weekend to the 10thLošinj half marathon in September, participants and fans alike can relax and recharge with special two-night Active 365 Weekend packages at Lošinj Hotels & Villas' award-winning Hotel Bellevue, from EUR333 (approx. GBP284) per person.
On 18-19 April, more than 800 participants from all over the world will line up in Lošinj to take part in XTERRA CROATIA, an off-road racing extravaganza comprising the first ever XTERRA off-road triathlon held in Croatia, and a 40km off-road mountain bike race. The XTERRA CROATIA triathlon will be one of the most challenging in Central and Eastern Europe. Starting with a 1.5km swim in the picturesque natural harbour of Čikat Bay – directly in front of Hotel Bellevue, participants will then cycle 30 breathtaking kilometres across the island's rugged landscape, before a final 10km off-road run through dense forest trails richly scented with pine and aromatic herbs.
Mountain biking enthusiasts can also look forward to an adrenalin-fuelled Spring in Lošinj with the Mitas Adria Four-Island race on 25 April; the return of one of the world's most exhilarating downhill bike races, the Mercedez-Benz UCI Mountain Bike Downhill World Cup, from 7-10 May; and the first ever XCO Lošinj Cross Country Mountain race from 15-17 May.
From 11-14 June, Lošinj will host the fifth annual Mediterranean Cricket League tournament, featuring Australian double World Cup winner Brad Hogg and defending champions Warriors Cricket Club Qatar; as one of the official tournament hotels, Hotel Bellevue is the ideal spot to reflect on the day's play and perhaps even rub shoulders with some of the players.
Keen runners can also sign up to participate in the 10th annual Lošinj half marathon, a scenic race through the island's streets in late September, as the summer heat softens into the gentle warmth of Autumn. Open to amateurs of all levels, the event on 26 September also includes the 5km Apoksiomen Cup, starting from Hotel Bellevue, and a 10km city race.
Rounding off the sporting season at the end of October is the Cres-Lošinj Trail Weekend, a unique two-day trail race that showcases the most beautiful landscapes, highest peaks and hidden corners of two connected islands, Lošinj and Cres. Participants can choose from Duga ('short': 6-9km), Srednja ('middle': 15-18km) and Kratka ('long'; 20-25km) courses for each race day.
Situated in the heart of a centennial pine forest in Čikat Bay, the impeccably designed Hotel Bellevue exudes minimalist flair with its sleek whitewashed walls, impeccably designed contemporary interiors and an abundance of natural light creating a fresh and spacious feel. Hotel Bellevue is also home to the award-winning Bellevue Spa Clinic, an extraordinary wellness sanctuary where guests can enjoy peerless spa and fitness facilities; immerse themselves in integrative health programmes; and benefit from the expertise of renowned global specialists and brands, from French podiatrist Bastien Gonzalez to Forlle'd Japan, Pharmos Natur and Valmont. A serene vision of gleaming terrazzo floors and iridescent onyx partitions, this world-leading 2500sqm haven boasts exceptional facilities including a cutting-edge Medi Spa; a Spa & Relax zone with indoor and outdoor heated seawater pools, Finnish and bio soft saunas, steam bath, plunge pool, Experience showers, chromotherapy waterbeds and heated stone beds; an open-air Spa Garden with sauna, hot tub, plunge pool and pergola-shaded treatment areas; secluded spa terrace featuring no fewer than five Jacuzzis; and a fully equipped fitness centre.
To celebrate Lošinj's year as European Island of Sport 2020, Hotel Bellevue has created a two-night Active 365 Weekend package, from EUR333 (approx. GBP284) per person. The package includes accommodation with room upgrade subject to availability; healthy welcome drink; daily breakfast; three-course dinner at Bava restaurant (excluding drinks); one power walk and one recreational run guided by a professional trainer; one 50-minute anti-stress massage at Bellevue Spa Clinic; a voucher for 10 percent off at one of Lošinj Hotels & Villas' restaurants; and late check-out. Guests also benefit from use of the Bellevue Spa Clinic wellness area and fitness centre and participation in daily Be Fit activities.
For reservations and further information visit www.losinj-hotels.com/en/hotels-and-villas/hotel-bellevue/offers/active-365/, email: bellevue@losinj-hotels.com or call tel: +385 51 661 101.
Lošinj Hotels & Villas' luxury portfolio also includes the five-star Boutique Hotel Alhambra and three five-star villas, Villa Augusta, Villa Mirasol and Villa Hortensia.  All are ideal for indulgent getaways, active breaks and family holidays.
A relatively undiscovered jewel to the north of Croatia, the intimate Adriatic island Lošinj – 'island of vitality' – is famed for its rich nature; counting more than 1200 aromatic and healing herbs, more than 2600 hours of sunshine every year and the cleanest seas. At the end of 19th century, Lošinj was recognized as a 'healing location' due to its unique microclimate. Set in the idyllic Čikat Bay and dotted amongst the pine forests, Lošinj Hotels & Villas boasts two five star hotels (Hotel Bellevue and Boutique Hotel Alhambra) and three five star villas (Villa Augusta, Villa Mirasol and Villa Hortensia) – ideal for luxurious getaways, active breaks, family holidays and more. Passing through a comprehensive renovation in 2014 and an upgrade of Bellevue Spa Clinic in 2018, the group's wellness resort Hotel Bellevue offers fully integrated health programmes, extensive spa facilities and beauty treatments by world-famous French podiatrist Bastien Gonzalez, 45 Degrees, Forlle'd Japan, Pharmos Natur and Valmont facials.
Lošinj is reached by private plane or luxury car transfer from many European airports (namely Ljubljana, Pula, Rijeka, Venice, Zadar and Zagreb).
Follow and Share with Jetsettersblog.