Croatia – Lošinj's Bellevue Spa Clinic 'Stillness in Movement' Yoga Retreat, 13-17 May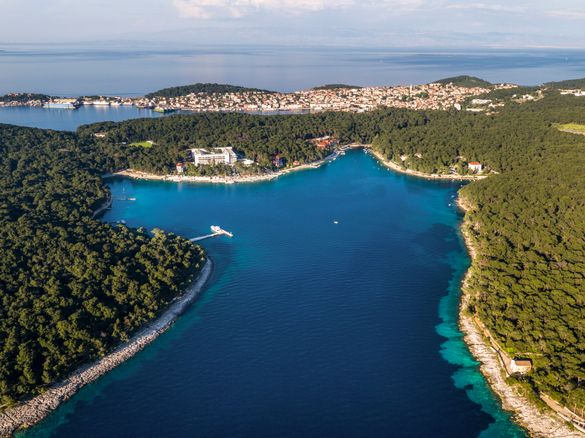 ---
Meditation meets mindful movement in four-night retreat on Croatia's 'Island of Vitality'
Continuing to enhance its wellness offering, Lošinj Hotels & Villas' award-winning Bellevue Spa Clinic announces integrative 'Stillness in Movement' Yoga Retreat from 13-17 May. Led by licensed vinyasa yoga teachers including London-based Rose Firouzbakht, guests will be guided through a series of traditional yoga and mindful breathing practices, combined with ancient healing traditions from around the world, including a Mayan cacao ceremony and Tibetan Healing Sound massage. The four-night retreat invites guests to delve deep into their inner self and reconnect with nature to balance and heal body and mind from EUR 766 (approx. GBP 667) per person, including the 'Stillness in Movement' retreat programme and half board accommodation at Hotel Bellevue.
Lošinj has long been recognised as a healing location due to its Mediterranean microclimate and unique blend of natural sea aerosols, abundant medicinal plant life and essential oils, all combined with the island's pure air and immaculate seas. Lošinj's deserved reputation as the 'Island of Vitality' provides the perfect backdrop to discover complete relaxation and revive with an invigorating yoga retreat.
Hosted by London-based yoga teacher and architect, Rose Firouzbakht, and Nataša Gašparinac, a specialist in pranayama and chakra alignment from Zagreb, the carefully devised 'Stillness in Movement' Yoga Retreat will immerse guests in the ancient spiritual traditions of yoga. Each day begins with a sunrise meditation and restorative morning yoga class to awaken creativity and reflection, and inspire increased self-awareness. As the sun sets, guests will be gently guided through the meditative practice of pranayama to release energy, all the while accompanied by the soothing rhythmic melody of live acoustic music to transport the minds into the realms of bliss.  Alongside classical yoga and meditation techniques, the retreat will also incorporate other ancient healing traditions including a Mayan cacao ceremony and a Tibetan Healing Sound massage and Singing Bowl therapy.
Originating back to the Mayan and Aztec cultures, cacao has been used for centuries as a 'plant medicine' due to its heart opening qualities and wide-ranging health benefits. When ingested, it helps to release 'feelgood' hormones and endorphins, and can be useful in reducing stress, improving mental agility and improving blood flow. Whilst not psychoactive, cacao has been linked to experiences of beautiful physical and emotional journeys and has become popular for those who hope to achieve a deeper state of meditation. Bellevue Spa Clinic's cacao ceremony, lead by integrative art psychotherapist Vladimir Radišić, will invite guests to connect with one another through a sacred cacao blessing, where they learn about the cacao they are drinking; a series of guided meditation and movement practices; and a closing prayer where participants give thanks for their experience.
The four-night retreat will also introduce guests to ancient Tibetan healing practices with a Healing Sound Massage and Singing Bowl meditation that works on a physical, mental and spiritual level. The healing experience takes inspiration from Ku Nye and Tibetan medicine and uses traditional Ayurvedic healing, Buddhist philosophy and plant healing. It is known for releasing tension, alleviating muscle aches and pains and increasing energy levels. The vibration caused when the bowls are struck travels through the body and is believed to have an effect on all cells within the body to eliminate any toxins stored.
Hotel Bellevue's four-night 'Stillness in Movement' Yoga Retreat starts from EUR 766 (approx. GBP667) per person, based on two adults sharing Superior Atrium accommodation from 13-17 May 2020. The Yoga Retreat includes half board meals, including a three-course vegetarian menu; daily sunrise morning meditation, yoga morning classes and sunset meditation and pranayama sessions; one cacao ceremony; one Tibetan Healing Sound Massage; one group Sound Bath with Tibetan Singing Bowls; and admission to the Bellevue Spa Clinic wellness area and daily Be Fit activities.

For reservations and further information visit https://www.losinj-hotels.com/en/hotels-and-villas/hotel-bellevue/offers/yoga-retreat/, email: Bellevue@losinj-hotels.com or call tel: +385 51 661 101.
Lošinj Hotels & Villas' luxury portfolio also includes the five-star Boutique Hotel Alhambra and three five-star villas, Villa Augusta, Villa Mirasol and Villa Hortensia.  All are ideal for indulgent getaways, active breaks and family holidays.
-ENDS-
Follow and Share with Jetsettersblog.