Luxtripper in Latin America With New Itinerarie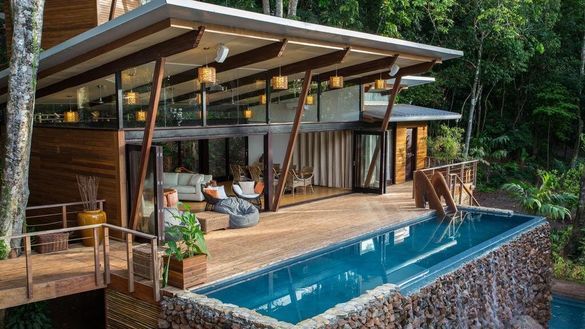 Luxtripper, the luxury travel specialist, has expanded its destination portfolio to include Latin America, with two new flagship tours for 2022 across Ecuador, Panama, Costa Rica, the Amazon and the Galapagos islands, that highlight and celebrate their diverse natural wonders.
The news comes as Charlie Lockwood, Luxtripper's Latin America specialist, is named one of Condé Nast Traveler's 2021 Top Travel Specialists, recommended for her expert knowledge and work creating unforgettable experiences for clients.
A land of extremes, Latin America is home to the Earth's largest rainforest, tallest waterfall, driest non-polar region, and southernmost city. It spans multiple climates and landscapes, and covers vast terrains that include wildlife-rich rainforests, ethereal salt lakes and snow-swept mountains. Beneath these natural wonders lies a colourful, vibrant culture, one that reflects its eclectic heritage of European, African, Asian, and Pre-Columbian influences.
Luxtripper's Wildlife Adventures tour is a 14-night adventure through Ecuador, The Amazon and the Galapagos Islands, immersing guests in the country's rich cultural heritage and unique natural surroundings. From peaceful spas in orchid-covered Cloud Forests, to a luxurious eco-lodge on the shores of the great Amazon river, and the chance to sail round the Galapagos Islands on a boutique catamaran to see giant tortoises and penguins, this itinerary has luxury, wildlife and exploration at its core.
The Tropical Adventures tour will take clients from the top of the breath-taking Arenal volcano in Costa Rica, to the white beaches of Panama over 13 unforgettable nights. Offering experiences including a torch-lit dinner in a 500-acre private forest reserve, hiking to ancient lava fields, relaxing to the sounds of the rainforest in 30°c thermal springs, and whale watching off the coast of untouched tropical islands, the tour brings luxurious accommodation together with true escapism in nature.
Charlie Lockwood, Latin America specialist at Luxtripper, said: "Latin America feels like it offers the whole world in one place, with an abundance of beautiful landscapes, unique wildlife and a rich cultural heritage that fills each and every corner. We're incredibly excited to be bringing such a diverse group of countries to our clients, with luxurious itineraries that celebrate their incredible natural wonders, and provide a lifetime of memories that have become more important than ever."
Nena Chaletzos, founder and CEO of Luxtripper, said: "We're entering a new chapter for travel, and seeing great demand for experiences that don't just deliver luxury, but also adventure and meaning for our clients in more corners of the globe. Latin America is vibrant, beautiful and largely untouched, and it's therefore the perfect addition to our portfolio with accommodation and experiences designed to invigorate the mind and soothe the soul."
Itinerary details:
All prices include return flights from the UK, transfers to and from the airport, accommodation, tours and activities and domestic flights.
Tropical Adventures in Costa Rica and Panama (13 nights) – from £7,000pp based on two people sharing
This immersive tour of Costa Rica and Panama will include staying in some of the region's most exclusive hotels. Starting in Costa Rica, guests will experience the beautiful Alajuela Province and Arenal National Park, before jetting off to glitzy Panama City. After seeing the city's top sights, they'll be off to island paradise at the glorious Isla Palenque, to fully unwind in tropical surroundings.
Accommodation includes:
El Silencio Lodge and Spa, an eco-retreat nestled in a 500-acre private cloud forest reserve in Costa Rica. Guests can enjoy a tropical torch-lit forest dinner using ingredients from the lodge's organic farm, as well as hiking trails and zip-lining adventures through the rainforest canopy.
Tabacon Thermal Resort and Spa, the only resort in Costa Rica's Arenal region with natural, 30°c hot springs. Guests can visit the outdoor spa and sample two sumptuous restaurants, as well as take day excursions to the cascading waterfalls, ancient lava fields and vast lakes of the Arenal National Park.
The Bristol Panama, an elegant, five-star retreat in Panama City with a gourmet restaurant and an outdoor swimming pool. Guests can venture out to see the iconic Panama Canal and tour the Colonial Old Town of Casco Viejo.
Isla Palenque, a five-star resort located in Panama's Gulf of Chiriqui National Marine Park and one of National Geographic's Unique Lodges of the World. Guests can stay in one of the beachfront casitas inspired by the island, and enjoy beachfront dining using local ingredients, as well as jungle hikes, whale-watching excursions, beachfront yoga, and open-air massages by the ocean.
Full itinerary is here
A Wildlife Adventure in Ecuador, The Amazon and The Galapagos (14 nights) – from £8,500pp based on two people sharing
Despite its size, Ecuador is home to a wealth of landscapes, from rainforests and cloud forests to mountains and beaches. On this epic wildlife adventure, guests will visit Quito, the Amazon, the Mindo Cloud Forest, the Galapagos Islands and Guayaquil, all whilst immersing themselves in the country's rich cultural heritage and natural surroundings.
Accommodation includes:
La Casona de La Ronda, a boutique hotel in one of the oldest Spanish houses in Quito, a historic town situated 9,350ft above sea level. Guests will enjoy Ecuadorian cuisine at the restaurant, as well as comfortable bedrooms with views across the seventeenth-century architecture and chocolate workshops of Quito's UNESCO World Heritage old town.
Sacha Lodge, an astounding resort on the shores of the Amazon, set within a 500-acre ecological reserve. The lodge offers a fine-dining restaurant, a river water swimming pool, and balconies equipped with hammocks to listen to the sounds of chattering monkeys. Guests can also experience wildlife trails and creek canoeing, or cross Sacha's 940-ft long, 94-ft high walkway, suspended above the treetops.
El Monte Lodge, an eco-lodge set high in the Mindo Cloud Forest, offering guests riverside cabanas, fire pits and fresh food, creating an authentic and sustainable experience in untouched surroundings. The Mindo Cloud Forest is an ecosystem bubbling with unique wildlife, moss-covered trees and crystal clear streams, where guests can relax in soothing waterfall baths or enjoy white water tubing down the Rio Mundo.
Seaman Journey, a first-class boutique catamaran, and the best way to explore the Galapagos Islands. With luxurious rooms, a sun deck, living area, social area, resting area and dining area, guests can relax aboard before heading out to explore some of the Islands' unique wildlife and breath-taking views, either by foot, dingy, kayak or snorkel.
Luxtripper is offering a 14-night luxury wildlife adventure in Ecuador, the Amazon and the Galapagos Islands, including return flights to the UK and all tours and activities for £8,500pp.
Luxtripper is offering a 13-night tropical adventure to Costa Rica and Panama, including return flights to the UK and all tours and activities, for £7,000pp.
About Luxtripper:
Luxtripper is a luxury travel company specialising in experiential, multi-destination and adventure travel. The London-based business combines the personal approach of a traditional travel agent with unique technology which can match customers to destinations across the world, and build complex, multi-destination itineraries in a fraction of the time. The trip-building technology means that Luxtripper's team of travel experts can spend more time with customers, finding out what special means to them and adding extra elements to turn their holiday into a trip of a lifetime. For more information on Luxtripper's tailor-made luxury trips, please visit https://www.luxtripper.co.uk/.
Follow and Share with Jetsettersblog.