Luxury Family Hotels Welcome Packs for Children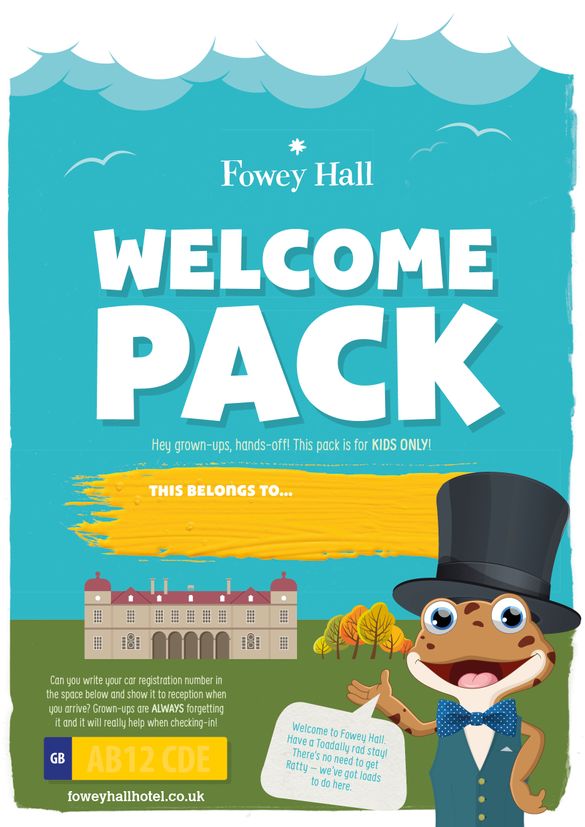 ---
Luxury Family Hotels has developed an innovative new welcome pack which will enable families to get the most out of their UK break.
The packs, devised by educationalist Lisa Merryweather-Millard, engage children ahead of their holidays by highlighting some of the top family-focused activities available at each of the five hotels within the Luxury Family Hotels collection.
As well as a tick list of '20 things' to do in or near the hotels, the packs also include a map, information about the local area, a quiz, space for written feedback from the children as well as a picture frame for them to draw their favourite part of the holiday.
With research[1] amongst Brits showing that the anticipation of a holiday contributes to a large part of the excitement, the aim of the new booklets is to encourage families to plan their holiday together as soon as the booking has been made as well as to engage and excite the younger children who may be anxious about visiting a new place.
Lisa Merryweather-Millard says, "These packs are unique because they engage the children, allowing them to 'curate' their own holiday and help to build the excitement ahead of the stay. The '20 things' suggestions are a combination of activities children can do on their own, so parents can have some down time, as well as those that are more family focused, supporting Luxury Family Hotels' ethos of enjoying quality family time together."
Recent research[2] has also shown that families rarely spend enough time together despite 'attachment play' being vital for bonding. The survey showed that 65 per cent of adult conversations with children in the home are about daily routine, so these packs will go some way to address this, by driving conversation between children and parents about their forthcoming holiday and around their shared experiences afterwards.
In the same survey, 65 per cent of parents said they only play occasionally with their children. In addition, one in six dads said they don't know how to play with their child(ren) and one in three of them don't have time to do so.
Luxury Family Hotels understands the importance of parents spending quality time with their children and positively encourages this. The new pack is an addition to the comprehensive offering of facilities and in-hotel activities available to ensure the whole family has an enjoyable and stress-free holiday.
Activities in the packs include finding three different animal prints in the grounds of New Park Manor; balancing on the indoor tightrope at Moonfleet Manor; taking part in a Scavenger Hunt at The Ickworth; braving it on the zip wire at Fowey Hall Hotel; and hunting for mini beasts with the nature detective kit at Woolley Grange Hotel.
There are many additional activities available throughout the holidays, as well as local events and attractions. The packs are aimed at children aged five-12 years and hard copies will also be available at each hotel. They will be updated twice a year.
More information is available at www.luxuryfamilyhotels.co.uk or by telephoning their Central Reservations team on 0844 482 2152. Children up to the age of 16 stay can stay free of charge in their parents' room. Rates also include complimentary childcare in the hotel's OFSTED registered crèche which is available in two-hour sessions.
Follow Luxury Family Hotels on Twitter @LFHotels, Facebook www.facebook.com/luxuryfamilyhotels and Instagram luxuryfamilyhotels.
Ends
For more information:
Maria Boyle                                              Suzanne Trisk
MB Communications Ltd                        MB Communications Ltd
0208 876 8444                                     0208 876 8444
0788 764 7855                                     07710 207164
maria@mbcomms.co.uk                        suzanne@mbcomms.co.uk
Images available on request at Luxury Family Hotels media photo library.
Notes to Editors:
Lisa Merryweather-Millard
Lisa is a former school leader, educational specialist and consultant specialising in strategy and design for family brands with over 20 years' experience. Lisa also runs design studio, Rather Nice Design, which specialises in design for education and family brands. In addition, she is the Editor of The Little Things Magazine, a bi-monthly magazine for 'people who happen to be parents' which is distributed across the South West through schools and though family-friendly and family-focussed venues.
[1] Family Holidays form Happy Memories – 47% of those surveyed said part of the excitement was the anticipation and looking forward to the holiday. Published in The Huffington Post in June 2015
http://www.huffingtonpost.co.uk/2015/06/23/family-holidays-happy-memories_n_7643456.html
[2] The Importance Of Spending Time Together As A Family by Dr Margot Sunderland
Published in The Telegraph in February 2017
http://www.telegraph.co.uk/travel/family-holidays/the-science-behind-how-holidays-make-your-child-happier-and-smarter/
Follow and Share with Jetsettersblog.