Madhya Pradesh, The Heart Of Incredible India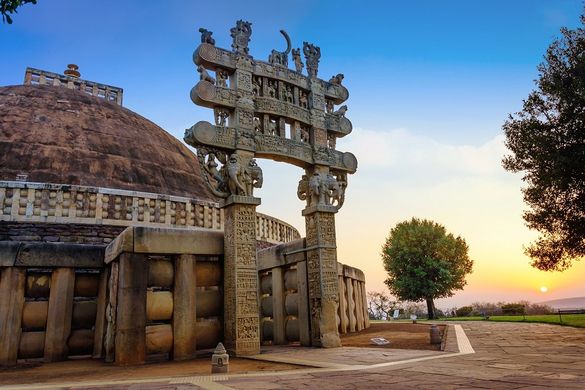 New High-Speed Train Service from Delhi to Gwalior, Madhya Pradesh
India`s fastest train, the Gatimaan Express, has extended services to Gwalior in Madhya Pradesh, covering Delhi to Gwalior in just 3 hours and 15 minutes.
The move is expected to further boost tourism in Madhya Pradesh, as the train will run six days a week from mid-February 2018.
Gwalior is already popular with tourists and is best known for its imposing hilltop fort, which is famously described as 'the pearl amongst fortresses in India'. Historically, the city has been the cradle of many dynasties that ruled Gwalior over the years, and their influence is clearly seen in the many regal structures that dominate the cityscape.
For further information about booking a Gatimaan Express train ticket from the UK, please visit https://www.greatrail.com/trains/gatimaan-express/. For further information about tourist attractions in Gwalior, please visit http://www.mptourism.com/tourist-places/places-to-visit-in-gwalior.html
Butterfly Park Opens in Madhya Pradesh
Madhya Pradesh's first butterfly park, which houses 65 species of the colourful insect, has opened this February in Raisen district, 90km from Bhopal centre.
Apart from providing a congenial atmosphere for the breeding of butterflies, nearly 137 plant varieties are also part of the park, which is spread over three hectares.
The park is an important initiative of the regional Forest Department to conserve nature in Madhya Pradesh, and bring people, especially children, closer to nature and help them increase their knowledge about butterflies and indigenous plant varieties.
Forest Minister Gaurishankar Shejwar said the park will also boost Madhya Pradesh's commitment in the field of eco-tourism.
Raisen district is already famous for two UNESCO world heritage sites; Bhimbetka Neolithic cave paintings and Sanchi Stupa and is a district in Madhya Pradesh that is great to visit during March and April.
For further information about tourist attractions in Raisen, please visit http://www.mptourism.com/destinations-tourist-places-to-visit.html
-ENDS-
Notes To Editors:
Image Captions:
Image 1: Gwalior fort is a popular tourist attraction in Gwalior, Madhya Pradesh, and is now quicker to get to from Delhi thanks to the new high-speed Gatimaan Express service.
Image 2: A striped-tiger butterfly, spotted in Raisen, Madhya Pradesh, courtesy of Madhya Pradesh Butterflies blog.
Image 3: The new butterfly park is in the same district of Madhya Pradesh as the UNESCO World Heritage site Sanchi Stupa.
Follow and Share with Jetsettersblog.