Magnetic North Glamping Retreats for Summer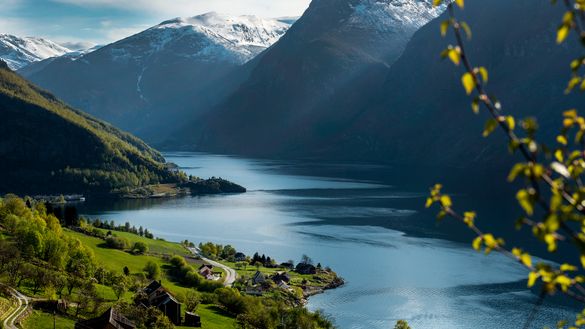 ---
June 05, 2018: The Summer Solstice later this month brings with it the famed White Nights, the longest days of the year in the regions around the Arctic Circle. The 24-hour daylight makes for a magical time for exploring some of the world's most dramatic landscapes: the craggy fjords and isolated archipelagos of Scandinavia and the rugged open plains of northern Canada. Here specialist tour operator, Magnetic North Travel, selects its best White Nights glamping options for 2018, including exclusive lavvu-style tents overlooking the Aurlandsdalen Valley in Norway and stays with First Nation tribes in Canada's last frontier, the Yukon.

New & exclusive for 2018: Glamping in Aurland, Norway
Set in the Aurlandsdalen Valley – the Grand Canyon of Norway – and new and exclusive to Magnetic North Travel for this summer, this five-night holiday includes three nights' accommodation in the boutique 29/2 Aurland farmhouse, followed by two nights in a nearby lavvu-style tent on the banks of the Aurlandselva river. 29/2 Aurland is a former fishing lodge converted into a slick guesthouse surrounded by tall mountains and glaciers in the innermost reaches of the world's longest and deepest open fjord. Lavvu tents are traditional temporary dwellings used by the Sami people of northern Scandinavia. The never-ending days of mid-summer allow visitors to focus on a unique range of activities, including guided hikes around the fjords, use of 29/2 Aurland's wood-fired sauna and free use of bicycles for guests to explore.
Details: Five nights' full board, including three at 29/2 Aurland at two in a lavvu is from £1,645 per person, including one full day's hike, one half-day hike, use of the wood-fired sauna and use of bicycles. International flights are not included.
See https://www.magneticnorthtravel.com/tour/details/hiking-fjord-holiday-in-norway-aurland
New for 2018: Glamping in the Stockholm Archipelago, Sweden
At the far north of the Stockholm Archipelago and on the edge of the open sea, lies the small island of Fejan, home to the Fejan Canvas Hotel, a glamping retreat that can be reached by kayak if guests desire. The hotel, a series of tents with hotel-style beds, has been created with minimal damage to the environment: the tents have no fixed anchors and sit on platforms resting lightly on the ground. It's claimed one screw was lost as they were being erected, and the owners are still trying to find it! This three-night, half-board holiday includes breakfast delivered to the tent each morning, and dinner ingredients to be self-cooked on a traditional gas muurikka grill in the evening. Kayak rental is available, as is a kayak cab service that will drop off and pick up guests at a location of their choice.
Details: Three nights' half-board is from £895 per person, including kayak hire and four days' car hire. International flights are not included.
See https://www.magneticnorthtravel.com/blog/details/the-latest-glamping-adventures-in-the-magnetic-north
New for 2018: Yurting in Hardanger, Norway
At 179km long and with a maximum depth of 900m, the Hardangerfjord is the third longest fjord in the world – and the White Nights season is an ideal time to explore its steep sides, cliffs and towering waterfalls. This five-night holiday includes three nights in a hotel or cabin in the region, followed by two staying in a boutique yurt at Hardanger Basecamp, right on the fjord's shores and surrounded by 1km high mountains. Yurts are decorated in a chic take on traditional Scandinavian design with animal skin rugs, as well as a selection of home-crafted and antique furnishings. Hardanger Basecamp has partnered with the B-Active Center in Ulvik to offer activities including orientation courses and foraging workshops.
Details: Five nights' B&B is from £790 per person, including three nights in a Hardanger region hotel or cabin, two nights glamping and six days' car hire from Bergen or Oslo airport. International flights are not included.
See https://www.magneticnorthtravel.com/tour/details/fly-drive-family-holiday-in-hardanger-fjord-norway
Stay in a First Nation Yurt in Yukon, Canada
The Yukon is considered to be Canada's last frontier and this epic 10-night self-drive trip in mid-summer allows visitors to discover the best of the region, including its picturesque mountain ranges, historic Gold Rush towns and mighty rivers. Two nights are spent at Shakat Tun Wilderness Camp overlooking Christmas Bay on Kluane Lake. The camp's name means 'summer hunting trails' and guests can participate in optional guided tours around the lake with members of the indigenous Champagne and Aishihik First Nations tribes. Other activities include trapline wildlife tours and drum-making workshops.
Details: A 10-night holiday staying in moderate class cabins and hotels is from £1895 per person, including a two-night, full-board cultural programme at Shakat Tun Wilderness Camp, entry to the Yukon Wildlife Preserve, Haines to Skagway ferry pass and 12-days' car hire. International flights are not included.
See https://www.magneticnorthtravel.com/tour/details/Self-drive-holiday-adventure-to-the-yukon-and-alaska
All Magnetic North Travel holidays include a 24/7 emergency line, concierge service and access to a personalised travel app containing documents as well as bespoke recommendations.
To book call 01664 400 103 or seehttps://www.magneticnorthtravel.com
NOTES FOR EDITORS: Based in Leicestershire, Magnetic North Travel is a UK-based boutique tour operator specialising in Canada, Scandinavia and the Nordic countries. Founded in 2009 by Laura Greenman after honeymooning in Sweden, the company's focus is primarily wilderness, nature, and outdoor adventures for independent travellers and small groups. The company's specialism is unique experiences that immerse guests into the region, whether it be with a local guide, a food experience or nature-based adventure. Magnetic North Travel was awarded a Queen's Award for Enterprise: International Sales in April 2018.
Follow and Share with Jetsettersblog.