Magnetic North Travel Small Ship Expedition Cruises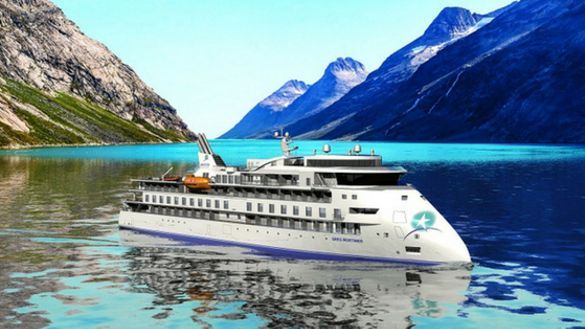 ---
August 6, 2018: Offering bespoke journeys to the Nordic Countries and Canada, boutique tour operator Magnetic North Travel unveils the latest small ship expedition cruises to join in 2018-2020.
Carrying anything from 2 to 200 passengers at a time, Magnetic North Travel's new portfolio of expedition cruises offers experiences with nature, wildlife and culture in high concentrations. They include plenty of responsible shore landings in small numbers where wildlife and nature encounters are favoured over a tight schedule. Many first-time cruisers avoid the 'floating city' cruise ships in favour of smaller expedition cruises. "The future of the industry is small", says Magnetic North Travel's Managing Director, Laura Greenman. "Clients who've travelled with us before to the polar regions are drawn to the experiences on board small ship cruises to remote destinations, rather than joining thousands of passengers on monolith cruise ships."
All the cruises are picked for their high-quality travel experiences, responsibility to the natural environment and wildlife they encounter and the character and comfort of the ship.
The Greg Mortimer – an expedition cruise ship pioneering modern naval technology

Launching in 2019, the Greg Mortimer, a state-of-the-art expedition cruise ship will explore the polar regions with up to 120 passengers. Along with a brand-new route (see below) it is the first expedition cruise ship to feature an ULSTEIN's X-BOW™ for a more comfortable, eco-efficient cruising experience. The ship has been designed with smooth port-to-shore excursions in mind and provides room for 15 Zodiacs. In expedition cruising Zodiacs are used for land excursions e.g. guided hikes, snowshoe walks or small climbs. Guided kayaking and diving excursions bring adventurous guests close to momentous icebergs and remote fjords. Additional ship features include low-impact virtual anchoring technology, a mudroom, hydraulic platforms for whale sightings, dedicated 360-degree observation areas and a gourmet hub. 

Magnetic North Travel's key cruises on board the Greg Mortimer

First-time journey: Reykjavik to St. John's
For the first time, an expedition cruise retraces the steps of early Viking explorers, travelling from Iceland via Greenland to Newfoundland and Labrador. A 3-day journey around the Greenlandic Ice Cap sets this journey apart from existing cruises. 

21-day journey to Iceland, Greenland, Labrador, Newfoundland
Prices starting from:£10,520 per, based on two sharing an Aurora stateroom on a full board basis
Departure: 23 Sep 2020 – 13 Oct 2020
More Greg Mortimer journeys can be found here
Introducing m/v Hondius – modern exploring with a focus on experiential education 
Launching in summer 2019, the m/v Hondius takes up to 176 passengers on a small ship expedition cruise that is big on adventure and education. Each route is centered around 1-2 daily excursions, where guests can opt for a guided hike, snowshoeing or kayaking adventure. In small follow-up workshops and lectures led by wildlife, nature and photography experts guests have the chance to expand their knowledge and skills. Alternatively, they may glance outside and look out for whales, polar bears or Arctic birdlife which are frequently spotted on these journeys.
Magnetic North Travel's key cruises on board m/v Hondius key

Pack ice and polar bear cruise
8-day journey to Northern Svalbard
Departure: 14-Jun 2019 – 21 Jun 2019
Prices starting from: £4450 based on two sharing a Twin Room with Window
S/V Island Solitude – an intimate yacht expedition exploring ancient Canadian culture and wildlife

The carbon neutral 82′ S/V Island Solitude is one of the most intimate expedition cruise experiences in Magnetic North Travel's portfolio. Travelling with only 12 guests at a time, local skippers navigate through a maze of islands, dotting the North coast of British Columbia. Both marine and land wildlife roam the rainforest and narrow straits, which guests can choose to explore on self-guided kayaking expeditions. Due to the small size of the yacht curious wildlife comes First Nation culture is very much alive in this part of BC and a stopover at ancient settlements is an integral part of each cruise. Still, each journey on the 82′ S/V Island Solitude is spontaneous to an extent as the skipper tailors the trip according to the latest wildlife sightings.
Magnetic North Travel's key cruises on board S/V Island Solitude
Exploring culture and wildlife in Haida Gwaii
9-day journey to the North of British Columbia's islands
Departure: Weekly from May to August
Prices starting from: £5095 per person, based on two sharing
Introducing S/V Linden
The S/V Linden, Scandinavia's largest three-mast schooner, is now completing its first summer in the High Arctic. The 50 meter long ship hosts a maximum of 14 passengers and is the first ship to explore the hidden bays, calving glaciers and surrounding tundra on a weekend expedition. With a nod to its Finnish heritage, the ship also includes an onboard sauna. Spacious outdoor viewing decks provide a full 360-degree view and the opportunity to photograph wildlife almost at eye level. The atmosphere on board is friendly and encouraging, guests are actively encouraged to join day-to-day routines and fully immerse in life on board. 

Magnetic North Travel's key cruises on board S/V Linden  

4-day journey Svalbard
Departure: Fridays from May to September
Prices starting from:
£1395 per person, based on 2 two sharing
All Magnetic North Travel holidays include a 24/7 emergency line, concierge service and access to a personalised travel app containing documents as well as bespoke recommendations. To bookcall 01664 400 103 or seehttps://www.magneticnorthtravel.comBased in Leicestershire, Magnetic North Travel is a UK-based boutique tour operator specialising in Canada, Scandinavia and the Nordic countries. Founded in 2009 by Laura Greenman after honeymooning in Sweden, the company's focus is primarily wilderness, nature, and outdoor adventures for independent travellers and small groups. The company's specialism is unique experiences that immerse guests into the region, whether it be with a local guide, a food experience or nature-based adventure.
All Magnetic North Travel's ship partners have been certified by the IMO (International Maritime Organisation) which sets standards in terms of eco-efficiency, avoidance of wildlife disturbance, biosecurity and sea transported garbage.
Follow and Share with Jetsettersblog.