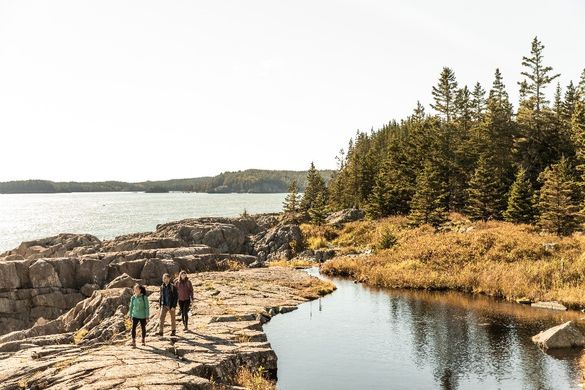 ---
The year 2020 belongs to Maine, as the state celebrates its Bicentennial marking 200 years of statehood. In the coming year, Maine has a wide range of events, exhibitions and activities planned to showcase its unique treasures. It promises to be a great time for visitors to explore the great outdoors, to see the work of Maine artists and craftspeople, and to seek out the hottest chefs in a state now as famous for its restaurants as its coastline.
The centerpiece is indeed the Bicentennial, with its exhibitions, festivals, parades and Signature Events. It's safe to say that virtually every activity and event and festival statewide will connect in some way with the 200 year celebration.
MAINE'S BICENTENNIAL
Statehood Weekend (Augusta & Statewide) runs March 14-15, 2020, with classic Maine Saturday night bean suppers with food drives, speeches, poetry, music & more.
The Bicentennial Parade (Lewiston/Auburn) on May 16, 2020 is an historic parade celebrating Maine's veterans, youth, and culture, with floats, bands and more from across Maine.
The Grand Finale Weekend (Augusta, Bangor & Statewide) October 9-12, 2020 is four days of events highlighting Maine's diverse culture and commercial innovation, culminating in a time capsule.
To learn more about the statewide events that are planned, as well as other information on the Maine bicentennial, visit www.maine200.org.
WABANAKI NATIONS
Holding Up the Sky: Wabanaki People, Culture, History & Art runs through February 1, 2020 at the Maine Historical Society. This exhibit explores Wabanaki philosophies of leadership and obligation relating to humans and non-humans by highlighting 13,000 years of Wabanaki residence in what is now known as Maine.
TALL SHIPS
Tall ships will sail up and down the Maine coast in 2020 to mark the Bicentennial, including the state's own windjammer fleet.
The Great Schooner Race off the coast of Rockland on July 3 will be hosted by the Maine Windjammer Association. It's an opportunity for captains, crews and passengers aboard traditional vessels from all over the eastern seaboard to rendezvous for a fun day of racing.
The 2020 Maine Windjammer Association Parade of Sail in Rockland on July 10 will bring together the entire windjammer fleet for an afternoon Parade of Sail past the mile-long Rockland Breakwater, providing spectators with stunning, close-up views of Maine's fleet of tall ships.
The Summer Coast Festival that runs from July 16–19, 2020, will see Tall Ships America sailing to various ports along the coast, including Portland, Camden, Rockland and Bucksport.
FOOD FESTIVALS GALORE
The city of Portland, dubbed the 2018 Restaurant City of the Year by Bon Appetit magazine, is the headquarters for the annual Maine Restaurant Week from March 1–12, 2020. Showcasing great restaurants and accomplished chefs around the state, Maine Restaurant Week will offer multi-course meals at fixed prices. Participating restaurants can be found all over the state, from Portland and South Portland, to Camden, Lewiston, Ellsworth, Scarborough, Brunswick, Yarmouth, Brewer, Kennebunkport and beyond.
The Maine Kneading Conference and Bread Fair is a yearly gathering of farmers, millers, bakers, maltsters and grain enthusiasts in Skowhegan and runs on July 23 and 24, 2020. Expect hands-on baking workshops, live demonstrations, lectures and panel discussions, including wood-fired oven-building workshops and lectures on grain growing.
Portland Wine Week, June 15–21, 2020, includes wine dinners, classes and seminars, as well as tasting events. A variety of winemakers, sommeliers, negociants and importers will be in attendance, as well as Maine chefs.
The Maine Lobster Festival runs from July 29 to August 2, 2020, in Rockland, Maine, a five-day celebration where more than 25,000 pounds of lobster are served each year.
In a city lauded for its food culture, Harvest on the Harbor takes it one step further with this annual celebration of Portland's culinary achievements in October 2020.
CELEBRATING THE ARTS OF MAINE
The Bowdoin International Music Festival will run from June 29 to August 7, 2020, offering dozens of concerts and bringing a host of performers to Maine. Each summer since 1964, the festival has welcomed renowned artist instructors, performers, soloists, and gifted pre-professional classical musicians from around the world to Bowdoin College in Brunswick for six weeks of intensive chamber music study, collaboration and performances.
The Maine Art Museum Trail provides links and directions to nine amazing museums, including the Portland Museum of Art, which will exhibit "20 X 20: 200 Years of Maine History" from March 29– October 25, 2020, and "Mythmakers: The Art of Winslow Homer and Frederic Remington," July 1– September 27, 2020.
COUNTRY FAIRS
Maine's county fairs are the purest expression of the agricultural traditions and lifestyles found across the state. The Fryeburg Fair, which runs from October 4–11, 2020, is a classic county fair with team-pulling, 4H awards and the ever-popular pig scramble. Sheepdog trials and tractor pulling are among the highlights of this fair that dates back to 1851, Maine's largest, which attracts more than 170,000 visitors during its run. The Common Ground Country Fair in September 2020 in Unity got its start during the back-to-the-land movement in 1977. More than 60,000 visitors a year come for the draft horse show and sheepdog trials, demos of spinning and carding wool, stonework, tree identification and workshops on raising animals.
THE GREAT OUTDOORS
Snowmobiling is synonymous with winter in Maine, which offers some of the best wilderness riding terrain in the Eastern United States. The state has the support of 280 snowmobile clubs who help maintain more than 14,000 miles of marked snowmobile trails. The Jackman-Moose River area, the Moosehead Lake and Rangeley Lakes regions, the Millinocket and Katahdin area and the far north of Aroostook County are prime riding areas. For visitors, the state has dozens of outfitters, sporting camps and resorts that offer rentals and guided sled tours.
Camden will host the annual Camden Winterfest in February 2020. The multi-day festivities include snow sculptures and ice-carving contests, as well as the U.S. National Toboggan Championships at the Camden Snow Bowl. A polar plunge and freestyle skiing competitions are also part of the event.
The Appalachian Mountain Club's (AMC) Maine Wilderness Lodges — Gorman Chairback, Little Lyford and Medawisla Lodge & Cabins — offer an ideal combination of rustic cabin charm and the creature comforts of a lodge, deep in the heart of the 100 Mile Wilderness. They're designed for hiking, fly fishing and quiet nature walks.
Glamping has arrived at select Maine state parks with Tentrr.com. They offer canvas-wall tents with queen-size bunk beds and wood stoves, along with a fire pit, a picnic table, benches, Adirondack chairs, and a Coleman solar shower at Bradbury Mountain, Rangeley Lake, Camden Hills, Mount Blue, Lamoine, Peaks-Kenny and Warren Island.
Classic Maine sporting camps typically feature lakeside cabin accommodations and home-cooked family-style meals. "Sports" head out for the day, often in the company of a registered Maine guide, by boat, canoe or even floatplane to fish different waters. Check in with the 40-plus members of the Maine Sporting Camp Association.
Seeing Maine on two wheels is a terrific way to explore the state. The East Coast Greenway Eastern Trail runs from Kittery to Portland, offering 68 miles of trails and scenic country roads. Those looking for a real challenge can sign up for the Bike Maine annual ride. This year, it's "Katahdin Frontier," from September 12–19, 2020. Explore Maine by Bike has a roster of scenic road-biking tours throughout the state to plan everything from a day ride to a multi-day adventure. For riders who prefer to leave the planning and logistics to trusted experts, Summer Feet Cycling specializes in Portland day trips and weekend and weeklong tours throughout the state, as well as a range of self-guided bike tours.
###
Follow and Share with Jetsettersblog.