Malta Capital of Culture 2018 With the New Valletta Trail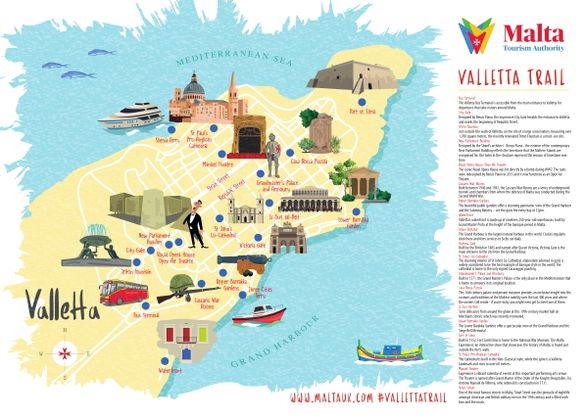 ---
The Malta Tourism Authority's latest addition to the series of themed trails showcases the culture and history of the island's capital, widely regarded as one of the worlds most concentrated historic areas. Valletta packs a punch with an abundance of elegant 16th century architecture, museums, restored fortresses and an opera house. Heralded as the European Capital of Culture 2018, there's never been a better time for travellers to explore the ancient streets of this UNESCO World Heritage Site and discover why Valletta is one of the hottest European city break destinations this year.
Highlights include:
St. John's Co-Cathedral, not only Malta's most impressive church but also an exuberant work of art. Elaborately adorned in gold, gilded rooms with arched ceilings boast paintings donated by Grand Masters and Knights – including Caravaggio's only signed work – and is considered the best example of Baroque style in the world.
Valletta's Waterfront is a landmark originally built for the Knights of St. John to use as a store, the now pedestrianised waterfront is awash with bright colours and makes for a perfect location for relaxation accompanied with great food and drink.
Grand Harbour also known as the port of Valletta, is the largest natural harbour in the world. Cruise liners regularly dock here and ferry services to Sicily run daily.
Upper Barrakka Gardens overlook the Grand Harbour and command one of the most beautiful panoramic views in Malta with the Three Cities as its backdrop. Visitors can see the guns fire everyday at 12pm, and a lift provides additional access down to the Valletta waterfront.
Manoel Theatre is an important performing arts venue in Valletta and is reported to be one of Europe's oldest working theatres. Audiences can experience a vibrant calendar of events throughout the year.
For more information or to download the map visitwww.maltauk.com/valletta-trail
For more information or images please contact Amy Skelding, Lauren Williams, Emily Olsen or Jessica Connan at malta@finnpartners.com or 020 7655 5224
About Malta
Malta is an archipelago in the central Mediterranean. Comprising three main islands – Malta, Comino and Gozo – Malta is known for its history, culture and temples dating back over 7,000 years. In addition to its fortresses, megalithic temples and burial chambers, Malta is blessed with nearly 3,000 hours of sunshine every year. Capital city Valletta has been named European Capital of Culture 2018, which will see a huge programme of cultural events rolled out. Malta is part of the EU and 100% English speaking. The archipelago is famous for its diving, which attracts aficionados from around the world, whilst the nightlife and music festival scene attract a younger demographic of traveller. Malta is a short three and a quarter hour flight from the UK, with daily departures from all major airports across the country. www.maltauk.com
Follow and Share with Jetsettersblog.